STARLIGHT Visual Information System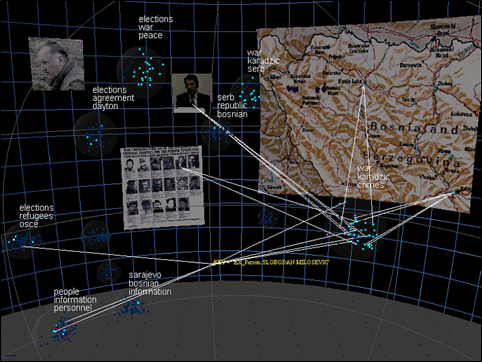 The Starlight Information Visualization System™ graphically depicts information, dramatically accelerating and improving human ability to derive meaningful knowledge from increasingly large and complex information resources. It is simultaneously a powerful information analysis tool and a platform for conducting advanced visualization research.
Starlight uses a common Extensible Markup Language (XML)-based information model that captures multiple types of relationships that may exist among disparate information. The model can flexibly accommodate the full range of information types expressible in XML—which is almost any type of digital information.
Starlight is explicitly designed to manipulate the types of relationships humans need to understand in order to solve complex, multifaceted, real-world problems. Graphical representations enable the underlying relationships to be visually interpreted. Viewers can interactively move among multiple representations of the same information in order to uncover correlations that may span multiple relationship types.
Starlight is one of many visual analytics tools and capabilities created at Pacific Northwest National Laboratory (PNNL). Visit our Available Technology website for more information.
Starlight

–

First Glance
Principle Benefits

Novel "visible information" system

Advanced information model

Visualization-oriented user interface

State-of-the-art information graphics

Sophisticated query tools

Data/text mining functionality

Integrated Geographic Information System (GIS)

Extensible Markup Language (XML)-based

Client-server software architecture

Information integration

Complexity management

Workflow continuity

Accelerated interpretation

Improved understanding