Staff information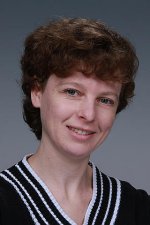 Maria Sushko
Geochemistry Team B
Computational Scientist
Pacific Northwest National Laboratory
PO Box 999
MSIN: K8-96
Richland, WA 99352
Send Email
Research Interests
Self-assembly at surfaces and in solutions
Charge transport in nanostructured interfaces
Multiscale modelling of interfacial phenomena
Education and Credentials
Ph.D., Polymer Physics, Institute of Macromolecular Compounds RAS, St.Petersburg, Russia
M.S., Biophysics, St.Petersburg University, Russia
B.S., Theoretical Physics, St.Petersburg University, Russia
Affiliations and Professional Service
Materials Research Society
Royal Society of Chemistry
Awards and Recognitions
R&D 100 Award on graphene based materials for lithium ion battery application, 2012
Outstanding Performance Award, Pacific Northwest National Laboratory, 2012
Young scientist award for scientific achievements. International Workshop on Fullerenes and Atomic Clusters, St.Petersburg, 1999
International Soros Science Program award for outstanding achievements in the study of science at the university level, 1994
PNNL Publications
2022
Devaraj A., D.J. Barton, C. Li, S.M. Lambeets, T. Liu, A. Battu, and V. Shutthanandan, et al. 2022. "Visualizing the Nanoscale Oxygen and Cation Transport Mechanisms During the Early Stages of Oxidation of Fe-Cr-Ni Alloy Using In Situ Atom Probe Tomography." Advanced Materials Interfaces 9, no. 20:Art. No. 2200134. PNNL-SA-169147. doi:10.1002/admi.202200134
Sushko M.L. 2022. "Crystallization pathways and interfacial drivers for the formation of hierarchical architectures." Journal of Crystal Growth 600. PNNL-SA-177743. doi:10.1016/j.jcrysgro.2022.126914
Wang Y., S. Xue, Q. Lin, D. Song, Y. He, L. Liu, and J. Zhou, et al. 2022. "Particle-based hematite crystallization is invariant to initial particle morphology." Proceedings of the National Academy of Sciences of the United States of America 119, no. 11:Art. No. e2112679119. PNNL-SA-170142. doi:10.1073/pnas.2112679119
2021
Wang J., C. Shi, M.L. Sushko, J. Lan, K. Sun, J. Zhao, and X. Liu, et al. 2021. "Boost of the Bio-memristor Performance for Artificial Electronic Synapses by Surface Reconstruction." ACS Applied Materials & Interfaces 13, no. 33:39641-39651. PNNL-SA-166521. doi:10.1021/acsami.1c07687
Zhu G., M.L. Sushko, J.S. Loring, B.A. Legg, M. Song, J.A. Soltis, and X. Huang, et al. 2021. "Self-similar Mesocrystals Form Via Interface-Driven Nucleation and Assembly." Nature 590, no. 7846:416-422. PNNL-SA-157135. doi:10.1038/s41586-021-03300-0
2020
2019
2018
2017
2016
2015
2014
Darkins R., M.L. Sushko, J. Liu, and D.M. Duffy. 2014. "Stress in titania nanoparticles: An atomistic study." Physical Chemistry Chemical Physics. PCCP 16, no. 20:9441-9447. PNNL-SA-98377. doi:10.1039/c3cp54357a
Medasani B., Z. Ovanesyan, D.G. Thomas, M.L. Sushko, and M. Marucho. 2014. "Ionic Asymmetry and Solvent Excluded Volume Effects on Spherical Electric Double Layers: A Density Functional Approach." Journal of Chemical Physics 140, no. 20:Article No. 204510. PNNL-SA-101131. doi:10.1063/1.4876002
Meng D., B. Zheng, G. Lin, and M.L. Sushko. 2014. "Numerical Solution of 3D Poisson-Nernst-Planck Equations Coupled with Classical Density Functional Theory for Modeling Ion and Electron Transport in a Confined Environment." Communications in Computational Physics 16, no. 5:1298-1322. PNNL-SA-98014.
2013
2012
Cao Y., L. Xiao, M.L. Sushko, W. Wang, B. Schwenzer, J. Xiao, and Z. Nie, et al. 2012. "Sodium Ion Insertion in Hollow Carbon Nanowires for Battery Applications." Nano Letters 12, no. 7:3783-3787. PNNL-SA-88364. doi:10.1021/nl3016957
Li X., W.N. Qi, D. Mei, M.L. Sushko, I.A. Aksay, and J. Liu. 2012. "Functionalized Graphene Sheets as Molecular Templates for Controlled Nucleation and Self-Assembly of Metal Oxide-Graphene Nanocomposites." Advanced Materials 24, no. 37:5136-5141. PNNL-SA-85708. doi:10.1002/adma.201202189
Meng D., G. Lin, and M.L. Sushko. 2012. "An Efficient Implementation of Multiscale Simulation Software PNP-cDFT." In MRS Proceedings: Computational Materials Design in Heterogeneous Systems, 1470. New York:Cambridge University Press. PNNL-SA-87157.
Xiao J., X. Chen, P.V. Sushko, M.L. Sushko, L. Kovarik, J. Feng, and Z. Deng, et al. 2012. "High-Performance LiNi0.5Mn1.5O4 Spinel Controlled by Mn3+ Concentration and Site Disorder." Advanced Materials 24, no. 16:2109-2116. PNNL-SA-84168. doi:10.1002/adma.201104767
Yu J., M.L. Sushko, S.N. Kerisit, K.M. Rosso, and J. Liu. 2012. "Kinetic Monte Carlo Study of Ambipolar Lithium Ion and Electron-Polaron Diffusion into Nanostructured TiO2." The Journal of Physical Chemistry Letters 3, no. 15:2076-2081. PNNL-SA-87002. doi:10.1021/jz300562v
2011
Sushko M.L., and J. Liu. 2011. "Surfactant Two-Dimensional Self-Assembly under Confinement." Journal of Physical Chemistry B 115, no. 15:4322-4328. PNNL-SA-72856. doi:10.1021/jp2003497
Sushko M.L., K.M. Rosso, J. Zhang, and J. Liu. 2011. "Multiscale Simulations of Li Ion Conductivity in Solid Electrolyte." The Journal of Physical Chemistry Letters 2, no. 18:2352-2356. PNNL-SA-82116. doi:10.1021/jz201032w
2010
Sushko M.L., and J. Liu. 2010. "Structural rearrangements in self-assembled surfactant layers at surfaces." Journal of Physical Chemistry B 114, no. 11:3847-3854. PNNL-SA-69641. doi:10.1021/jp910927b
Sushko M.L., K.M. Rosso, and J. Liu. 2010. "Mechanism of Li+/electron conductivity in rutile and anatase TiO2 nanoparticles." Journal of Physical Chemistry C 114, no. 47:20277-20283. PNNL-SA-74645. doi:10.1021/jp107982c
Sushko M.L., K.M. Rosso, and J. Liu. 2010. "Size Effects on Li+/Electron Conductivity in TiO2 Nanoparticles." The Journal of Physical Chemistry Letters 1, no. 13:1967-1972. PNNL-SA-72192. doi:10.1021/jz100520c