November 2, 2023
Spotlight
Pumping Up the Workforce to Decarbonize Buildings
PNNL collaborates to include modern electric heat pump training in technician credentials
Mass-scale retrofits to electrify household heating and cooling equipment will be pivotal to decarbonize the U.S. economy by a 2050 national target. While the heating, ventilation, and air-conditioning (HVAC) trade workforce currently lacks the ground support needed to meet this timeline, a team at Pacific Northwest National Laboratory (PNNL) is helping build necessary momentum.
The team, led by PNNL building science researcher Jamie Kono, is partnering with key credentialing organizations and curriculum providers to modernize HVAC training content with decarbonization in mind.
"Residential HVAC systems currently account for about 30 percent of total home energy use, with common inefficiencies that cause avoidable waste," Kono said. "Heating household water accounts for roughly 13 percent of total home energy use, highlighting another key opportunity to implement more efficient technology for noticeable impact at the household level that translates to sweeping change at the national scale."
Implementation at the necessary scale is a formidable challenge at its heart. The shift will require millions of consumers and the HVAC trade industry to buy in and advocate for these efficient electric heating systems.
The future is electric
The good news is that modern electric heat pump technology is available and indeed proving viable in most climates for space conditioning and water heating. The American Council for an Energy-Efficient Economy concluded in a 2022 study that electric heat pumps generally offer the cheapest way to cleanly heat and cool single-family homes in all but the coldest parts of the nation. In very cold places, electric heat pumps with an alternative fuel backup for frigid periods often minimize life-cycle energy and equipment costs.
However, the massive lift necessary to implement these technologies in millions of existing U.S. homes by 2050 is indeed a heavy prospect. Slow-paced trade workforce growth and training gaps related to decarbonizing household heating systems further complicate matters.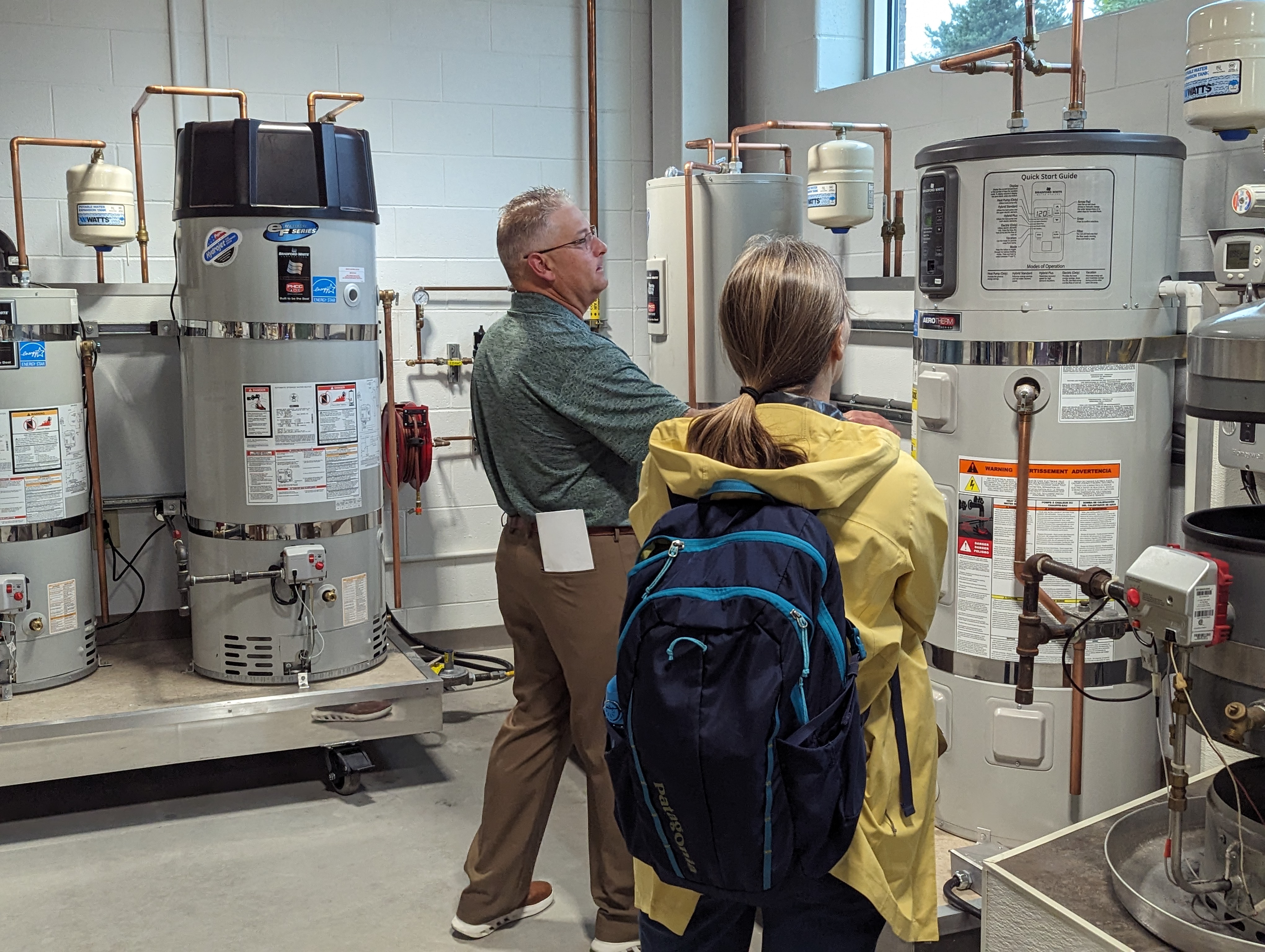 "Properly equipping HVAC professionals to usher in an era of net-zero home emissions is critical to realizing a decarbonized future," Kono said. "We're working with leading organizations responsible for training and credentialing the residential HVAC workforce to prepare new and existing HVAC technicians for success installing heat pumps."
With funding support from the Department of Energy Building Technologies Office, PNNL is collaborating with organizations including North American Technician Excellence (NATE), HVAC Excellence, the National Center for Construction Education and Research, the United Association, and Taylor & Francis to incorporate efficient HVAC solutions into their workforce training materials and credentialing exams. For more on these collaborations, visit the Department of Energy's Building Science Education Solution Center.
Making fossil fuel systems ancient history
According to a Department of State and Executive Office report detailing the long-term U.S. strategy and pathways to net-zero emissions by 2050, a near-term priority is to quickly improve building efficiency and increase market adoption of appliances that can be powered by clean energy sources. The report specifically recommends electric heat pumps for space conditioning and heat pump water heaters (HPWHs) in place of systems that rely on fossil fuels.
Kono notes that heat pump installations, combined with envelope efficiency upgrades and renewable energy generation, all work together to move the nation's building stock toward decarbonization goals. In addition, federal initiatives and increased consumer interest in heat pumps and HPWHs present a strong opportunity for the HVAC and plumbing workforces to increase profits and deliver positive impacts in their communities.
"This monumental task to decarbonize our nation's homes requires a concerted effort between many stakeholder groups," said Kono. "Equipping the HVAC workforce to meet the current moment is one critical component of success where our building science experts are uniquely suited to assist."
Published: November 2, 2023