September 16, 2022
Spotlight
A Nod to Postdocs
This week we honor the integral part PNNL's nearly 300 postdocs play in advancing science
While the contributions made to research and discovery by its postdoctoral researchers are appreciated every day, Pacific Northwest National Laboratory (PNNL) takes this week to officially recognize their efforts as a part of the 13th Annual National Postdoc Appreciation Week. Postdocs at PNNL design and conduct research, collaborate with other great minds, participate in interdisciplinary work, and explore their interests. PNNL is fortunate to have 296 highly skilled and educated postdocs contributing to its mission. 
"Postdocs bring vital new insights and perspectives to our research at PNNL and contribute in significant ways to our mission and society's scientific body of knowledge overall," said Dr. Steven Ashby, Laboratory Director. "PNNL remains committed to providing postdoctorates with valuable experiences working side-by-side with our scientists and engineers. Thank you, postdocs, for your hard work and dedication, we appreciate you." 
Each of PNNL's postdocs has a unique story. Here we share profiles on eight of these researchers working around the Laboratory. 
Jeremy Gaison, Physicist 
Jeremy Gaison studies a fundamental particle called a neutrino. The neutrino is so small—at least 500 thousand times smaller than an electron—that its mass has never been measured, a fact that Dr. Gaison is working to change. By adapting radio frequency engineering techniques to particle physics applications, as well as incorporating simulations, benchtop measurements, and data analyses, he hopes to make this measurement a reality.
After earning a PhD in physics from Yale in 2021, Dr. Gaison received the Linus Pauling Distinguished Postdoctoral Fellowship and joined the Data Intensive Physics team at PNNL. With the support of mentors and staff, he has been managing his own research program while also collaborating with others on related projects.
He considers his own research a privilege, but Dr. Gaison is also enthused about the opportunities to participate in new projects. He said, "collaborating with experts in different disciplines toward solving a broader goal is a great way to expand my experiences and skill sets." PNNL applauds this collaboration as Dr. Gaison continues and expands his work on the mystery of the mass of the neutrino. 
Chris Harrilal, Physical/Analytical Chemist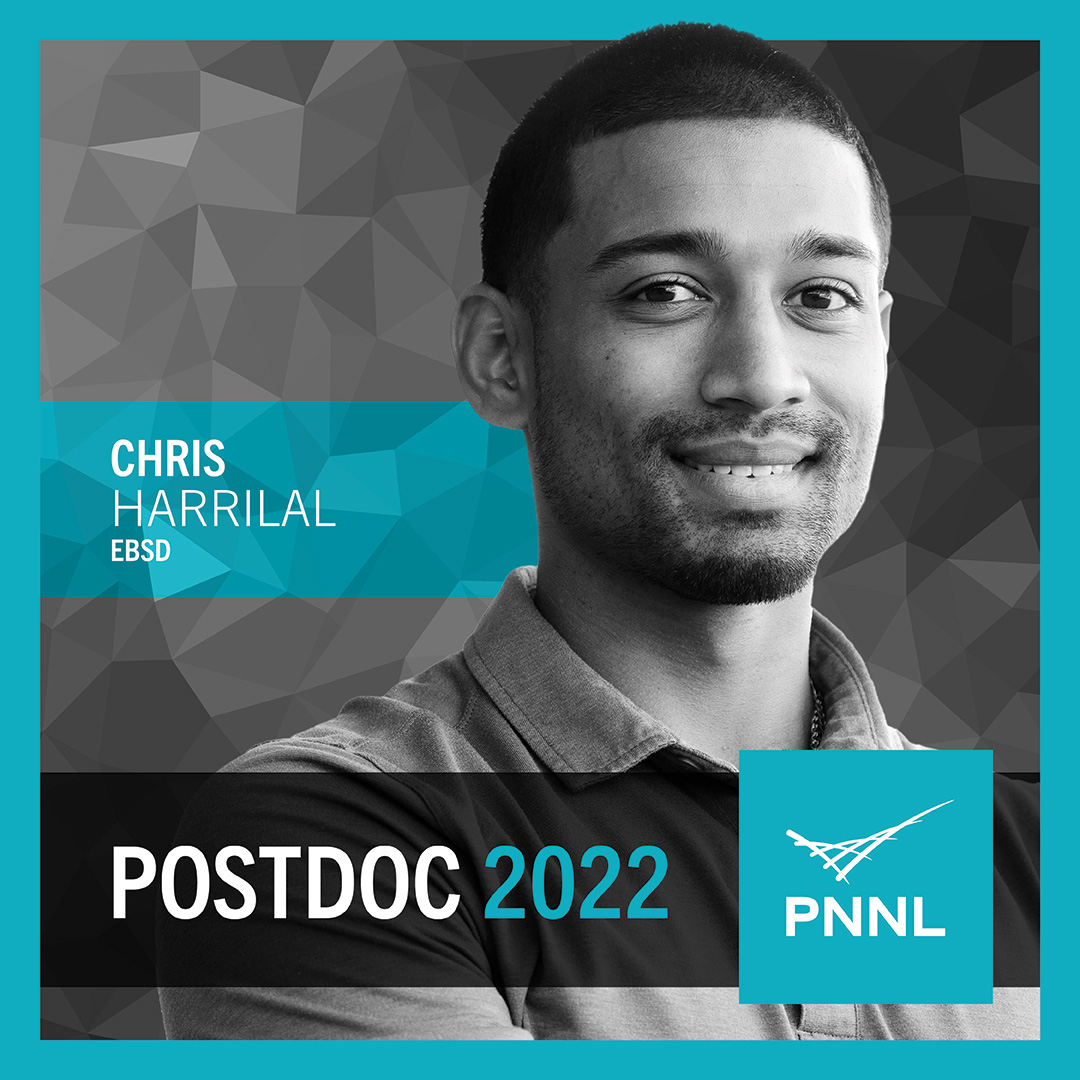 Chris Harrilal is making the impossible possible in analytical chemistry. He and his colleagues are developing ways to make measurements that cannot currently be made. With their research, they are "pushing the boundaries of what can be measured." 
Since arriving at PNNL in January 2020, Dr. Harrilal has enjoyed working on some of the newest technology in the field. "It is fun being out in the front of a field where your research can change the trajectory of how some of the technology or methods are developed," said Dr. Harrilal. 
According to Dr. Harrilal, the best part of being a scientist is twofold. He likes seeing others use his research to expand their own discoveries and when he gets to build on the investigations of others. Collaboration is not only essential to solving problems, but it is also a perk of life as a postdoc. 
Dr. Harrilal earned his PhD in analytical chemistry from Purdue University. It is plain to see that he is passionate about science and discovery. He appreciates working with likeminded people at PNNL. 
Tingkun Liu, Materials Scientist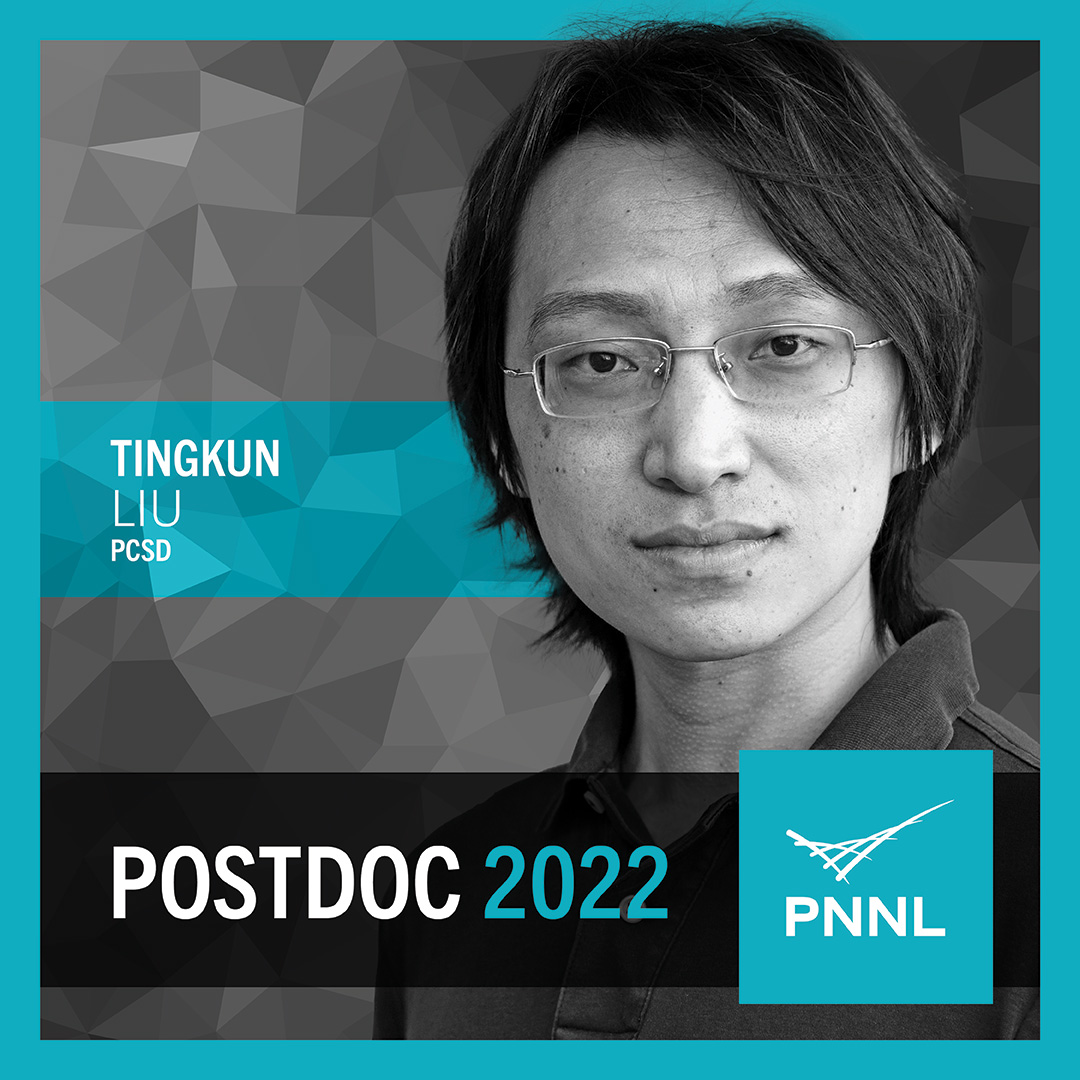 Tingkun Liu explores the structure–property relationships and deformation mechanisms of metallic materials, characterizing them using electron microscopy and X-ray/neutron diffraction techniques. He enjoys discovering how the microstructure of a material influences its properties and performance. 
The University of Tennessee bestowed a PhD in materials science and engineering on Liu in 2019. National labs were not new to him. He was a graduate research assistant at Oak Ridge National Laboratory. Since joining the PNNL team in September 2019, he has expanded his theoretical understanding and practical skills using the technical resources and professional expertise he found at the Lab.
Learning from and collaborating with the experienced scientists has been a big advantage for him in his growth as a researcher. Dr. Liu recommends that postdocs, "Seize any opportunity to learn the advanced techniques and instruments at PNNL." Doing so has allowed Dr. Liu to expand his skills and network with accomplished scientists learning new ideas in the process. 
Emily Nienhuis, Materials Scientist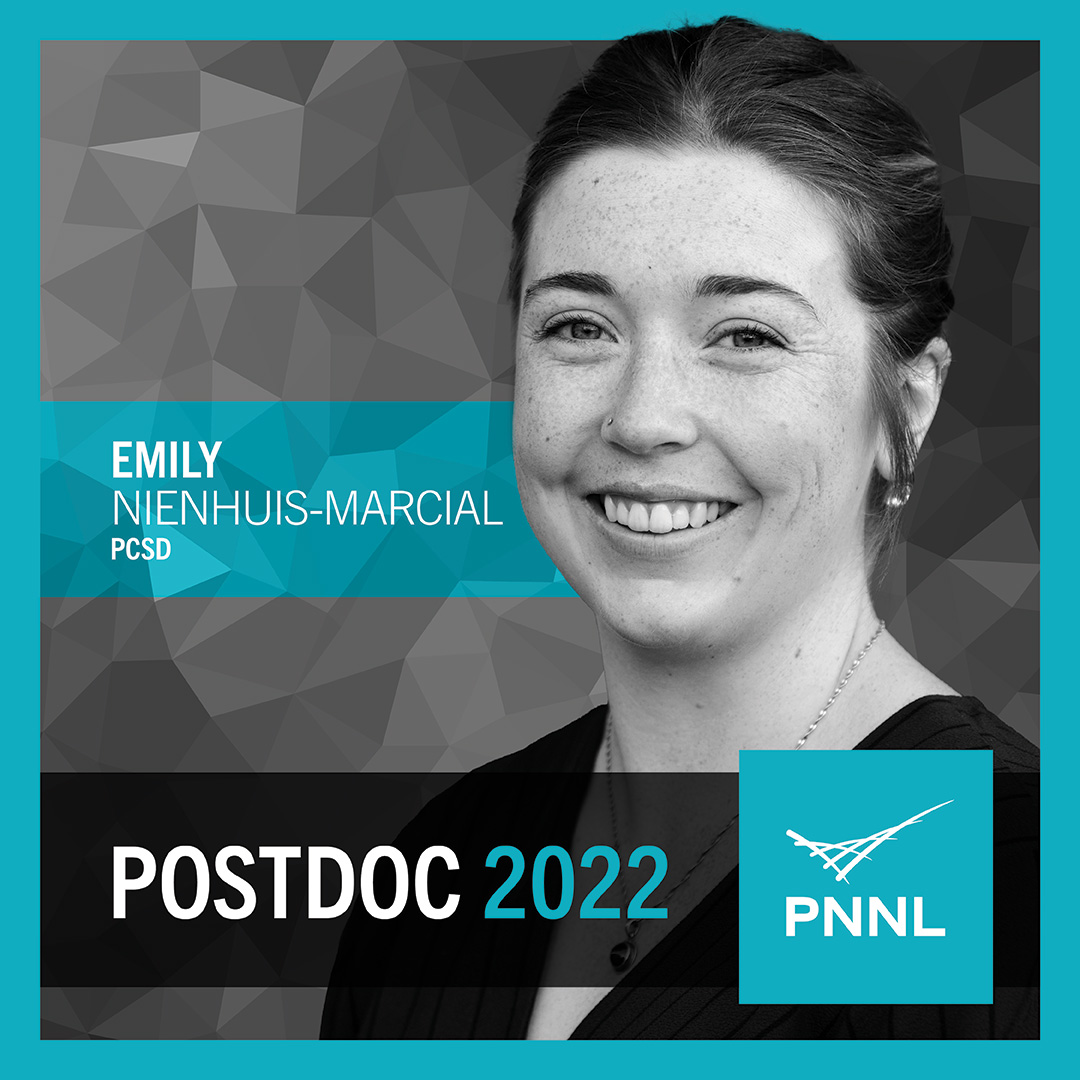 Curiosity led Emily Nienhuis to become a scientist. "I find joy in being able to find a knowledge gap, ask a question, and find ways to leverage a variety of experimental and characterization techniques that provide insight into the original knowledge gap." Her work in aqueous electrolytes keeps her following a path of questions often leading to unanticipated answers. 
The solutions of electrolytes she studies are complex in composition and highly concentrated, which makes their reactivity and behavior difficult to predict.   Nuclear tank waste shares these challenges.  Through her fundamental research, Dr. Nienhuis seeks a predictive understanding of nuclear tank waste chemistry, which will better enable successful retrieval and processing of tank waste for permanent disposal.
While pursuing her PhD in materials science and engineering at Washington State University, she interacted with scientists at national labs including PNNL. After receiving her doctorate in May 2020, she joined PNNL looking forward to expanding her skill set as a researcher. The high caliber of research impressed her as a graduate student. 
For Dr. Nienhuis, asking questions is fundamental to growth and an approach she would advise for all postdocs determining what they find interesting. She said, "be willing to learn and be flexible in the work you do."
Aditya Nittala, Mechanical Engineer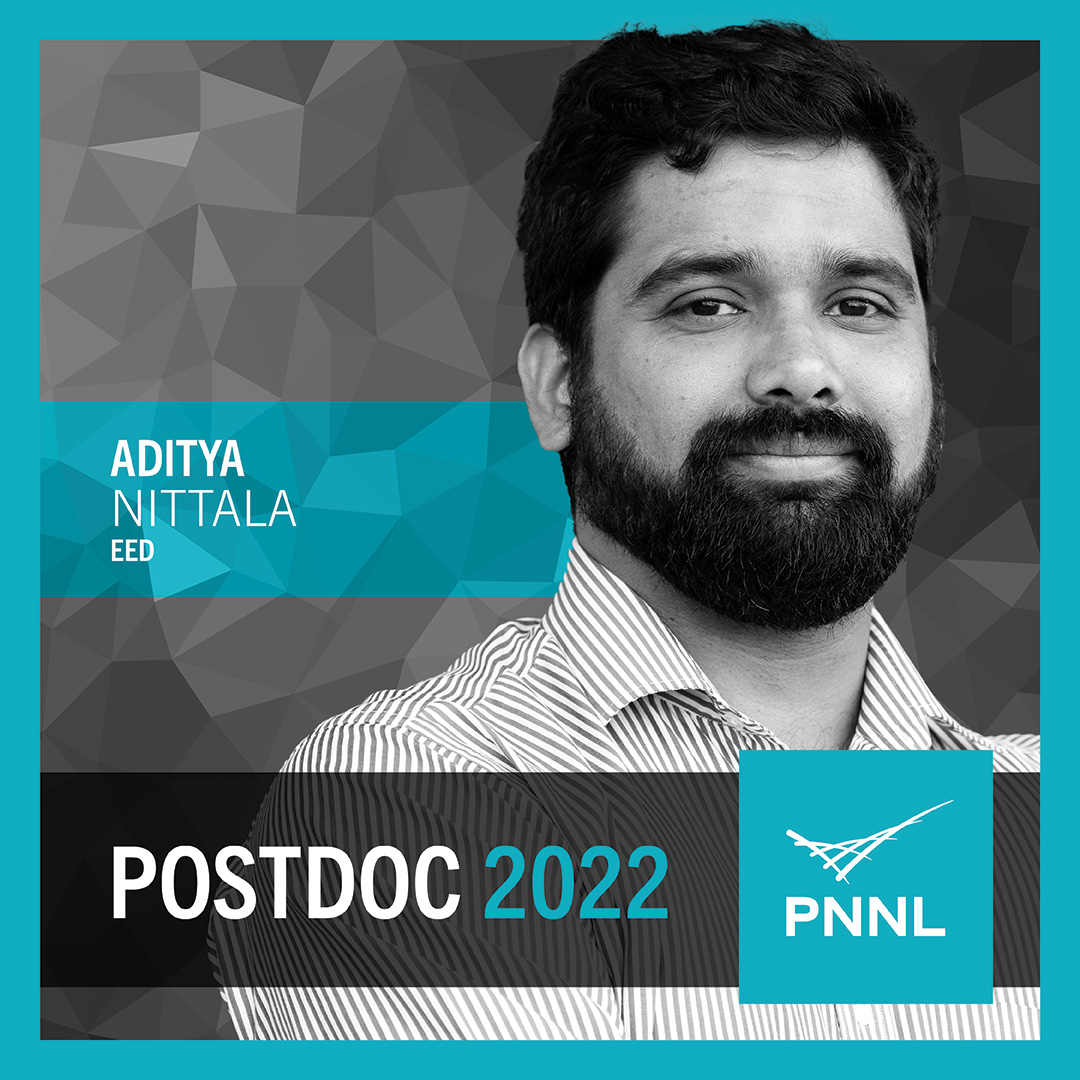 The far-reaching environmental and economic benefits of his research make Aditya Nittala's work at PNNL rewarding and fun. He develops new metal alloys that better conduct electrical current through Shear Assisted Processing and Extrusion (ShAPE), a PNNL custom-designed machine. This research has the potential to make power transmission infrastructure more environmentally friendly, decreasing the energy used in many industries.  
Dr. Nittala first came to PNNL as an intern in February 2021. A year later, after earning his PhD in mechanical engineering from Ohio University, he chose to continue at PNNL as a postdoc. He enjoys being a part of a team doing pioneering work leading the way in emerging technologies. The culture of innovation and being a part of a team at an institute highly regarded in solid phase processing methods appealed to him. 
Dr. Nittala also appreciates the flexibility and freedom of researching at a national lab and how it has helped him grow. "I am surrounded by people whose skillsets, knowledge, and work ethic always inspire me to improve as a researcher."
Tianna-Kaye Woodstock, Electrical Engineer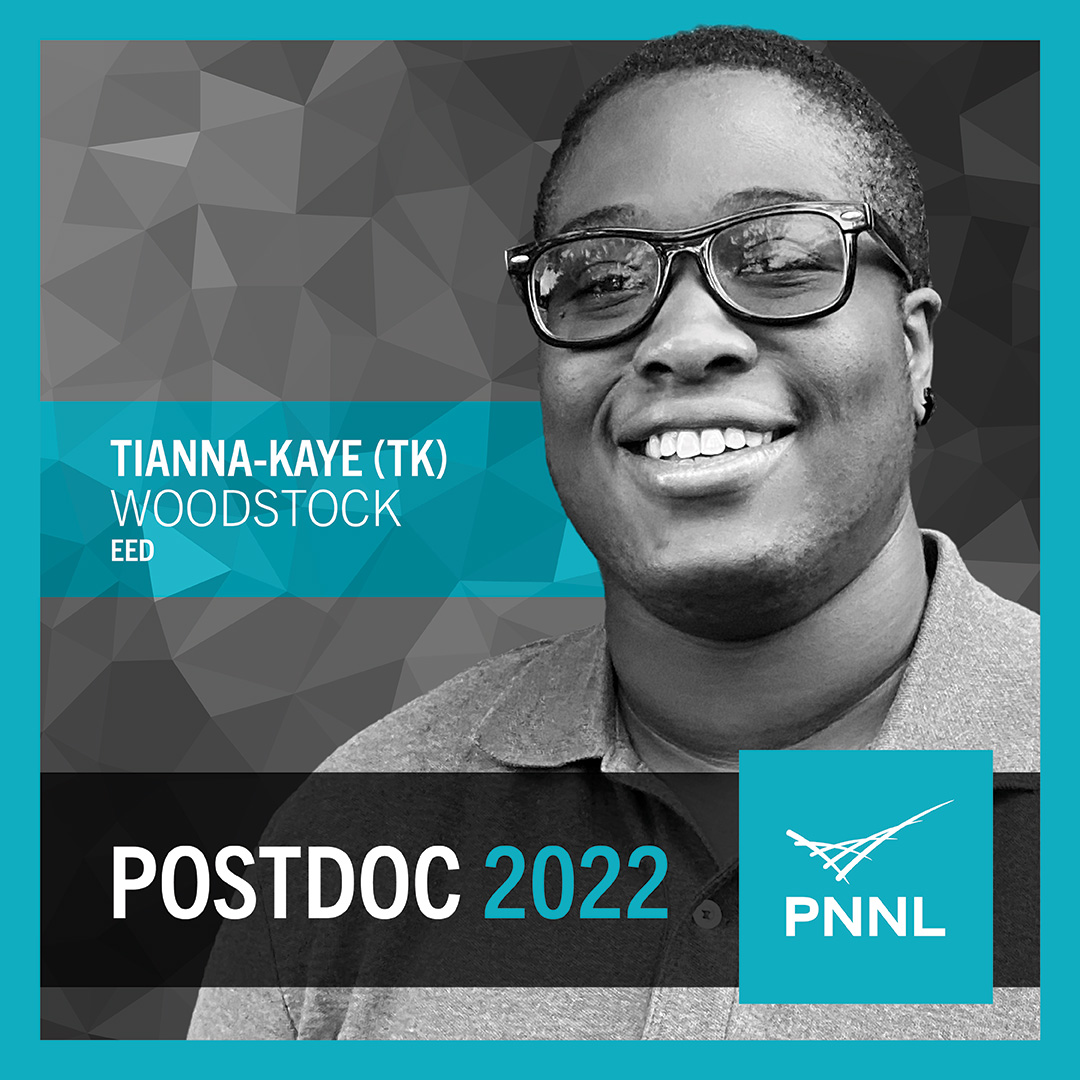 "The intertwining of simplicity and complexity" is what interests Tianna-Kaye Woodstock in her research with lighting. To those of us who simply flip a switch and expect a light to turn on, lighting may seem straightforward, but she and her colleagues are using data from self-reporting lighting systems to optimize a building's performance and analyze its impact. The effects are far-reaching. Efficient lighting is not only good for the environment but also can make us healthier and more productive humans. 
While pursuing her PhD in electrical engineering at the Rensselaer Polytechnic Institute, she regularly encountered research that originated at PNNL, a leader in the field of solid-state lighting (SSL). After graduating, she accepted a postdoc position and now collaborates with the authors of that research.
Dr. Woodstock said, "it was an honor to come and work with the institution and people that had such a massive impact on realization of SSL technology." She has found a good fit where ideas are encouraged, and she is inspired by the expansive scope of the research. 
Jihee Yang, Physicist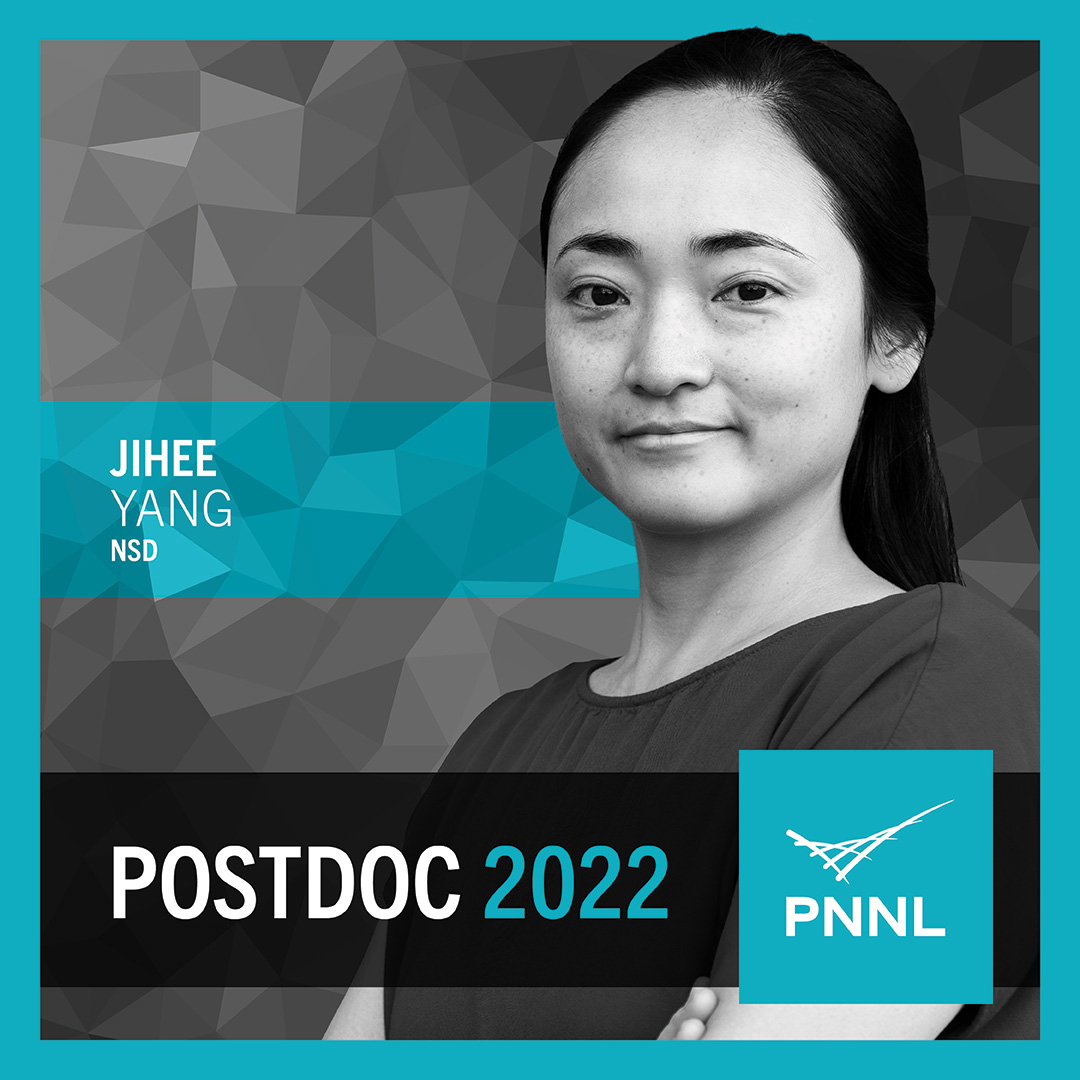 Jihee Yang's research in low-temperature environments has two focuses. Because many materials exhibit unexpected behaviors in low temperatures, new insights can be found when experimenting in those environments. Low temperatures aid in the search for dark matter and enable quantum information science, which can contribute to the next generation of computing systems.
She said, "I am fascinated by the intertwined nature of these fields... They complement each other, which can lead to major advances in science."
During Dr. Yang's first postdoc experience, she had the opportunity to work with PNNL collaborators. She came away with a positive feeling about PNNL's programs and atmosphere. She earned her PhD in physics from the University of Florida in 2016 and was a postdoctoral scholar at the University of Washington before coming to PNNL in 2021. 
She said, "I enjoy the positive work environment and mutual respect between people at PNNL." Working with researchers who share in her scientific interests and enthusiasm is valued by Dr. Yang, and she has found that at PNNL.
Kevin Zemaitis, Analytical Chemist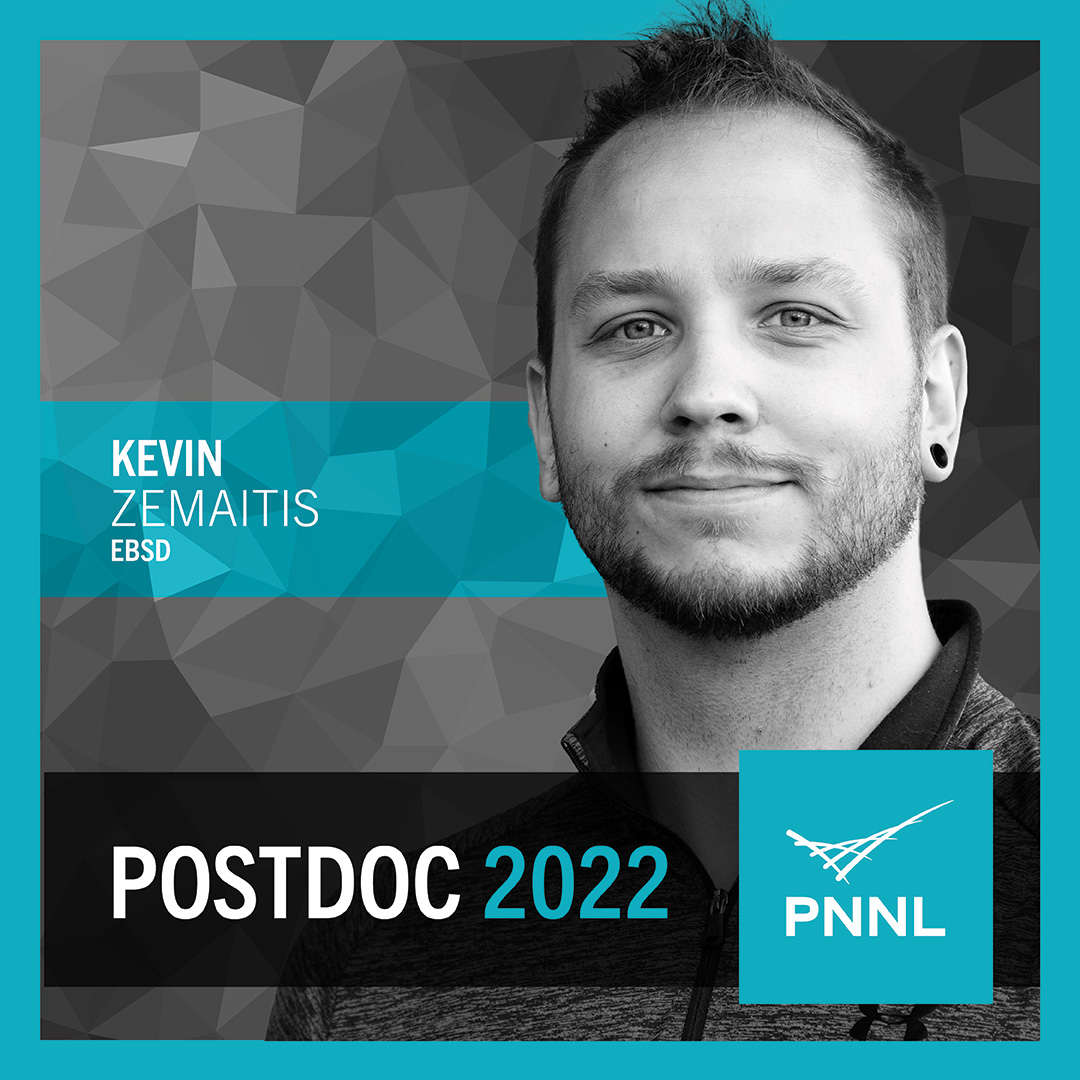 PNNL offers unique capabilities that drew Kevin Zemaitis to campus. The Environmental Molecular Sciences Laboratory (EMSL) is one of only two laboratories in the world with a 21 Tesla (T) superconducting magnet for a Fourier transform ion cyclotron resonance mass spectrometer (FTICR MS). He uses the Lab's premier instrumentation to analyze complex biological systems and finds great purpose in applying highly custom techniques to problems within environmental and biological research.
After receiving his PhD in analytical chemistry from the University of Buffalo, Dr. Zemaitis joined the Lab to aid in the development of Orbitrap platforms for spatial proteomics and the next generation of hybrid Orbitrap-FTICR instrumentation. These instrument developments seek to address questions previously unanswerable. These incredible opportunities are but two of the benefits of his postdoc experience. Collaborating on multidisciplinary projects is a highlight that has allowed him exposure to different fields. 
"I have never found myself limited, and there are always new challenges to overcome and opportunities to be engaged in," said Dr. Zemaitis. PNNL celebrates his determination to meet these challenges in pursuit of scientific discovery.
Published: September 16, 2022
Research topics