August 16, 2022
Spotlight
New Distributed Wind Market Report Released
2022 report represents a decade of information to industry and consumers
Wind energy experts from Pacific Northwest National Laboratory (PNNL) have released the Distributed Wind Market Report: 2022 Edition.
Distributed wind turbines are energy resources connected at the distribution level of an electricity system, or in off-grid applications, to serve specific or local loads.  The report represents a decade of information that provides industry, consumers, and others with detailed market statistics, analysis, and trends.
"The information in the report helps consumers who are interested in using wind as a distributed energy resource to make decisions about investments that can boost their energy savings or help meet decarbonization goals," said Alice Orrell, the PNNL mechanical engineer and distributed wind program manager who led the report effort.
Key findings blow in
Below are some of the key findings featured in this year's report. Related to installed distributed wind energy capacity:
The cumulative U.S. distributed wind capacity installed from 2003 through 2021 now stands at 1,075 megawatts (MW) from over 89,000 wind turbines located across all 50 states, the District of Columbia, Puerto Rico, the U.S. Virgin Islands, and Guam.
In 2021, 15 states added a total of 11.7 MW of new distributed wind capacity from 1,751 turbine units representing a $41 million investment.
Of the 11.7 MW installed in 2021, 8.7 MW came from distributed wind projects using large-scale turbines that are greater than 1 MW in size, 1.2 MW came from projects using mid-size turbines of 101 kilowatts (kW) to 1 MW in size, and 1.8 MW came from projects using small wind turbines up through 100 kW in size.
Rhode Island, Kansas, and Minnesota led the United States in new distributed wind capacity additions, when combined represent 75 percent of the annual distributed wind capacity installed in 2021. The Rhode Island and Minnesota projects serve utility customers, while the Kansas project directly serves an industrial customer, an ethanol plant.
Some of the key findings that highlight deployment trends, customer types, and incentives include the following:
General Electric Renewable Energy has been the only consistent U.S.-based manufacturer of large-scale turbines used in distributed wind projects from 2012 through 2021.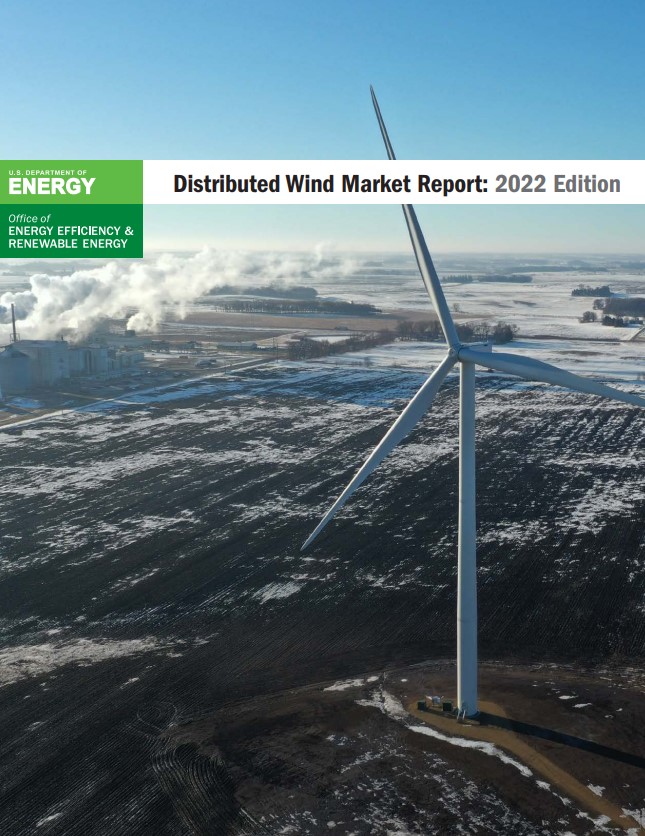 Small wind turbine manufacturers and installers have reported an increased interest in microgrids and hybrid systems from potential customers. Microgrids are becoming more common, but not many are being installed to harness wind energy.
In 2021, agricultural customers accounted for 55 percent of the number of all projects installed, followed by residential customers, who represented 16 percent of installed projects.
Utility customers represented the largest share of total distributed wind project capacity, with 56 percent installed in 2021. Industrial customers followed, accounting for roughly 25 percent of capacity installed.
The combined value of Department of Agriculture Rural Energy for America Program grants, state rebates, and state production tax credits given to distributed wind projects in 2021 was $5.2 million in eight states.
Finally, a key finding related to installed costs:
The average capacity-weighted installed cost for new small wind projects in 2021 was $5,120/kW. "The overall annual average installed cost for new projects in our dataset had been relatively flat through 2019 at approximately $9,970/kW, so the 2021 average is a notable decrease from past years' averages," said Orrell.
See the report for the full list of key findings.
The Distributed Wind Market Report: 2022 Edition, supported by the Department of Energy's Wind Energy Technologies Office, joins two other reports focusing on wind energy:
In addition to Orrell, the other authors of the Distributed Wind Market Report: 2022 Edition are PNNL's Kamila Kazimierczuk and Lindsay Sheridan.
Published: August 16, 2022