September 7, 2023
Spotlight
Inspiring the Next Generation of Energy Science Experts
PNNL leads one of five Pathway Summer School programs nationwide
At the ʔaʔk̓ʷustəƞáwt̓xʷ House of Learning Peninsula College Longhouse, a gathering of Pacific Northwest National Laboratory (PNNL) and Peninsula College leaders, faculty, and students, tribal education partners, and community members marked the conclusion of a unique summer initiative. The seven undergraduate student participants in the inaugural Pathway Summer School (PSS) program took center stage to share their learning and experiences. The PSS program is a part of PNNL's commitment to preparing the future diverse STEM workforce. PNNL led one of five PSS programs nationwide, with a specific focus on engaging students from Native American or Indigenous backgrounds. This effort was sponsored by the Department of Energy (DOE) Office of Science, Office of Workforce Development for Teachers and Scientists, part of the Reaching a New Energy Science Workforce (RENEW) initiative.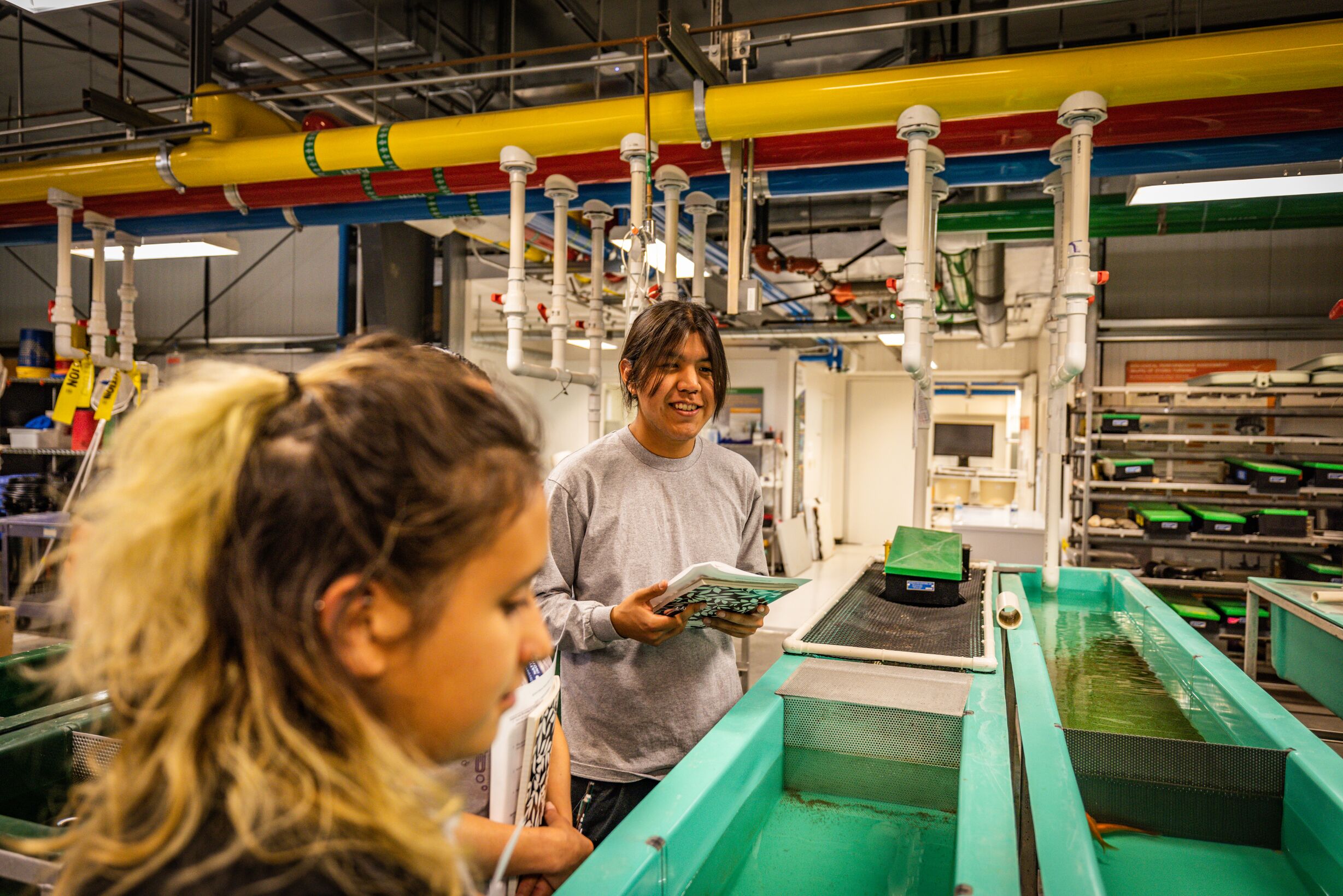 The PSS @ PNNL program took place at PNNL-Sequim, the only marine research facility in the DOE complex. The program aimed to offer a culturally relevant learning experience with a focus on renewable energy and energy equity. It was designed to raise awareness of renewable energy among students while also fostering a sense of belonging within the STEM community.
"Renewable energy sources have a positive effect on the environment that interests me. I come from the Yakama Nation, and it is culturally and personally significant to learn about how we can all help our environment," explained Cosmo Jack, a PSS participant and Yakima Valley College student.
The PSS program provided students with mentoring, professional development, experiential learning, field trips, and conversations with experts in renewable energy, energy equity, and technology. It also introduced them to the broader work of DOE and national laboratories, showcasing potential internships and career pathways as part of DOE's continuous efforts across the national laboratories to provide inclusive pathways for young students to enter the science and technology workforce in support of the DOE mission.
"We need a diverse workforce to solve the big science challenges that we are currently facing now and in the future," said Dr. Asmeret Asefaw Berhe, Director of the DOE Office of Science. "The summer schools will engage a diverse group of students who may not have otherwise seen themselves in science. Our hope is that they see the opportunities available in the science disciplines and continue to pursue a career."
Additionally, throughout the program, PSS participants explored campus facilities, including PNNL's Aquatic Research Laboratory and attended relevant community tours, such as Wanapum Cultural Center, the Wild Horse Wind and Solar Facility, and McNary Dam.
"One of my favorite memories from the RENEW pathway summer school was our trip to the Wild Horse wind and solar farm. Most of us had never seen a wind turbine up close," shared Sonya Castillo, a Western Washington University student. "After spending the week learning about the fundamentals of renewable wind energy, we were able to see the science come to life. It was a very impactful educational experience."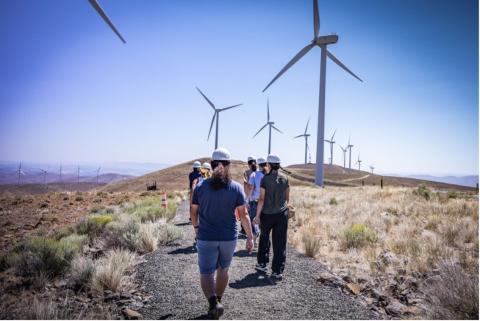 During the PNNL celebration of the PSS participants, the students shared stories of change, inspiration, and ambition. It became evident to the family and community seated in the room that PSS truly was transformative in the lives of the participating students, opening pathways they had never envisioned.
Ciera Skelly, a Peninsula College student, explained it clearly: "In the ideal world, everyone would be able to have an experience like this. I had never had an experience like this one. I have a better understanding of the opportunities that national labs offer and why STEM careers are important. I also have a better understanding of renewable energy sources and how vital renewable energy is to live sustainably as a society."
These future STEM leaders are now pursuing their academic and career pathways. After the PSS @ PNNL, some of the students are realigning their academic major choices to embrace the promise of energy careers and others are embarking on internships with PNNL. Most importantly, as students shared their research and projects from the summer, they described how the experience instilled a sense of purpose, kindled ambition, and expanded their horizons. They stood at the threshold of their futures, confident and poised to seize opportunities they had never dreamed of before.
"Experiences like these are important to future generations because it makes the dream of a sustainable world more attainable," Castillo affirmed. 
Published: September 7, 2023