Pacific Northwest Smart Grid Demonstration
The Pacific Northwest Smart Grid Demonstration Project (PNWSGD) was a collaborative, five-year test of new technologies and capabilities designed to make regional power grids smarter. The project was managed by Battelle's Pacific Northwest Division and involved the Bonneville Power Administration, 11 utilities across Washington, Oregon, Idaho, Montana, and Wyoming, and the University of Washington. Technology partners included IBM, Alstom Grid, QualityLogic, 3Tier and providers such as, Enerdel, Eaton, McKinstry, and more.
The PNWSGD was the largest demonstration project of its kind in the United States, involving more than 60,000 metered customers. It was funded by DOE under ARRA and by project participants, who paid half of the approximately $178 million cost. The project sought to:
develop communications and control infrastructure using transactive incentive and feedback signals to engage responsive assets;

quantify costs and benefits;

contribute to standards development for transactive control; and

facilitate integration of wind and other renewables.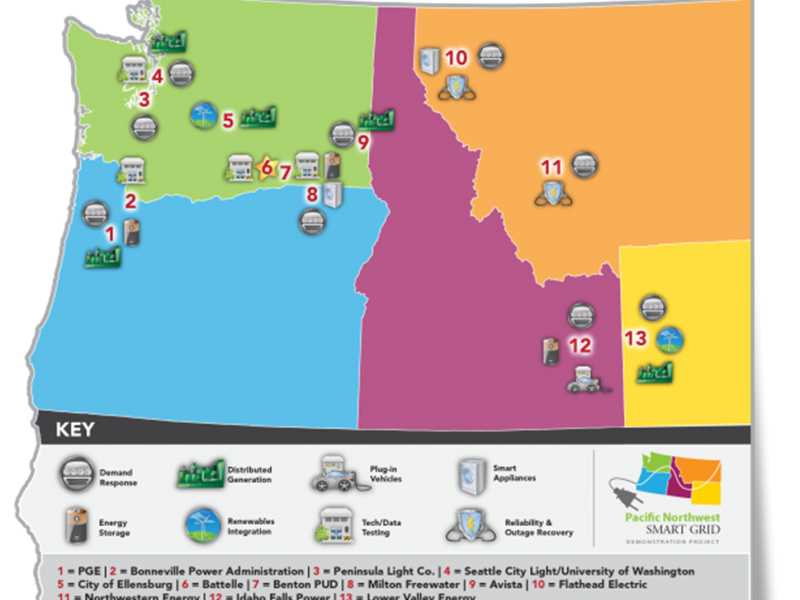 After extensive work to retrofit, install, and test equipment and systems across the five states, October 2012 marked the initial project "go-live"—the beginning of a two-year period of collecting energy use data across the region.
The PNNL-developed transactive control system provided key data. The system, which continuously coordinated the responses of smart grid assets, supported a wide range of operational objectives, from renewable integration to better load and asset utilization. From January through March of 2014, the transactive control signal availability (the fraction of operational signals when transactive nodes are available) was 99.98 percent. 
The PNWSGDP tested asset systems' responsiveness to the transactive control signal and events. Review of such events, such as abrupt changes in load due to weather incidents, helped characterize the system and its response. The project showed how transactive control can address basic system reliability requirements and how the system could be scaled up beyond the project footprint.
The PNWSGDP has sparked new research and activities related to the smart grid and standards. Featured in the national Institute of Electrical and Electronics Engineers (IEEE) Innovative Smart Grid Technologies Conference, the demonstration's work also supported the International Smart Grid Action Network and new business opportunities, such as the Texas Center for the Commercialization of Electric Technologies' efforts to increase wind integration.