Access and Frequently Asked Questions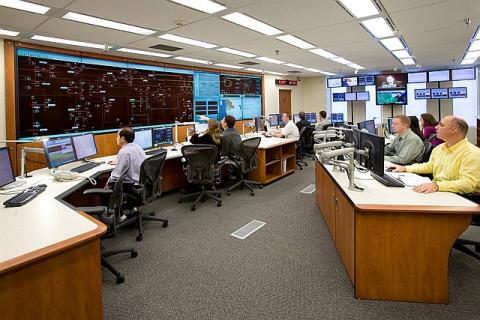 Q: Who can use the EIOC?
The EIOC is available for use by researchers, utilities technology vendors and government agencies.
Because the EIOC enables users to see what actual operators in control rooms see — voltage and power flows, and system state at both the transmission and distribution levels —it supports the development and integration of grid operations technology in a safe yet highly realistic operating environment. Researchers, grid operators, hardware and software manufacturers can collaborate in the iterative process of developing, refining and deploying technologies more quickly. Utilities interested in solving specific operational challenges or manufacturing companies testing new technologies may also use the facility to integrate solutions using actual grid data. The U.S. Department of Energy and government agencies can use the EIOC to test solutions to better understand both the benefits and limitations of technologies, readying them for commercialization and deployment.
Additionally, the EIOC offers an ideal environment for training electric power grid operators — either on site or remotely.
Q: How is the EIOC used?
Researchers, industry stakeholders, government users and technology vendors can secure physical and remote access to this state-of-the art research platform and industry resource on a fee basis.
The EIOC provides comprehensive and secure networking capabilities that allow integration, development and testing of technologies remotely from across the United States. For example, the EIOC has the capability to host multi-control area training sessions remotely, enabling different balancing authorities to participate simultaneously in simulations from different locations.
Transmission operators can use the EIOC as a backup control center. With the implementation of the North American Electric Reliability Corporation (NERC) Standard EOP-008-0, Plans for Loss of Backup Control Center Functionality, the EIOC can serve as a high-reliability and low-cost solution to utilities needing this capability during a disruptive event.
To learn more about how you can use these distinctive capabilities, please email Eric Andersen or call (509) 375-2735.
Q: Where is the EIOC located?
The EIOC is in the 3820 Systems Engineering Building on the PNNL campus in Richland, Washington. PNNL is a U.S. Department of Energy research and development laboratory operated by Battelle.
To get to PNNL from the Tri-Cities Airport in Pasco, exit south from the airport parking area until you reach Interstate 182, then travel west toward Richland. The drive is approximately 25 minutes. For detailed driving directions please contact the EIOC or call (509) 372-4700. Advance notice is required for visitors. To set up a time please email Gail Breneman.
Q: What is a synchrophasor?
Synchronized phasor measurements (synchrophasors) provide real-time wide-area measurement of electrical quantities across a power system. These measurements are time synchronized using GPS systems and are provided at rates up to 60 samples/second. They can be used to validate system models, measure stability margin, and maximize stable power system loading.
Find out more about synchrophasors from the North American SynchroPhasor Initiative (NASPI).
Q: What is situation awareness?
Situation awareness, in the context of an electric grid control room, or operation and control of electric grid assets, is simply having timely visibility and knowledge of the system to make informed decisions and understanding the possible consequences of those decisions, without being subjected to cognitive overload.
This can be broken down into distinct processes, including information that is being fed and displayed to an operator, the cognitive interpretation of the current data (including input from decision support tools) coupled with consequence consideration and risk mitigation by application of a risk-based graded approach to the decision-making process.