June 14, 2022
Staff Accomplishment
Training the Next Generation of Partner Country Border Security Officials
State-of-the-art training facility built in partnership between the Republic of Cyprus and the U.S. Department of State
A new, state-of-the-art training facility in Larnaca, Cyprus provides unique training opportunities for border security officials from partner nations on border security best practices, nonproliferation of weapons of mass destruction, cybersecurity, maritime security, and more. The Cyprus Centre for Land, Open-seas, and Port Security (CYCLOPS) was built in partnership between the Republic of Cyprus and the U.S. Department of State. CYCLOPS provides a brand-new training capability in the eastern Mediterranean, particularly for partners in the Middle East and North Africa. With more than $2 million of training equipment and platforms, CYCLOPS serves as a border security training hub and supports efforts to curb the proliferation risks posed by malign actors and violent extremist organizations.
In April 2022, Under Secretary of State for Political Affairs Victoria Nuland and Cypriot Foreign Minister Ioannis Kasoulides came together to inaugurate the facility, which they said is a symbol of the two countries' expanding relations and will help promote security in the region. "This state-of-the-art facility we formally inaugurate today is the crown of our security cooperation," Kasoulides said at the ceremony.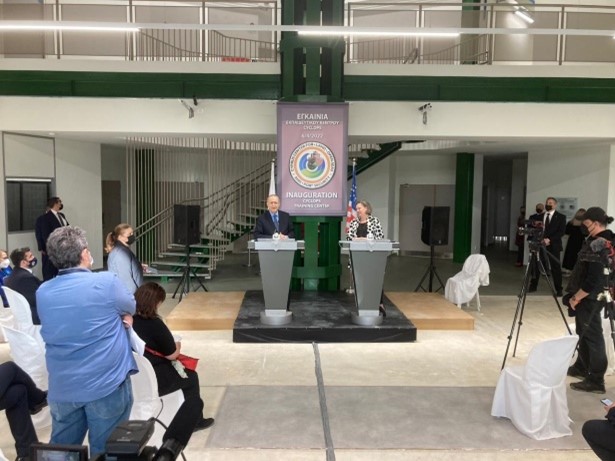 Dynamic Training Facility
To support training and capacity building in nations where in-country training is challenging, or where modern training facilities are not available, CYCLOPS contains modern facilities and equipment to simulate and train on scenarios encountered by border security officials working land, air, and sea borders. This includes the ability to simulate land border crossings, airport passenger and luggage inspection points, a "ship in a box" for vessel boarding and inspection practice, and even a mobile cybersecurity training laboratory.
"With maritime domain security being a critical part of training that will be held at CYCLOPS, the team actually built a mock container vessel," said Scott Maple, who is a project manager. "This features a set of containers welded together to look and feel like a ship when you step in."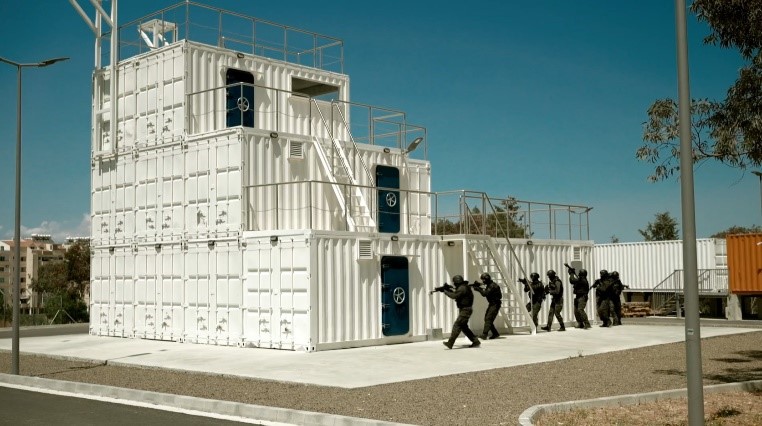 The facility was built in partnership between the Republic of Cyprus and the U.S. Department of State's International Security and Nonproliferation Bureau's Export Control and Border Security Program, with Pacific Northwest National Laboratory (PNNL) staff members playing the pivotal role of project leader and construction manager. In this role, PNNL subject matter experts worked with architects on the design and construction of the facility and provided expert assistance on the proper equipping of the facility to create a world-class, hands-on training environment. PNNL has deep operational subject matter expertise and extensive training experience in border security and chemical, biological, radiological, nuclear, and explosive threat areas. This experience was critical to designing and constructing the facility to maximize its training potential. "Our sponsor asked us to leverage our institutional knowledge in border security, as well as training facilities and props to make CYCLOPS the best of the best," said Maple.
For example, instead of having a mock border checkpoint in one area and detection equipment in a classroom, CYCLOPS combines them so the classroom can open up into the mock border and allow for realistic scenario-based training.
The unique design of the facility allows for various training spaces to serve double duty. For example, the interior of the ship-in-a box is configured for active shooter training, complete with prop furniture and rooms. The area is also equipped with cameras so instructors can watch the teams as they drill in real time and provide feedback.
CYCLOPS is designed to train to not just static threats, but also to those that are evolving. The facility has equipment to train via virtual reality, address aspects of the threats posed by 3D printing, drones, and explosives, and contains a chemical-biological laboratory that will be used for a variety of training purposes. The facility allows for training beyond border security disciplines and will pay dividends not only for PNNL but other United States government assistance providers. The facility has already hosted trainings on international sanctions, illicit finance, and disinformation.
Unique Training Courses
PNNL has conducted multiple border security and chemical, biological, radiological, nuclear, and explosive trainings at CYCLOPS and will conduct many more in the coming year. "It's great to see the building already being used," said Maple. "It's exciting to think about all of the hands-on practical trainings that will take place there."
"This facility allows for so much more than just training people in a classroom," said Maple. "Instructors often think that the only way to train is through a PowerPoint and students in seats. But even the classrooms here allow for interaction by using special equipment students would see in the field. This allows individuals to touch, learn, and study the equipment first-hand; not just look at pictures of it."
"Having a state-of-the-art regional training facility like CYCLOPS is a game changer for international border security training, because it allows us to bring in and train audiences from countries that we would not normally be able to reach," said Jim Spracklen, program manager for PNNL's Weapons of Mass Destruction Counterproliferation Training Program.