Report Cards for Today's Connected Lighting Systems
Real-life testing reveals installation and configuration challenges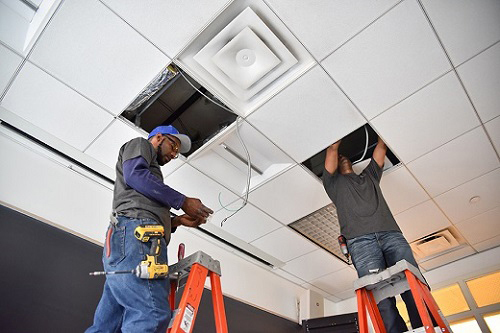 The Parsons School of Design in New York City is one of the most prestigious art and design schools in the world, and first home of the popular TV show Project Runway. Last year, Parsons also became a living laboratory, when 12 classrooms were outfitted with cutting-edge lighting systems.
These lighting systems were not being used to demonstrate dramatic illumination effects for stage, screen, or fashion modeling events. The LED connected lighting systems, all from top manufacturers, were being evaluated on how easy they were to install and configure. Research by Pacific Northwest National Laboratory (PNNL) and others shows how they stacked up, while also revealing lessons learned and best practices for manufacturers and lighting specifiers.
The lighting evaluations, which started in July 2017, are sponsored by the U.S. Department of Energy, the Illuminating Engineering Society, and the International Association of Lighting Designers. The evaluations, part of an effort called the Next-Generation Lighting Systems (NGLS), exclusively focus on connected lighting.
Simple is Better
LED connected lighting systems are an exciting development because they can reduce energy and utility bills, make lighting respond to its environment, and provide data to help building owners meet operational goals. The systems work by connecting lighting fixtures, controls, and sensors to a local network that can be operated wirelessly using a computer, tablet, or smartphone. Each light can share data on its status, as well as occupancy, activity patterns, and more.
The challenge is that connected lighting systems are still in their infancy. Most have been on the market for less than a year. Lacking industry standards, manufacturers vary widely how they design and document these systems, which can create issues when it comes to installing and setting them up.
If lighting systems are too complex, home and building owners give up in frustration—falling back to their less energy-efficient lighting without controls. But if manufacturers can make their product designs and instructions more standardized and intuitive, the thinking goes, building owners and consumers are more likely to purchase and use them successfully.
Life in the Living Lab
The goal at Parsons was to use a documented research process to see what truly made a connected lighting system easy to install and configure, as all of them claimed to be.
Manufacturers provided their LED connecting lighting systems for the tests, all with energy-saving capabilities specified by the evaluation team. Licensed electrical contractors who were unfamiliar with the systems were asked to install them using only the instructions that came with the systems. If they got stuck, they could call the 1-800 numbers provided with the products. Manufacturing representatives could observe, but were not allowed to help the installers.
PNNL and the others on the NGLS team of lighting and facilities experts observed, timed, and recorded the results during this process. Then they ranked them on how easy they were to install and configure, and how well the systems performed.
Hours on the Phone
Results were mixed. Only four systems were ranked as easy, with the remaining eight either somewhat or not easy. The easiest were those with luminaire-integrated sensors and wireless wall switches. Systems with fewer control capabilities and default operational settings were generally easier to install and configure than others.
User interfaces for the control systems were often the weak link. Most of the systems were capable of performing well, but many weren't programmed correctly. Installers' phones were sometimes incompatible with the downloadable phone apps required for configuration. Some lights required setup using software on a laptop or desktop computer, which were not always available.
Electricians paid the most attention to installation diagrams and the least attention to lengthy written instructions. Yet the literature that came with the products was often unclear or incomplete. In some cases, electricians were consulting on 1-800 phone calls with the manufacturers for hours as they both struggled to figure out how to make the systems work.
Moving Ahead
Manufacturers have enthusiastically embraced the feedback to refine and improve their products. "We are updating how we deliver our WaveLinx Connected Lighting Solution documentation as well as how we define instructional items in our manuals to make them easier to understand," said Baker Assaf, Eaton's NYC Specifications Sales Manager.
The systems will remain at Parsons for two years while being evaluated for system performance, user satisfaction, and reliability.
Results are available on a webinar and will be published on the NGLS website. The U.S. Department of Energy's Office of Energy Efficiency and Renewable Energy sponsored PNNL's part of the work under the Building Technologies Office's Solid State Lighting Program.
Published: May 31, 2018
PNNL Research Team
Ruth Taylor, Michael Poplawski, and Terry Shoemaker. The research team also included the Steering Committee, a diverse panel of national experts who design, specify, evaluate, and research connected lighting systems.
Research topics