December 12, 2022
Staff Accomplishment
PNNL-Sequim Team Wins ESTCP Project of the Year
Researchers recognized for their work supporting underwater munitions remediation
Locating and removing unexploded ordnance (UXO) is a critical safety measure around the world. UXOs are a result of past military training, weapons testing, accidents, and conflicts, and can be found on land and in the water—even buried under the seafloor. Pacific Northwest National Laboratory (PNNL) researchers support underwater testing to help advance technologies that detect and classify UXO in the marine environment. This problem is uniquely challenging in the dynamic underwater ocean environment for safe and efficient munitions remediation.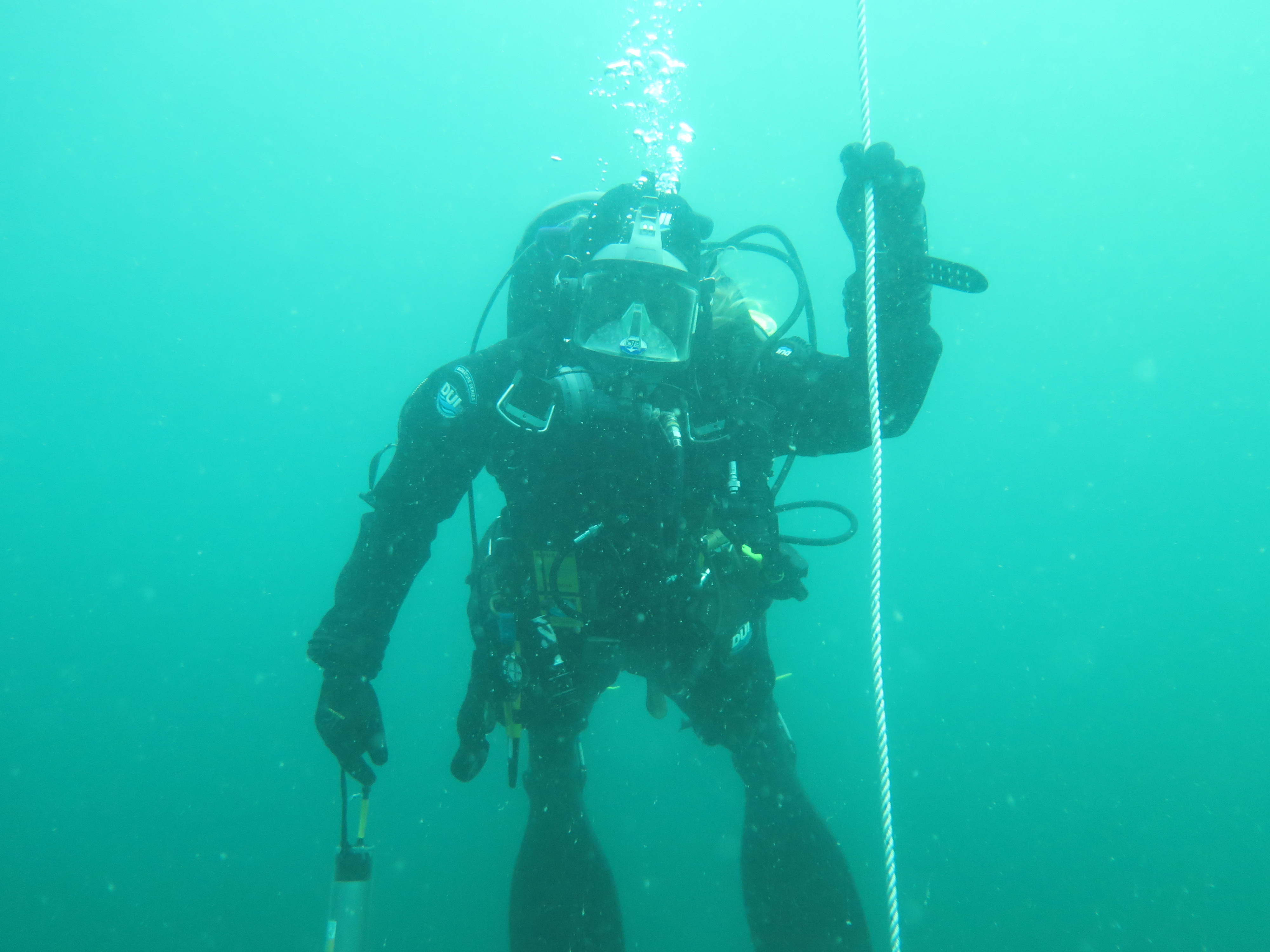 The PNNL research team supporting the Sequim Bay Underwater Demonstration Site was recently awarded the ESTCP Project of the Year in Munitions Response by the Department of Defense's (DoD's) Strategic Environmental Research and Development Program and Environmental Security Technology Certification Program (SERDP & ESTCP). At the 2022 SERDP & ESTCP and Operational Energy Innovation Symposium, the team was recognized for their efforts supporting testing and development of new technologies that detect UXO on and below the seafloor.  
"It's an honor to be recognized for all the hard work that our team has accomplished over the last five years to support SERDP & ESTCP and their munitions remediation efforts," said Dana Woodruff, PNNL Earth scientist and project manager.
Located on Sequim Bay in Washington State, PNNL-Sequim campus is home to Department of Energy's only marine sciences laboratory, an underwater demonstration site, multiple research vessels, and an experienced team of marine scientists and scientific divers. SERDP originally chose to use PNNL-Sequim in 2016 as a test site for their projects because of these unique facilities and relevant marine expertise, coupled with the environmental conditions in nearby Sequim Bay.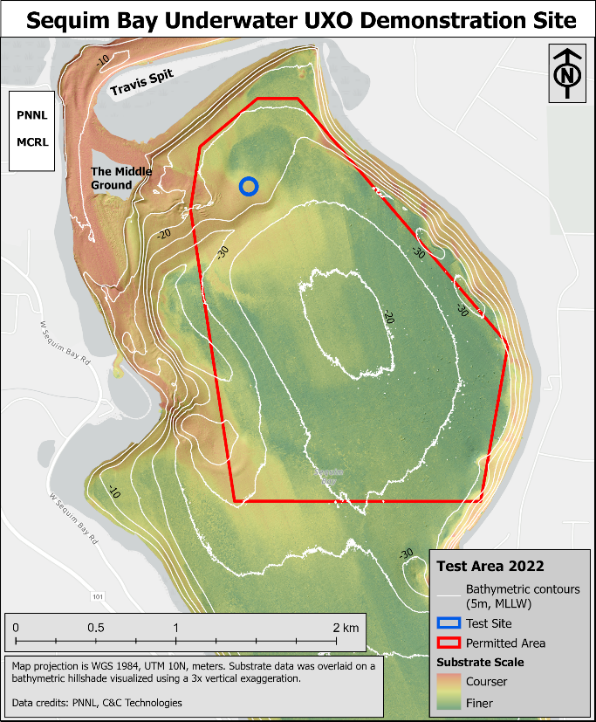 "Sequim Bay has relatively calm weather and a clean seafloor which are valuable qualities in a demonstration site," explained Joseph Haxel, PNNL Earth scientist and principal investigator for the demonstration site team. "We've characterized the underwater environment in detail—from the different types of sediments to the water quality—so we can test a variety of new technologies."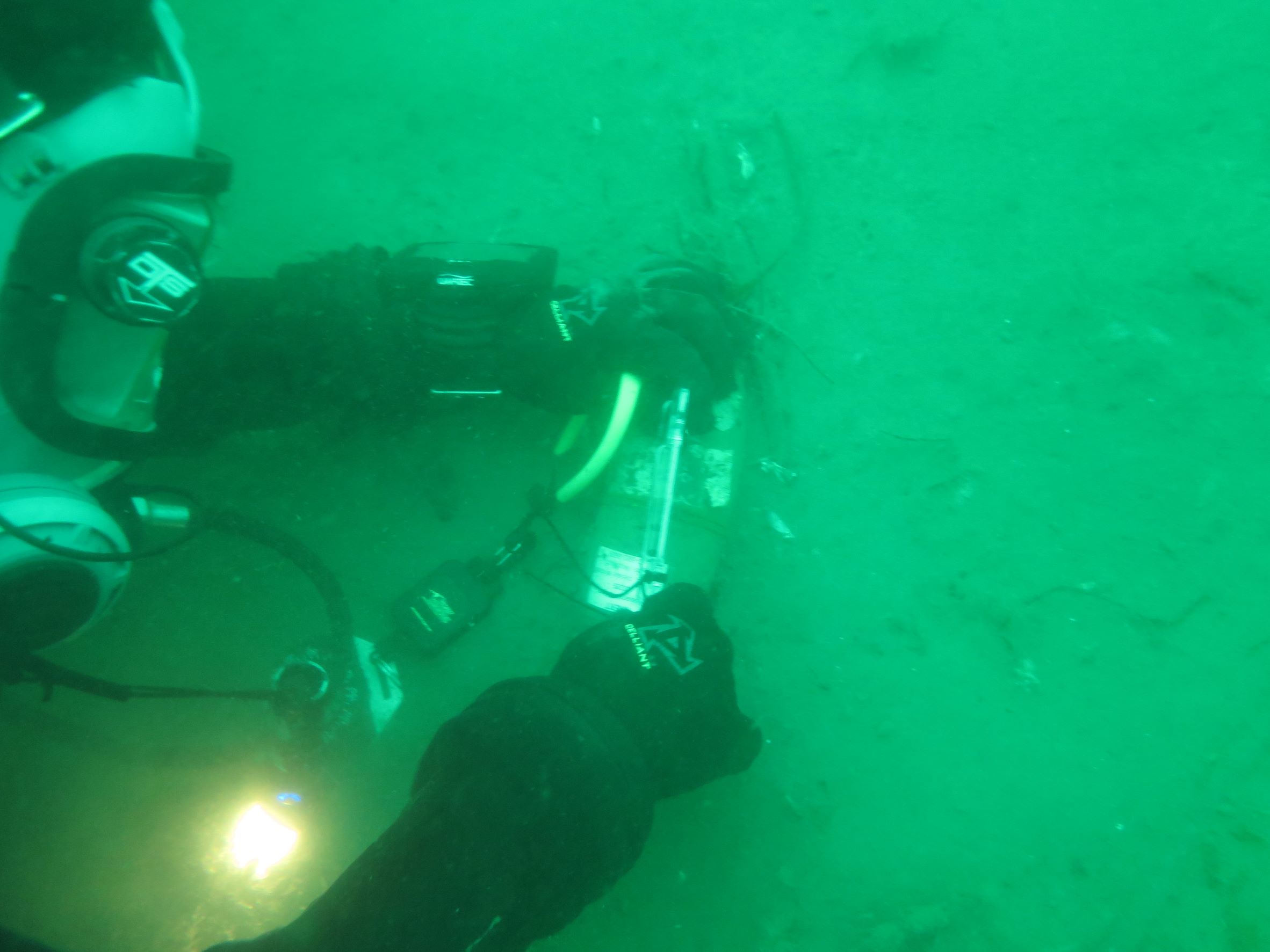 SERDP & ESTCP funds developers to test their munitions-detecting technologies at the Sequim Bay Underwater Demonstration Site. Before testing, PNNL scientific divers place inert or replica munitions on the seafloor of the demonstration site in pre-determined locations. Then, developers test their technologies at the site and researchers to evaluate how well the devices were able to locate and classify the underwater targets.
"Not only is the technology tested in Sequim Bay being commercialized and used elsewhere, but we're also sharing what we've learned establishing this demonstration site over the last few years to inform the establishment of new testbeds in locations with different environmental conditions that will further support munitions remediation efforts around the world," explained Woodruff.
This work was supported by DoD's SERDP & ESTCP. SERDP is a DoD program planned and executed in partnership with the Department of Energy and the Environmental Protection Agency. Learn more about the Sequim Bay Underwater Demonstration Site at the project website.
Published: December 12, 2022
Research topics