February 2, 2018
Web Feature
PNNL Researchers Contribute to the Top Downloaded NASEM Publications of 2017
Reports focus on toxicology exposure as well as resilience of the nation's electricity system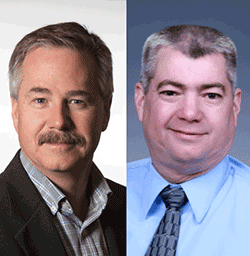 The work of two Pacific Northwest National Laboratory researchers was recently recognized by The National Academies of Sciences, Engineering, and Medicine

 (NASEM) as among the Academies' most popular of this past year.
Justin Teeguarden, PNNL's chief scientist for exposure science, and Jeff Dagle, the Lab's chief electrical engineer for electricity infrastructure resilience, each contributed to NASEM's Top 20 Most Downloaded Publications of 2017

.
Coming in at #16, Teeguarden was one of 23 committee members who authored "Using 21st Century Science to Improve Risk-Related Evaluations

." The report examines advances in molecular and cellular biology, -omics technologies, analytical methods, bioinformatics, and computational tools and methods into the field of toxicology. Authors considered if a new toxicology exposure model is needed for data validation, how to integrate the divergent data streams, how uncertainty might need to be characterized, and how best to communicate the new approaches.
One place behind, at #17, Dagle was one of 17 committee members charged with developing the NASEM report, "Enhancing the Resilience of the Nation's Electricity System

." Authors examined how existing and emerging technological options—including greater reliance on distributed power generation—could affect the reliability and ability to recover from disruptions to the system.
NASEM is a private, nonprofit organization that provides independent expert advice on some of the most pressing scientific, engineering, and medical challenges facing the nation and the world.
Published: February 2, 2018