January 25, 2016
Web Feature
Detecting Technetium in Groundwater
Novel approach uses salt-based sensor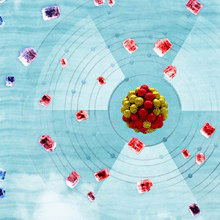 Technetium-99 is a long-lived radionuclide byproduct of the nuclear fuel cycle, making it a major radiological concern at nuclear waste repository sites that requires on-site monitoring. When exposed to moderately oxidizing conditions, technetium-99 is readily converted to pertechnetate—a highly soluble anion that can migrate into groundwater and the environment.
Existing methods for on-site monitoring of pertechnetate in groundwater require a complicated series of analytical steps due to low Tc selectivity and sensitivity. A new approach demonstrated by PNNL researchers uses highly selective and sensitive platinum salt to detect and quantify pertechnetate in groundwater.
The new ion recognition approach has potential for the development of a field-deployable and highly accurate sensor for monitoring pertechnetate in groundwater, river water, and watersheds. This work could have a broad impact on remediation efforts, paving the way for the development of similar salts for detection of other important environmental contaminants.
For more information, read the EMSL news.
Published: January 25, 2016
Research topics