October 26, 2021
Staff Accomplishment
Carman Receives Professional Achievement Award
Award recognizes distinguished University of Nevada, Reno, alumni
April Carman, a chemist at Pacific Northwest National Laboratory (PNNL), has received the Professional Achievement Award from the College of Science at the University of Nevada, Reno.
Carman was one of nine alumni honored at the college's Distinguished Alumni of the Year ceremony on October 14 in Reno. Each year, the college gives the award to an alumna or alumnus who has "an outstanding record of career accomplishments, is distinguished in their profession," and shows pride in their alma mater.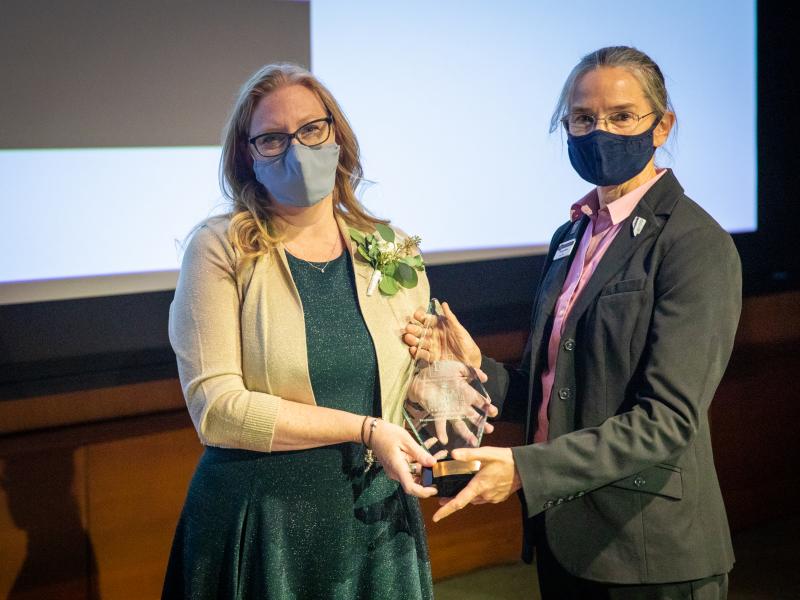 In the fall of 2001, April Carman was just months from receiving her PhD in chemistry from the university. The young scientist planned to launch a career in the booming technology industry—until the events on one September day pointed her in an unexpected direction.
"I was working to wrap up my dissertation on September 11 when the attacks on U.S. soil occurred," Carman said. "Suddenly, all of the job opportunities I had been eyeing in the tech industry evaporated."
But it wasn't long until her new career path became clear.
"I was very distraught over the recent terrorist attacks and became interested in a career in national security as a way to contribute in some way to the fight against terrorism," she said.
Her desire to help secure the nation led her to PNNL in 2002. She started as a postdoctoral researcher working in nuclear explosion monitoring. Over the next two decades, Carman continued to build an accomplished career at PNNL as a staff scientist—working on several projects sponsored by the National Nuclear Security Administration as well as other government and private entities.
"I really love that applied science aspect—knowing that what we do on a daily basis is impacting national security." – April Carman, PNNL chemist
"I have enjoyed being part of the mission here at PNNL," Carman said. "I really love that applied science aspect—knowing that what we do on a daily basis is impacting national security."
Her research has focused on trace detection and analysis, gas systems, instrument design, and post-detonation nuclear forensics—and more broadly in technology transfer and research and development (R&D) integration with end users. Her work managing a program with the Department of Defense earned a 2012 Federal Laboratory Consortium Award, a 2012 R&D 100 Award, and a 2013 American Chemical Society Award.
Published: October 26, 2021
Research topics