Oil & Gas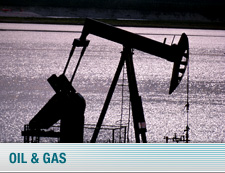 As the price of oil continues to increase and global oil production nears its peak, pursuing unconventional oil supplies, such as oil shale, heavy oil, coal and oil sands becomes increasingly attractive. Of particular significance is that these unconventional resources exist in North America and provide the opportunity to develop cutting-edge technologies for characterization, production, processing and environmental management—allowing the United States to lead in global solutions.
Pacific Northwest National Laboratory offers cutting-edge technology that has the potential to accelerate the economic and environmentally acceptable exploitation of these unconventional hydrocarbons making them more cost competitive. Our scientists are developing ways to convert other resources such as coal into environmentally safe alternatives to oil and gas.
The Laboratory also offers a broad range of existing technologies that can be leveraged in new research. From sensing to chemical process technologies to modeling and clean-up capabilities—these are just the tip of the iceberg. We invite you join us in revolutionizing this industry with new research or to tap into our portfolio of existing technologies.