Lab Director's Columns and Opinion Pieces

Supporting STEM is an Investment in our Future
DOE's STEM Rising blog, January 30, 2018, authored by Lab Director Steven Ashby
Mahatma Gandhi once said, "The future depends on what you do today." At Pacific Northwest National Laboratory, we believe the ability to address the most challenging problems in science, energy, the environment and national security—both as a national laboratory and as a nation—depends upon our ability to inspire and prepare the next generation of scientists and engineers. Read more...

PNNL's research today may help feed the planet tomorrow
Published in the Tri-City Herald, January 2018, authored by Lab Director Steven Ashby
January is a time for New Year's resolutions, and many of us might be trying to eat a little healthier and cut back on certain foods. Read more...

PNNL's holiday gifts include science and technology for the nation
Published in the Tri-City Herald, December 2017, authored by Lab Director Steven Ashby
This time of year finds many of us busy with holiday shopping. While the Department of Energy's Pacific Northwest National Laboratory might not be developing the latest video games or hoverboards, we are working hard to deliver a few presents you might like. Read more...

PNNL protecting the electric grid from cyberattack
Published in the Tri-City Herald, November 2017, authored by Lab Director Steven Ashby
We depend on electricity for nearly everything we do. Flip a switch, and the lights come on. Turn up the thermostat, and the room gets warm. Read more...
Lab Director's Columns and Opinion Pieces Archive
---
PNNL Director Steven Ashby's Presentations
Event: Naturalization Ceremony, U.S. District Courthouse, 2016, November 15, Richland, WA
Title: Steve Ashby's remarks at Nov. 15, 2016 Naturalization Ceremony
Summary: As an invited speaker at a naturalization ceremony at the Federal Building in Richland, Wash., PNNL Lab Director Steve Ashby welcomed 18 new American citizens, telling them, "As Americans we have much to be thankful for. Among the things for which I am grateful is living in a nation that embraces diversity, that welcomes and respects cultures from around the world and that still serves as a beacon of freedom and opportunity."
Remarks from November 15, 2016 naturalization ceremony.
PNNL Director Steven Ashby's Presentation Archive
---
Happenings
Energy Secretary Perry visits PNNL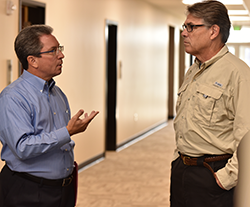 Energy Secretary Rick Perry was at PNNL on Aug. 15, 2017, touring one-of-a-kind facilities and learning about how PNNL's research and development are contributing to DOE missions and national priorities. During Secretary Perry's visit, he heard from PNNL experts about grid modernization, technologies to detect nuclear explosions, energy storage advancements, cybersecurity and more. He also toured EMSL, the Environmental Molecular Sciences Laboratory, which is a DOE Office of Science user facility. Click here for more about Secretary Perry's visit, including photos and a video of his address to PNNL staff.