318 Building
Applying the science of radiation for safety and discovery
When the Discovery Channel's Mythbusters wanted to know if cockroaches could survive a nuclear holocaust, they headed to PNNL and its facility dedicated to radiation measurement and irradiation science. The "experiment"—which confirmed that cockroaches can survive the radiation dose from a nuclear weapon—was conducted in the 318 Building Radiation Measurements Laboratory.
The 318 Building originally housed the High Temperature Lattice Test Reactor, which operated between 1968 and 1972. As a leader in nuclear research and safety, PNNL now uses the facility to produce standard-setting work for the radiological field.
This ranges from making sure expensive equipment will survive in radioactive environments to double-checking the radiation measurement tools used by federal agencies and industry. The irradiation sciences work takes place in lab spaces dedicated to conducting nondestructive assays, testing and developing new instrumentation and technology, calibrating research and accreditation, measuring and testing equipment, and conducting reactor research, radiation dosimetry, and detector research.
Laboratory staff provide expertise in health physics, artifact irradiation, radiation measurement, instrument testing, dosimetry, and 
calibrations. The 318 Building's labs are accredited by the National Voluntary Laboratory Accreditation Program (NVLAP, Labcode 105020-0) to perform National Institute of Standards and Technology (NIST) traceable irradiations and calibrations.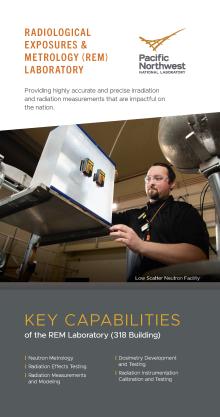 The 318 Building houses several ionizing radiation laboratories for irradiating artifacts with beta, neutron, and gamma radiation of various energies. Laboratories include:
Low Scatter Neutron Facility is a large shielded room that houses neutron and gamma irradiation stations on a raised platform. A pneumatically driven "rabbit" system is used to move sources from their storage location to the irradiation station.
High Exposure Facility has the ability to accept radiologically active or contaminated samples. Instrumentation includes scanning electron microscopes and thermal gravimetric analysis for sample characterization (up to 200,000 rad/hr for small items, and up to 50,000 rad/h for larger items).
BETA Irradiation Facility contains calibration and irradiation apparatus, and supplied sources to comply with international secondary standards for beta irradiations.   

Industrial X-Ray Facility maintains more than 60 beams accredited by the International Organization for Standardization and NIST (20 keV to 320KeV, 0.2 mR/hr to 6000 R/hr).  

Irradiation Well Room is used for high-throughput instrument calibrations, and testing of radiation detectors and other items (100 µrad/hr to 10,000 mrad/hr).  

GAMMA Bunker is used for gamma irradiations of samples, for durations of weeks to many months, to achieve ultra-high doses. This allows for temperature controls of samples and real-time monitoring.  
The 318 Building's facilities have specialized capabilities spanning:
Nondestructive Assay is used primarily for in situ measurements of waste containers. This is especially useful in separating transuranic waste from non-transuranic waste in a rapid, low-cost, non-invasive manner.  

Environmental Testing Lab is used for testing temperature (-60°C to +100°C), humidity (20-95%), vibration, and radiation source of small to very large items (max 5'x5'x7').
Dosimetry is done with four different types of radiation detection systems used to measure radiation dose at internal or external locations. Space is dedicated for testing male and female anthropomorphic phantoms (RANDO®) and radiation protection garments, calibrations, and material testing.  
Contact
Group Leader, Nuclear Chemistry & Engineering, Nuclear Sciences Division