PNNL hosts summer scientific research
collaborations for college and university faculty
Pacific Northwest National Laboratory is a host site for the U.S. Department of Energy's (DOE's) Visiting Faculty Program (VFP). VFP seeks to increase the research competitiveness of faculty members from colleges and universities that are historically underrepresented in the research community.
VFP provides selected college faculty members the opportunity to collaborate with scientists and engineers on a project of mutual interest during 10-week appointments (spring, summer, fall). Participants engage in projects related to DOE's ongoing research and development needs. Applicants must submit a research project proposal that is co-developed with PNNL research staff in advance.
Proposal submissions are now open! Submit your proposal before October 4, 2023 at 5:00 PM ET.
If selected for a summer VFP, faculty members are also able to engage two of their students to collaborate on a research project at PNNL. Student engagement in research with faculty members and laboratory staff expands the technical workforce vital to DOE's mission. By investing in the STEM workforce of the future through programs like VFP, DOE assures America's security and prosperity by addressing energy, environmental, and nuclear challenges through transformative science and technology solutions.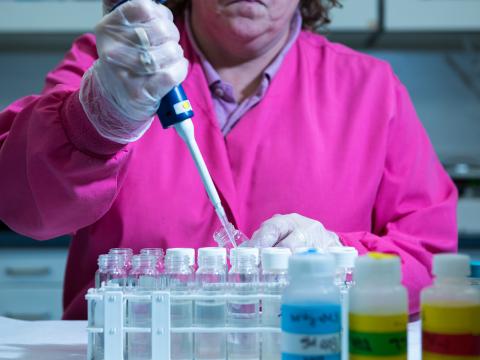 Research Interests
Visit the PNNL website to see if your specific research interests align with PNNL projects. Feel free to connect with a researcher to gage their interest and availability to collaborate on a summer project. For help identifying a potential collaborator, contact Nicole Castilleja Bentley.
If selected, participants must complete the full 10-week program and take pre- and post-appointment surveys. At the conclusion of the appointment, participants must submit a 6–8-page project report on the outcome of their VFP-related project activities.
Eligibility
To be considered for an internship, interested applicants must:
Be a U.S. citizen or lawful permanent resident.

Be a full-time faculty member at an accredited U.S. degree-granting, postsecondary institution of higher education that has been historically underrepresented in the research community. Full-time faculty members at Historically Black College or Universities are eligible.

See application page

for more details.

Be a full-time faculty member in an area of physics, chemistry, biology (non-medical), mathematics, engineering, environmental sciences, materials sciences, or computer or computational sciences.
Applying for VFP
A research proposal co-developed with a PNNL researcher must be electronically submitted as part of the application. DOE's Office of Science Workforce Development for Teachers and Scientists program manages the VFP. Find more details and apply on the DOE VFP web page.