August 18, 2023
Spotlight
Innovations in Home Energy Technology on Display in D.C.
Visitors learn how PNNL's research supports deployment of energy-efficient home technology
Pacific Northwest National Laboratory (PNNL) building science researchers Patti Gunderson and Christian Valoria exhibited at the 3rd annual Innovative Housing Showcase hosted by the U.S. Department of Housing and Urban Development (HUD) in June on the National Mall in Washington, D.C.
PNNL's broad range of building science research and technology deployment initiatives was displayed using a shed built and delivered by Chesapeake Sheds. The highlight of PNNL's showcase entry was a continuously changing exterior as local contractors from Hight on Homes demonstrated a highly efficient, durable, and cost-effective wall upgrade, dubbed "Adding Insulation when Re-Siding," or AIRS.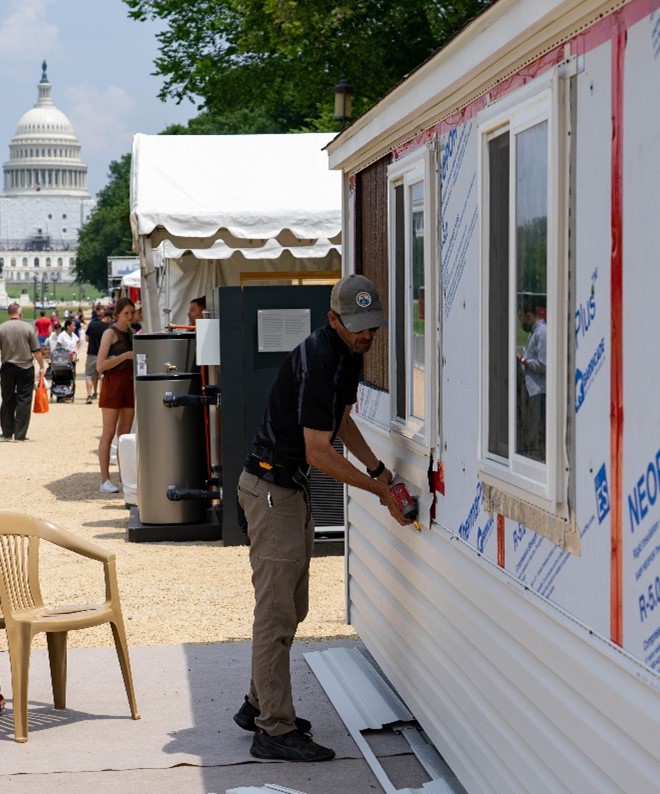 AIRS aims to encourage homeowners to take advantage of siding replacement projects to also upgrade walls using one inch or more of rigid exterior continuous insulation, taped and detailed to perform as the air and water barrier, in addition to the thermal control layer.
The support of many industry collaborators assured smooth execution and well-rounded displays, including JELD-WEN Windows, the Attachments Energy Rating Council, BASF Neopor, QuantaPanel Insulating Glass System, Indow Windows, Rollease Acmeda Automated Shades, and Thermal Buck.
Gunderson and her team are partnering with contractors to recruit homeowners for field demonstrations. The data gathered during these field demonstrations will be used to validate utility savings, constructability, and noise and comfort improvements. This approach to exterior insulation has been proven by PNNL, Oak Ridge National Laboratory, and the National Renewable Energy Laboratory through many simulations, laboratory experiments, and case studies. Learnings from the up to 50 field demonstrations will supplement the compelling empirical, construction, economic, and experiential data to market AIRS as one of a handful of energy upgrades that can contribute to reliably driving current residential building stock in the United States to the challenging targets of 40 percent energy savings by 2030 and full electrification by 2050.
"When we talked to visitors about the benefits of this approach, including long-term savings and interior comfort improvements, they quickly became enthusiastic and understood why it's so important to capture the attention of homeowners when they're about to take on a re-siding project for their house," said Gunderson.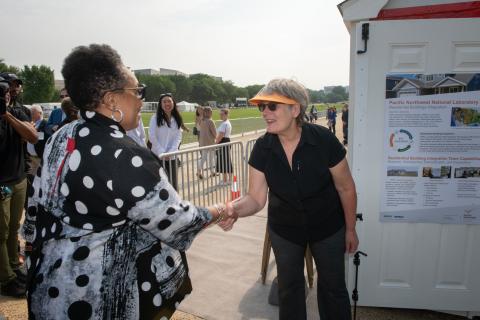 The PNNL shed also showcased a range of different high-performance affordable window retrofit technologies and featured PNNL's collaboration with energy rating organizations and the Partnership for Advanced Window Solutions. The advanced window solutions featured in the shed included energy-efficient double- and triple-pane windows, low-emissivity storm windows and interior window panels, lightweight acrylic window inserts, and solar-powered automated shades, which can all provide year-round energy savings and improve occupant comfort.
As part of these efforts, PNNL is promoting greater adoption of storm windows through the Department of Energy's (DOE's) Storm Window and Insulating Panel Campaign.
"Visitors, some of them directors of low-income weatherization and subsidized home repair programs, were absolutely elated at some of these new opportunities," said Gunderson.
Over a dozen posters summarized PNNL building science research like DOE's Zero Energy Ready Home program and the Building America Solution Center, including the Home Energy Score, the Disaster Resistance Tool, and the Retrofit Decision tool. One corner of the shed teased The Circular Home—a novel, net-zero carbon, net-zero energy modular home designed for disassembly and reuse, currently in its first year of development by a team of researchers from PNNL, Green Canopy Node, and Virginia Tech.
Staff who supported PNNL's exhibit included Chrissi Antonopoulos, Katie Cort, Prathit Dave, Terri Gilbride, Terri Kirchhoff, Edward Louie, Cheryn Metzger, Elsie Puig-Santana, Todd Samuel, and Brie Van Cleve.
Visit PNNL's album and HUD's album for more photos of the event. To learn more about PNNL's research in energy-efficient residential building technology, visit the Residential Buildings Integration research page.
Published: August 18, 2023