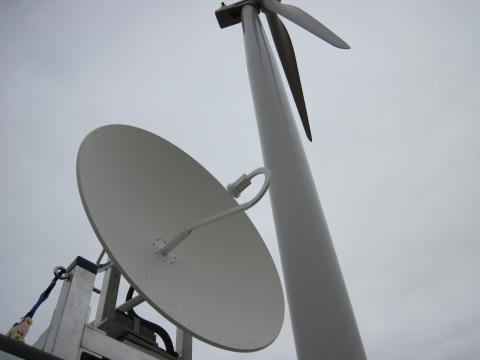 Radars developed for biological applications have long been used for the detection and monitoring of birds and bats in terrestrial settings and offer a  promising solution for similar applications in offshore environments.
Radar can detect flying animals at long ranges up to several kilometers from the sampling location. With the appropriate sampling strategy and analytical  approach, radar can record the flight height, speed, direction, geographical location, and general type of flying animals within its detection range (for example, between categories of large vertebrates, small vertebrates, and invertebrates).
In order to realizing the advantages of biological radar for offshore applications, scientists and engineers from PNNL and the U.S. Geological Service are conducting research and development to:
Reduce and remove noise in the radar data caused by sea surface motion, also known as sea clutter.

Identify different types of flying animals, particularly between insects and vertebrates like bird and bats.

Stabilize the radar antenna against platform motion.

Minimize power requirements to allow for continuous operation from a buoy.

Weatherize equipment and improve system reliability.

Enable reliable communications between the buoy and an on-shore operator.