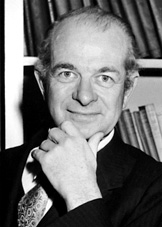 Linus Carl Pauling
Feb 28, 1901 (Portland, OR) – Aug 19, 1994
Heralded as one of the most influential chemists in history, this native Northwest son is the inspiration for Pacific Northwest National Laboratory's Linus Pauling Distinguished Postdoctoral Fellowship. In addition to being the author of the influential book The Nature of the Chemical Bond, Pauling was well-known for the diversity of his interests including quantum mechanics, inorganic chemistry, protein structure, molecular biology, and medicine. Today, PNNL is advancing the frontiers of science in multidisciplinary fields.
Lauded as one of the greatest thinkers and visionaries of the millennium, Pauling is one of only four individuals honored with multiple Nobel Prizes. He is one of only two people to have been awarded the Nobel Prize in two different fields—the Chemistry and Peace prizes—and he is the only person to have been awarded each without sharing it with another recipient—an incredible feat.
Pauling was one of the first scientists in the field of quantum chemistry and a pioneer in the application of quantum theory to the structure of molecules. He was also first to prove that a human disease, sickle cell anemia, was caused by an abnormal protein. Sickle cell anemia became the first disease understood at the molecular level.