NWRTC News
Sharing news from partners around the region and beyond
Around the Region in Homeland Security
Our Around the Region in Homeland Security newsletter highlights current activities related to homeland security. To subscribe, email nwrtc@pnnl.gov. Highlights in the September 2023 issue include:
Research to Explore Future of Emergency Management

Strengthening Defenses Against Cyberattacks

Panel Highlights Tools for Critical Infrastructure Resilience

Roadmap Highlights Path for Enhanced Security Screening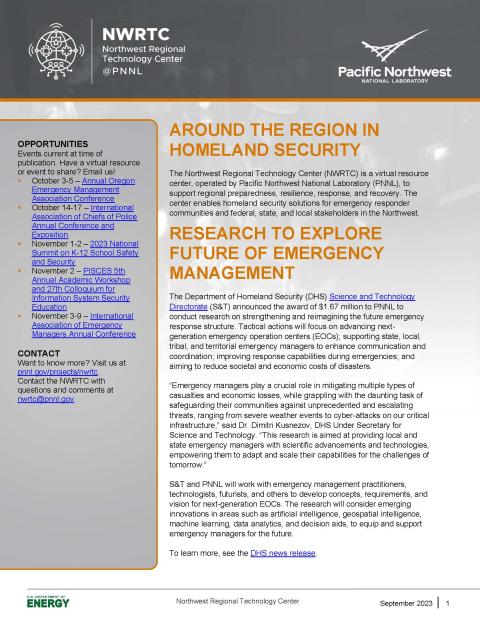 Notes from the Field
In the June 2023 Notes from the Field newsletter, we take a closer look at the Public Infrastructure Security Cyber Education System (PISCES), a program dedicated to developing the future cybersecurity workforce through collaboration with the private sector, colleges and universities, and local governments to provide no-cost cybersecurity monitoring for small public organizations.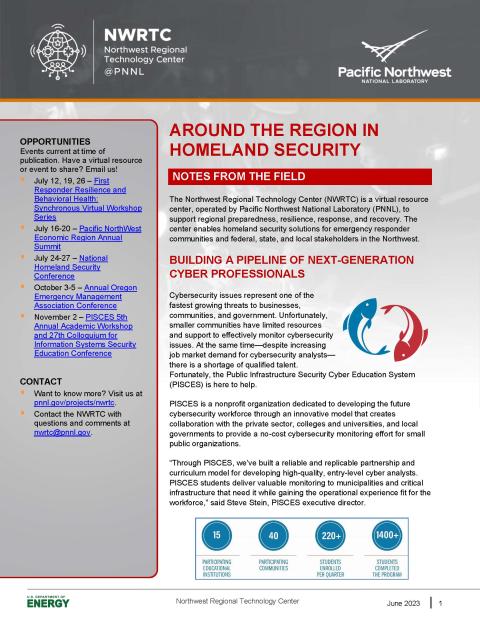 Upcoming Events
Subscribe
Archives
To view past NWRTC newsletters, see the NWRTC Archives.