January 27, 2021
Staff Accomplishment
Williams Elected 2021 Chair of IEEE Seattle Section
Seattle office director to lead chapters advancing science, technology, innovation
Joseph Williams, director of the Pacific Northwest National Laboratory (PNNL) Seattle Research Center, was elected Chair of the Institute of Electrical and Electronic Engineers (IEEE) Seattle section, effective January 2021. The section is home to 13 active society chapters, including computing, aerospace and electronics, communications, power, and energy.
"This organization provides a valuable connection to Seattle researchers and practitioners in the field of computing and information technology," Williams said. "Our goals and objectives are well aligned, including prioritizing diversity and inclusion, deepening our commitment to recruiting and retaining diverse talent in engineering, and enhancing student engagement through virtual tools and outreach."
IEEE is the world's largest professional association dedicated to advancing technological innovation and excellence for the benefit of humanity. IEEE and its members inspire a global community through IEEE's highly cited publications, conferences, technology standards, and professional and educational activities.
William's role as section president comes in addition to his recent assignment as a guest editor for the IEEE Computer journal. Computer is the flagship publication of the IEEE Computer Society. The January 2021 issue is hot off the presses, with a special issue theme on innovation edited by Williams and Jeff Voas, an IEEE fellow and computer scientist at the U.S. National Institute of Standards and Technology. The special issue highlights software defect prediction, embedded systems, the digital ecosystem, and blockchain. Williams will again serve as guest editor for the 2022 innovation issue and welcomes ideas for emerging technology concepts that will push the boundaries of possibilities in scientific and enterprise computing in years to come.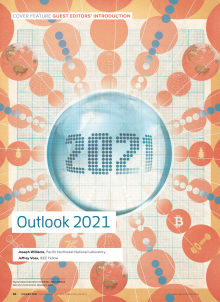 In recent years, PNNL hosted the IEEE Women in Engineering International Leadership Summit, had two staff members named IEEE Fellows, and the PNNL director of the National Nuclear Security Administration Program, Daniel Stephens, was appointed an IEEE senior member, one of the highest honors within IEEE.
"PNNL has a long-standing relationship with IEEE; staff members span all of our locations and mission areas. I look forward to how the Seattle section can provide another valuable touchpoint between our researchers and the vast IEEE network," Williams said.
To learn more about the IEEE Seattle section, visit https://ieee-seattle.org/.
Published: January 27, 2021