August 5, 2022
Staff Accomplishment
VerWey Briefs U.S. Congressional Commission on Supply Chain Security and Resilience
Panelists outline challenges, best practices for global supply chain risk management
Global supply chains connect everyone with everything—and supply chains have been making headlines for how disruptions can lead to cascading impacts. From batteries and semiconductors to baby formula, these and other examples were at the forefront of the U.S.-China Economic Security Review Commission hearing on "U.S.-China Competition in Global Supply Chains." The Commission was created by the U.S. Congress in 2000 to monitor and investigate the national security implications of the bilateral trade and economic relationship between the United States and the People's Republic of China.
At the hearing, John VerWey, who is an East Asia national security advisor at Pacific Northwest National Laboratory, delivered remarks on a panel titled "U.S. Policies to Bolster Supply Chain Resilience."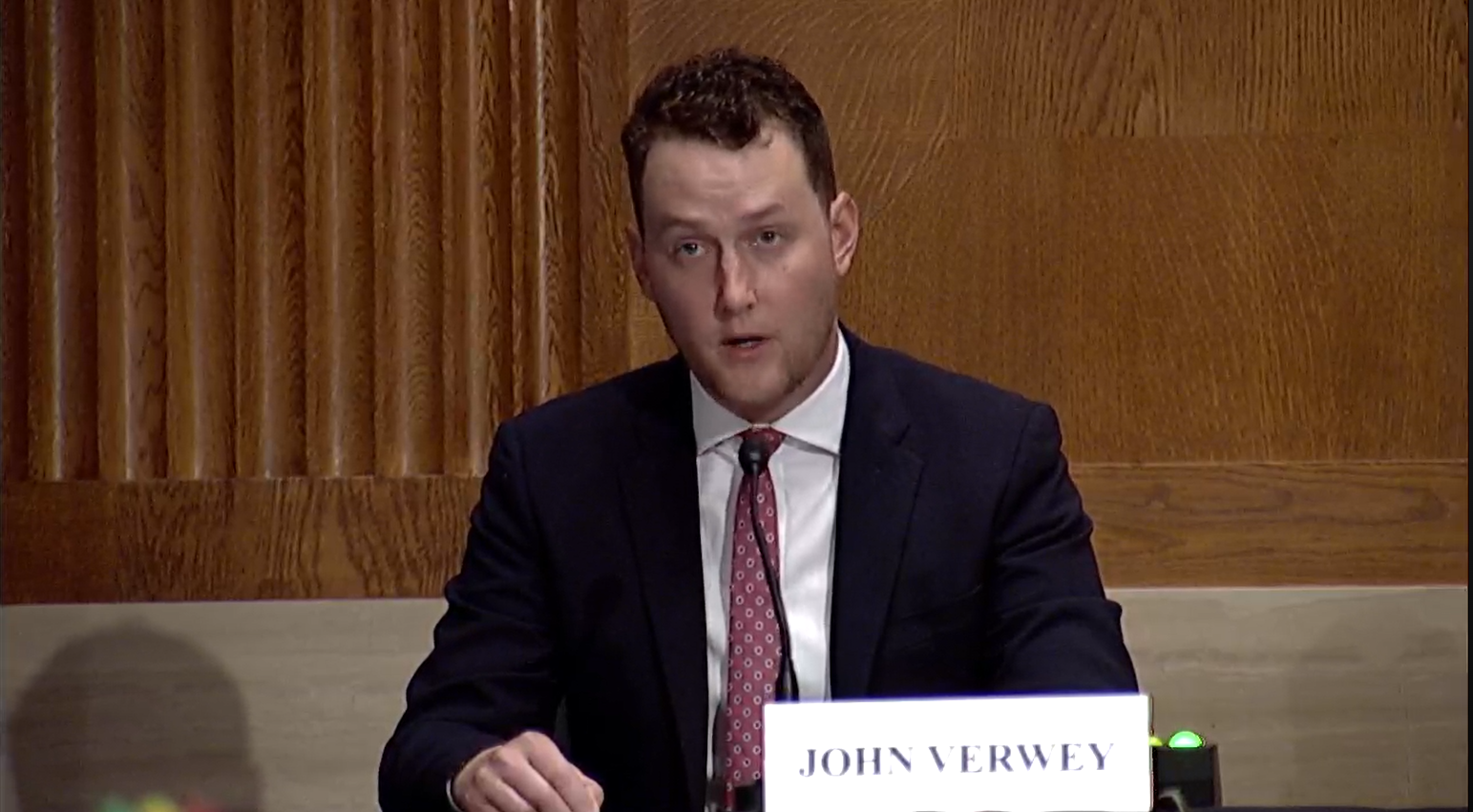 Critical technology in the global supply chain
VerWey's discussion focused on the global supply chain for critical technologies. As defined by the White House Office of Science and Technology Policy (February 2022), critical technologies are those that pose potential significance to U.S. national security, and those that protect the nation's people, resources, and economy. While the United States has made substantial efforts to review critical technology supply chains and mitigate vulnerabilities, "The solutions come with tradeoffs. For example, the U.S. has abundant raw material resources, but increasing domestic mining and refining capacity has long lead times and well-understood environmental impacts," VerWey said.
To that end, VerWey cited the enduring question for effective supply chain risk management: "Can we trust who we're buying from to deliver products and services on time, at cost, to specification, securely? The goal is to increase the overall resilience of supply chains to prepare for unexpected events, respond to disruptions, and recover from them," he said.
A methodology for risk management
VerWey outlined a quantitative, open-source methodology for using international trade statistics to characterize U.S. import dependence on China for critical technologies. For many U.S. national security systems, single- and sole-source suppliers are among the most obvious and acute supply chain risks. Risks can also be posed by geographic concentration, price and market volatility, integrity (counterfeits), and cybersecurity. Building on those findings, VerWey described a qualitative example of the challenges imposed by such dominance, the mitigation options for policy makers, and the challenges they face. His written testimony also includes a case study that expands on the methodology to show how international trade data combined with detailed supply mapping can reveal lower-tier supply chain vulnerabilities.
"Supply chain security policies should ensure that there are at least three manufacturers domestically or in allied countries for each segment of a critical technology supply chain. And they should be able to meet 50 percent of current and forecast demand," VerWey said.
VerWey concluded his remarks with several considerations to increase critical technology supply chain resilience:
Harmonize definitions, directives, mapping, and best practices for adoption by government agencies as related to supply chains and supply chain risk management.
Increase interagency participation in supply chain work. Agencies with supply chain equities have important roles in mapping supply chains, characterizing chokepoints/U.S. import dependence, and determining the viability of mitigation.
Leverage critical technology supply chain co-dependencies. Executive branch agencies could integrate their findings to identify critical technology supply chains and supply chain segments that share co-dependencies and/or competing application demand.
Coordinate information collection and dissemination. Sustained information collection, integration, monitoring, and analysis is necessary as technology supply chains evolve, vendors enter or exit a market, and U.S. government systems increase or reduce their reliance on a technology.
VerWey's full testimony can be observed in the June 9 webcast, beginning at 2:08:00, or see his full written statement for additional details.
Published: August 5, 2022