September 1, 2017
Web Feature
PNNL Co-Hosts International Energy Workshop with the University of Maryland
Nearly 200 people from 20 countries gathered to discuss energy systems modeling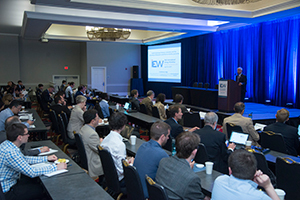 PNNL and the University of Maryland co-hosted the 36th annual International Energy Workshop at the University of Maryland campus in College Park, MD, July 12-14, 2017.
PNNL's Michael Kintner-Meyer, Ghassem Asrar

, and Jae Edmonds

 chaired the event alongside Leon Clark of the Joint Global Change Institute and Nathan Hultman of the University of Maryland. A diverse group of nearly 200 engineers, economists, and earth system scientists from 20 countries attended the workshop and shared insights in energy systems modeling.
The International Energy Workshop

 is a venue for analysts and researches who specialize in energy modeling, considered an important tool for addressing the complexity of energy planning and policy making.
The workshop featured 10 keynote speakers, including:
John Holdren, Harvard University, former director of the White House Office of Science and Technology Policy
Terry Boston, Boston Grid Protection Alliance, former CEO of PJM Interconnection
Hans-Martin Henning, Director of the Fraunhofer Institute for Solar Energy Systems, Germany
Hugh Chen, DOE Office of Energy Policy and Systems Analysis
Kelly Sims Gallagher, Tufts University, former senior China advisor in the Special Envoy for Climate Change office at the U.S. State Department
Along with the keynote presentations were multiple parallel seminars, where attendees discussed a broad range of topics within energy systems modeling—from long-term reliability assessments and climate change to deep decarbonization of the entire energy systems
To learn more about the workshop, download the meeting book

.
Published: September 1, 2017
Research topics