May 5, 2023
Staff Accomplishment
Energy Sciences Center Team Recognized with DOE Project Management Award
Team lauded for completing $93-million premier science facility safely, ahead of schedule, under budget
A project team at Pacific Northwest National Laboratory (PNNL) has been honored with the Project Management Achievement Award for 2022 from the Department of Energy (DOE).
The award, signed by Energy Secretary Jennifer Granholm, was presented in April 2023 to the project team that delivered the $93-million, 140,000-square-foot Energy Sciences Center (ESC) on PNNL's campus in Richland, Washington.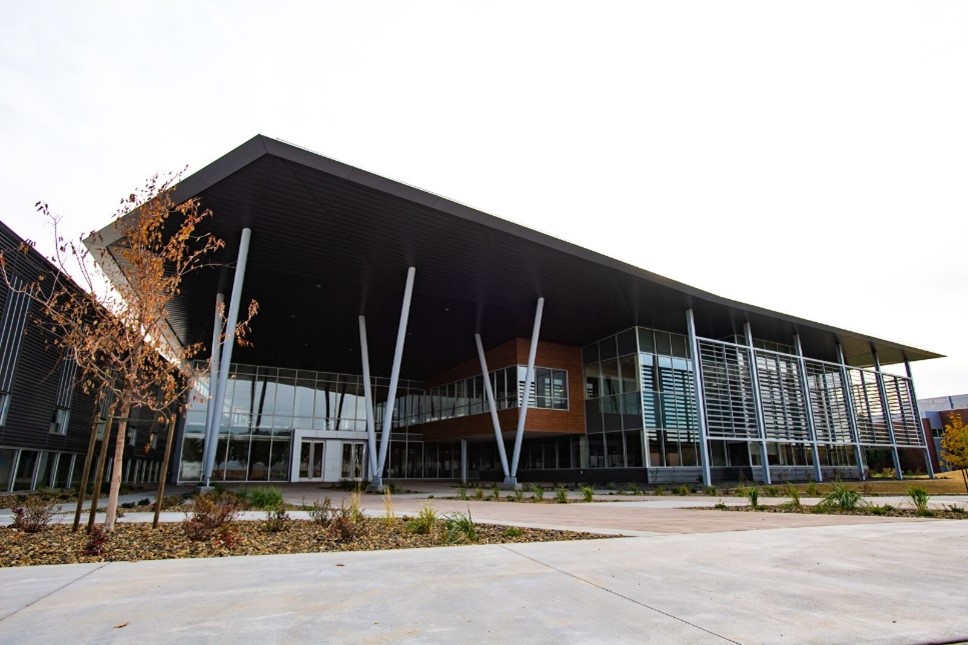 The Secretary's Achievement Award is given to project teams that have demonstrated significant results in completing projects within cost and schedule.
"This honor is positive recognition of the entire team that worked on the ESC project, as none of this would have been possible without their cumulative effort," said Lanson Oukrop, the ESC project manager.
Angus Bampton, the ESC project director who led the effort from cradle to grave, agrees. "Thanks to the strong partnership among PNNL, DOE, and the design/build team, the project was delivered ahead of schedule, under budget, and executed safely while encountering COVID-19 and wildfires. Ultimately, the ESC provided a 28 percent increase in the amount of laboratory space available for conducting physical and computational science."
The award also acknowledged that the project, thanks to the team's effort, exceeded DOE's High-Performance Sustainable Building Criteria—a DOE Order that directs project management teams to deliver projects on schedule, within budget, and fully capable of meeting mission performance, safeguards and security, and environmental, safety, and health standards.
The ESC is a collaborative, modern, sustainable, flexible, and signature high-performance research facility featuring 52 state-of-the-art laboratory modules, 200 workstations, and modern collaboration space.
The research and capabilities in the ESC are accelerating discoveries in chemistry, materials science, and computing. It houses around 250 researchers, visiting scientists and engineers, and support staff.
The facility was dedicated in October 2022 and opened for research shortly thereafter.
The project team members include PNNL's Oukrop, Bill Bachmann, Angus Bampton, Ryan Bays, Jeremy Beck, Marc Berman, Karl Bohlander, Dave Brawn, Billy Cooper, David Crevier, Phil Daling, Daniel Dye, Mark Deichman, Darrell De Smet, Paul Dotson, Ryan Douglass, Daniel Edwards, Jordan Fiskum, Lori Fritz, Adam Gemmell, Todd Gervais, Hanna Goss, Steven Gourley, Brad Graf, Joy Haglund, Eric Hanson, Neal Hara, Jordan Harvey, Jeff Heilman, Gary Helberg, Tim Hubbard, Christopher Hughes, Garrett Hyatt, Aaron Juarez, Adam Jivelekas, Melanie Johnston, Karen King, Patrick Kinney, Ken Koschik, Bradi Kukes, Amie Lee, Jennifer Martin, Steve Minnick, Thomas Morton, Kim Moser, Melissa Newell, Scott Norman, Samuel Paulsen, Stephanie Pedersen, Kevin Pfeifer, Loren Peterson, Teri Rasmussen, Larry Richards, Juan Rivera, James Sandberg, Stuart Saslow, Jeffery Scott, Mylissia Smith, Casey Spitz, Pete Stromberg, Theva Thevuthasan, Jason Tocco, Greg Turpen, TJ Vanderlinden, Kevin Villegas-Perez, Paul Weinman, and Emily Wilson; former PNNL staff members Mark Butcher, Tony DeGuia, Cammy Maples, Curt Nichols, Jeff Pittman, Melissa Rivas, Vicki Stephens, and Brenda Young; and Jeffrey Carlson and Ronald Gallagher of DOE's Pacific Northwest Site Office.
Published: May 5, 2023
Research topics