April 30, 2019
Web Feature
Do Marine Critters Care About Energy (Devices)?
PNNL leads effort to test environmental monitoring devices
Like its namesake, Triton, a Greek god dubbed the herald of the sea, the Triton Initiative aims to deliver messages from the ocean about marine energy and how it affects nearby marine animals. PNNL leads the Triton Initiative—a proving ground of sorts for new environmental monitoring technologies that will inform us how marine turbines and wave energy devices will interact with sea life.
Marine energy primarily harnesses the physical energy from waves and tides to generate electricity.  A report for the Department of Energy found that developing just 1/6th of the available wave energy in the five Pacific states could power more than five million homes and support roughly 33,000 jobs.
However, one of the hurdles facing the young marine energy industry is a lack of scientific data regarding potential environmental impacts.  Potential impacts of marine energy could include changes in fish and animal behavior or habitat, collision or entanglement of animals with the equipment, and effects from underwater noise or electromagnetic field generation. But there is not enough data to determine if these potential impacts will occur or not. Marine energy companies and regulators need this information as the industry expands in the United States and around the world.  
DOE's Water Power Technologies Office is funding a variety of projects developed to monitor fish and marine animals reactions to underwater noise, electromagnetic fields, and determine their level of interaction with the devices. Triton is testing these at the Marine and Coastal Research Laboratory (MCRL) at PNNL-Sequim.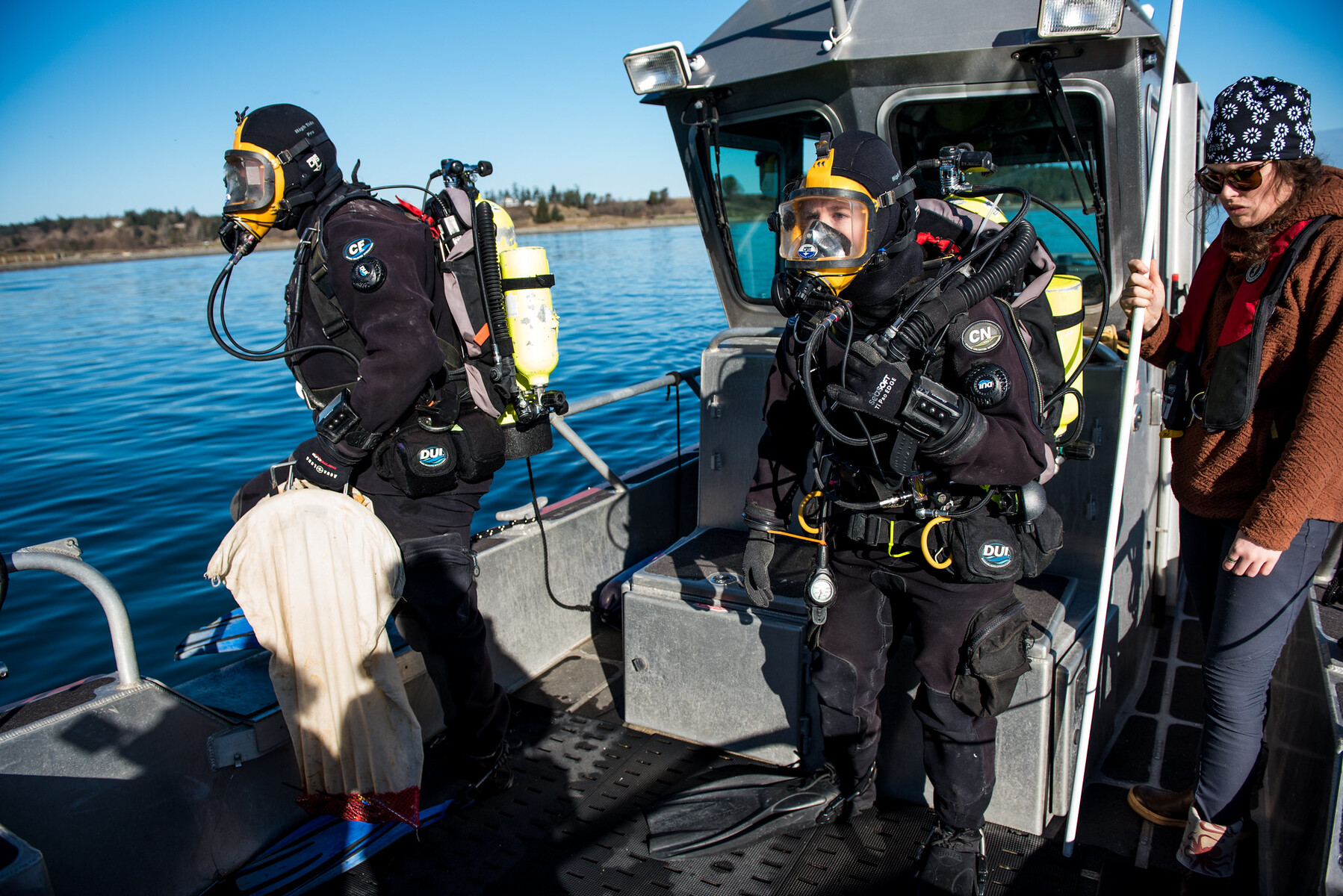 The laboratory offers the perfect location and set of expertise to evaluate the new monitoring technologies.  In addition to marine researchers, divers, vessels, docks and other infrastructure, MCRL is fully permitted to install devices to see how well the monitoring technologies work. This support will lead to technologies that can become commercially available to developers and regulators and improve the knowledge and record of marine animal interactions with marine energy technologies.
Triton partners
DAISY – The Drifting Acoustic Instrumentation SYstem carries a listening device or hydrophone to improve characterization of the sounds emitted by marine energy devices (University of Washington) 
NoiseSpotter – a sensor system that classifies and provides accurate location information about sounds related to marine energy installations. (Integral Consulting Inc.)
Electromagnetic Field Detection – a device that senses EMFs from cables and marine renewable energy equipment.  (Woods Hole Oceanographic Institution)
BioSonics Perimeter Detector – an acoustic monitoring system to assess marine life behavior around MRE systems. (BioSonics Inc.)
UMSLI – Unobtrusive Multi-Static Serial LiDAR Imager offers remote sensing and imagery to improve the detection and classification of marine life around MRE devices. (Florida Atlantic University)
AMP – Adaptable Monitoring Package is a system that triggers multiple sensors based on certain input to better detect and classify marine animals. (University of Washington)
Benthic Habitat Mapping – a photographic and acoustic method of surveying and characterizing the habitat at the seabed and some subsurface layers (Integral Consulting Inc.)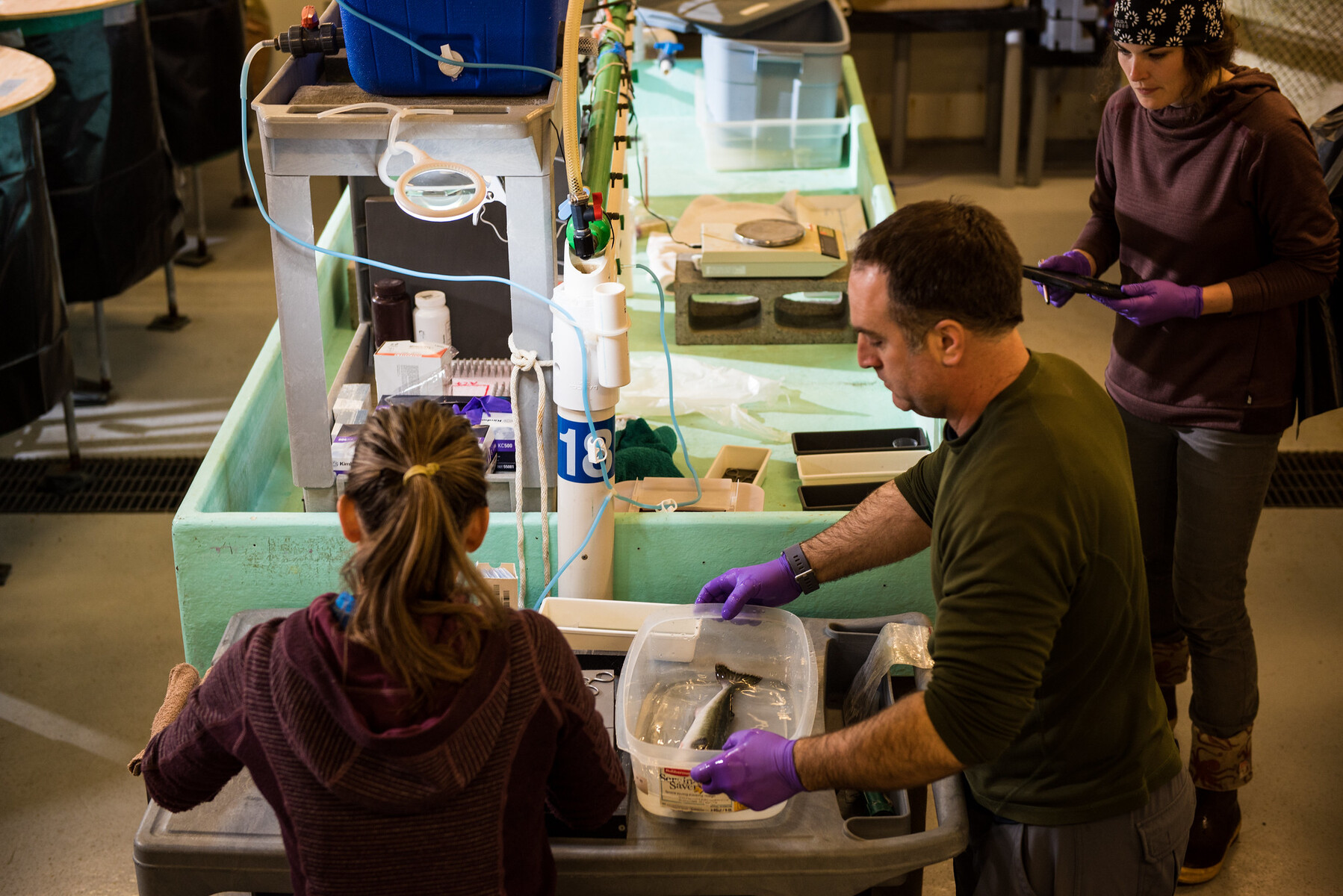 In addition to supporting the testing of these technologies, PNNL is leading a project using acoustically tagged fish to inform fish interactions with tidal turbines and observe their behavior around these devices.  Staff researched the best fish for this purpose—then raised them onsite. Tags implanted in the native sablefish will track their route and actions via submerged hydrophones that listen for pings and pinpoint their movements.
Rigorous review for a renewable resource
"Marine renewable energy is a potentially valuable, renewable resource but the marine energy industry is in the early stages of development," said Meg Pinza, project manager at MCRL. "Now is the perfect time to help the industry efforts to mature in a manner that doesn't harm fish and ocean animals, so we are really excited to support the development of these really varied and ingenious methods of ensuring their safety.  Better data and reducing uncertainty could result in shorter permitting timelines and further enable the development marine renewable energy."
The technologies are currently in a second round of testing at different depths, tidal currents and conditions, which are wide ranging in Sequim Bay. Eventually, some projects will move into a third round of testing at a wave energy site near Hawaii or off the coast of Oregon—areas that provide an even more challenging environment for the technologies in permitted, grid-connected environments around wave energy converters.
Published: April 30, 2019
PNNL Research Team
Genevra Harker-Klimeš
Jayson Martinez
Meg Pinza
Sue Southard
Garrett Staines
Daniel Deng
John Vavrinec
Kate Hall
Nancy Kohn
Research topics