Microalgal Research at PNNL-Sequim
The microalgal research capability at PNNL-Sequim focuses on research that improves the economics of microalgal biofuels. Here we screen strains on the basis of biomass productivity under outdoor cultivation.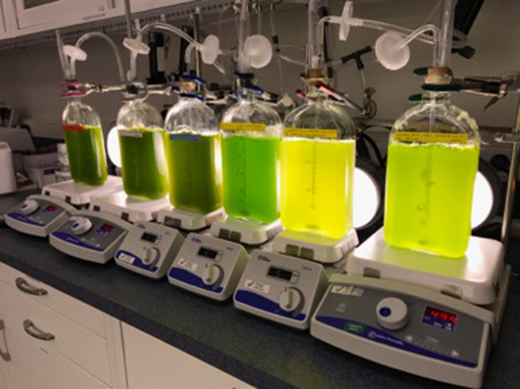 The following suite of bioreactors and other equipment are used to conduct state-of-the-art microalgae biofuels research:
Four indoor LED-lighted and temperature-controlled climate simulation raceway ponds (see separate section below)
Outdoor raceway ponds in Arizona.
Two custom-designed Laboratory Environmental Algae Pond Simulator (LEAPS) photobioreactor systems that have been successfully validated to replicate the growth performance of microalgae in outdoor ponds at any geographical location and season.
A suite of Phenometrics Environmental Photobioreactors (ePBRsTM) that can be used to cultivate microalgae under different light and temperature conditions.
Two custom-designed thermal gradient incubators that measure physiological parameters as a function of temperature.
A semi-automated microplate incubation system plus Cytation3 BioTek reader to screen microalgal growth as a function of salinity, pH, reactive oxygen concentration, or other parameters.
A Hansatech Oxytherm+ system to measure photosynthetic oxygen evolution and dark respiration as a function of light intensity and temperature.
Numerous cultivation systems and incubators with adjustable solar spectrum LED lighting and temperature control.
New Brunswick Bioflo 3000 fermenter and a suite of INFORS bioreactors.
Contacts
Division Director, Coastal Sciences