Integrated Building Assets
Evaluating building-grid concepts
The integrated building assets at Pacific Northwest National Laboratory (PNNL) are helping to formulate the future relationship between buildings and the power grid.
Researchers use the various assets in a coordinated, systematic fashion to study new building control concepts and technologies. The goal is to advance solutions for improved energy efficiency, power grid reliability, and clean energy use.
The capabilities are located at and include PNNL's Systems Engineering Building (SEB). The SEB is a large, occupied, "real-world" commercial facility with sensors installed in its ducting, variable air volume boxes that provide heating and cooling, and other operational infrastructure.
Integrated assets at the SEB include the Thermal Energy Storage System (TESS), two large batteries, and electric vehicle chargers. Another capability, the Power Electronics Laboratory, houses a network of control nodes that connects multiple buildings on the PNNL campus and allows broader deployment and testing of building control strategies and transactive energy concepts. These various capabilities help research teams study a range of questions, such as the implications of capturing and storing low-cost electricity for later use in a building.
Ultimately, the assets deliver integrated, systematic control solutions that improve efficiency and reduce building costs, add more clean energy to the overall mix, and make the power grid more reliable and resilient.
Key assets are described in more detail below.
Thermal Energy Storage System (TESS)
When the power grid heats up, buildings could help the energy system chill out.
PNNL's TESS is a testing resource that helps researchers better understand how building cooling methods can become contributors to energy efficiency and improved grid operations. Research conducted in TESS also could enhance clean energy use.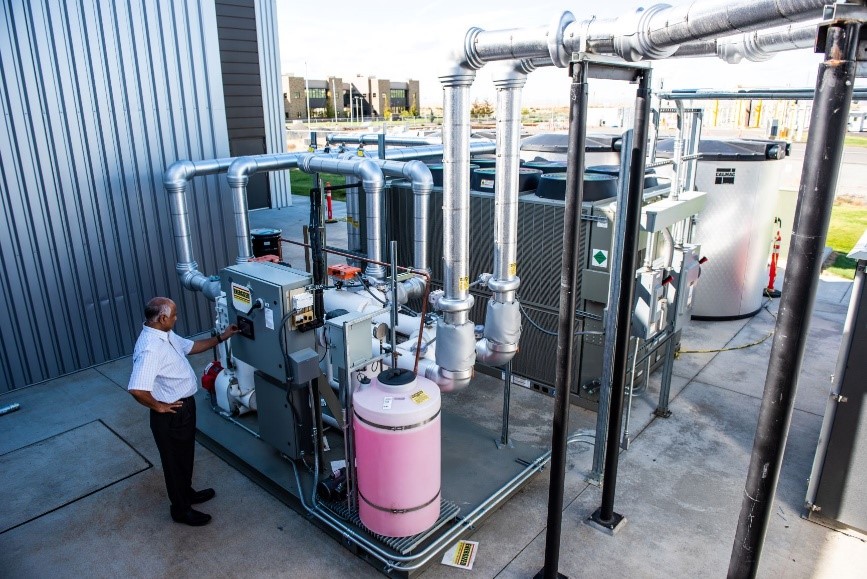 The storage system consists of an 80-ton chiller unit, three large ice canisters, and associated controls. The chiller generates chilled water that cools the adjacent SEB and circulates glycol through the water-filled canisters to make ice.
The goal of TESS research is to discern how cooling and ice creation can be managed to take advantage of lower electricity costs and avoid higher rates. For instance, if ice is created at night, when electricity rates typically are low, it can be used to cool the building the next day, when power is more expensive. Results from testing will help inform future transactive energy methods, such as dynamic electricity pricing.
Installed at PNNL in early 2019, the storage system has been used in the Clean Energy and Transactive Campus project (CETC) and other research endeavors. TESS was purchased with funding from the Washington State Department of Commerce's Clean Energy Fund (CEF), which is establishing a clean energy testbed in the state.
Electric Energy Storage
Two energy storage devices at SEB are informing new methods to optimize the use of batteries and subsequently reduce energy consumption, building costs, and grid stress.
A 120 kilowatt/300 kilowatt lithium ion battery, obtained via state CEF funding, can provide power to the SEB for several hours on one charge.
The battery is used independently and in concert with the TESS to show how batteries can charge at times when electricity is cheaper and then provide an alternate energy source for a building when power prices are higher.
A second battery is located inside the SEB and is used to conduct similar testing.
Power Electronics Laboratory
This laboratory brings real-world insights to testing and development of control concepts and technologies for building operations and energy efficiency. Viewed as an experimentation "sandbox," researchers mine the laboratory's control and computational resources to learn how their ideas fare in actual building systems and devices.
One of the laboratory's key features is a set of control nodes used in testing transactive energy methods. The nodes form a network that connects the PNNL-developed VOLTTRON™ software platform with PNNL buildings, the power grid, and clean energy sources. VOLTTRON™ launches control algorithms into the buildings' automation systems to manage various functions, such as the operation of heat pumps and the coordination of power consumption with the grid.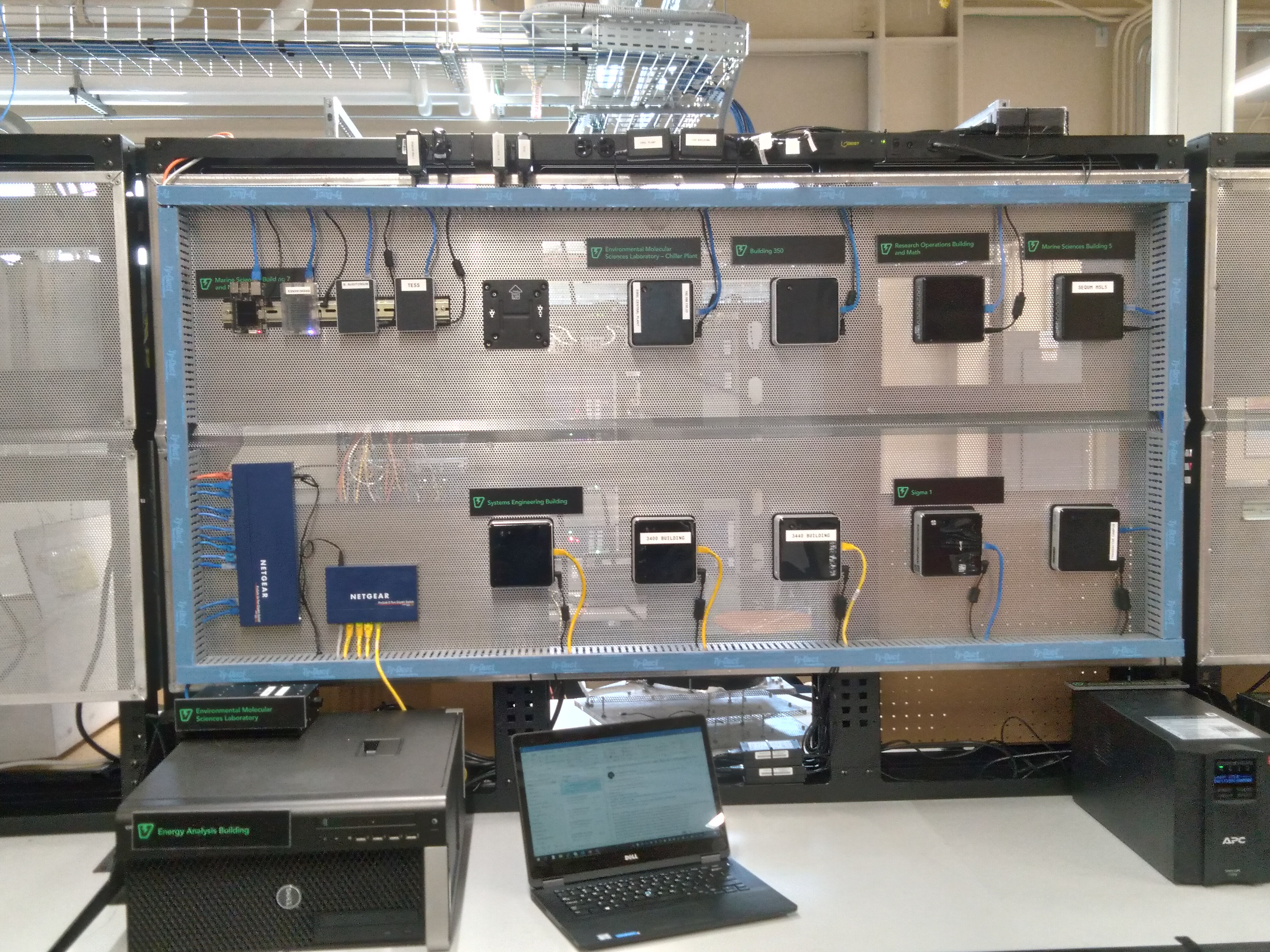 The laboratory's capabilities have been integral to research conducted under the PNNL-led CETC and Residential Load Flexibility projects. The latter effort is developing a hardware and software prototype platform to facilitate communications between the grid and devices and systems in existing residential homes. For this purpose, the laboratory enables simulation and testing of controls related to hot water heaters, pool pumps, clothes dryers, and kitchen ranges.
Envisioning the Future
PNNL's integrated building assets make it possible for researchers to answer many of the looming questions about how commercial buildings—some of which already contain features such as energy storage—can be operated to meet owner needs and provide services to the power grid.
The U.S. Department of Energy's Building Technologies Office supports much of the work conducted at the SEB.