Global Wind Day 2021
The answer, my friend, is blowing in the wind
Global Wind Day is June 15, and the Pacific Northwest National Laboratory (PNNL) is celebrating with gust-o!
Global Wind Day is a day for discovering wind energy, its power and the possibilities it holds to reshape our energy systems, decarbonize our economies, and boost jobs and growth.
PNNL plays a major role in wind energy research for the U.S. Department of Energy's (DOE's) Wind Energy Technologies Office. We have a vast portfolio of research in the areas of offshore wind, distributed wind, wildlife and wind, data management, resource characterization, and uncertainty quantification.
Beyond DOE, we also partner with other entities. One example is a collaboration with the Bureau of Ocean Energy Management, where we have deployed two offshore wind research buoys off the California coast. These buoys are providing wind measurements that will provide that agency with data to support leasing of wind sites.
On Global Wind Day, we recognize our wind energy researchers who are making a difference in bringing expertise and technologies to harness this powerful resource. Below are five of our researchers who are making significant contribution to the growing area of offshore wind.
Shari Matzner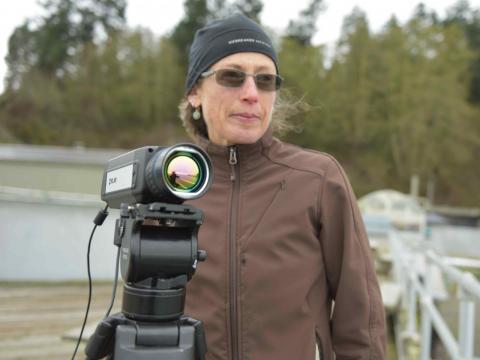 How I'm making an impact on offshore wind energy.
I develop technology for monitoring bird and bat behavior at wind energy sites so that this alternative source of energy can be harnessed with minimal impacts to wildlife.  Observing birds and bats at offshore wind energy sites is especially challenging and requires innovative technology that can withstand the harsh environment.
Tell us a fun fact about wind.
Offshore winds are typically strongest during the day, coinciding with peak energy demands, while winds on land are often stronger at night.
What advice do you have for students who want to work in the wind energy field?
Do it!  Wind energy requires a variety of skilled professionals, from engineers to ecologists to accountants specializing in wind energy financing.  Offshore wind is gaining serious momentum in the United States, with numerous projects in the works on both the East and West coasts.  The offshore environment provides unique challenges in engineering, power transmission and ecological monitoring, just to name a few.  Be part of the future of sustainable energy.
Henry Huang
How I'm making an impact on offshore wind energy.
As a grid guy, I focus on how to integrate offshore wind energy into the power grid. Integrating offshore wind energy faces many major challenges. One is the lack of access points to power transmission systems. Power electronics can play an important role to enable transmission access more cost effectively with better controllability, so not only would the offshore wind energy be converted to usable forms for customers, but also it can help to maintain and stabilize power grid operation.  
Tell us a fun fact about wind.
Wind power could increase eightfold when wind speed doubles. However, wind speed is not "the stronger, the better." Wind turbines have to stop operation for wind speeds higher than 55 mph to prevent equipment damage. After all, hurricanes are no good!  
What advice do you have for students who want to work in the wind energy field?
Be curious! Though people used wind energy as early as 600 B.C. in Persia and China for pumping water and grinding grains, the first electricity-generating wind turbine was not invented until 1887 by James Blyth in Marykirk, Scotland. It then took almost 100 years for the first wind farm to be built in New Hampshire in 1980. And many decades later, we are now exploring offshore wind energy. Curiosity from generation to generation drives us to explore new territories scientifically for a better energy future!
Raghu Krishnamurthy
How I'm making an impact on offshore wind energy.
In a nutshell, I use state-of-art instruments (such as lidars) to understand the behavior of the marine atmosphere.  I develop advanced signal processing techniques and machine learning algorithms to extract additional information (such as turbulence) from lidars.   This helps me decipher the key processes that are relevant to improving our understanding of the offshore marine boundary layer and, in turn, how it impacts a modern wind turbine.
Tell us a fun fact about wind.
Wind energy is one of the forms of alternative sources of energy that is currently being studied to provide energy to a future colony on Mars.  There is a weather station (called MEDA – Mars Environmental Dynamics Analyzer) currently on the Mars Rover that is collecting statistics on wind speed and direction, temperature, pressure, relative humidity, and dust size and shapes.
What advice do you have for students who want to work in the wind energy field?
Wind energy is growing at an extremely fast pace in the United States and around the world. It is also a very rewarding field to work in currently, and knowing you are making a small difference in the world's fight against fossil fuels feels good.  Big data is an evolving sector in wind energy, as lots of data is being collected by the wind turbines, and not near enough analysis is being done using that data to improve the performance of the wind turbines.  I would encourage students to think about how to use the vast amounts of data to improve various sectors in wind energy.
Alicia Gorton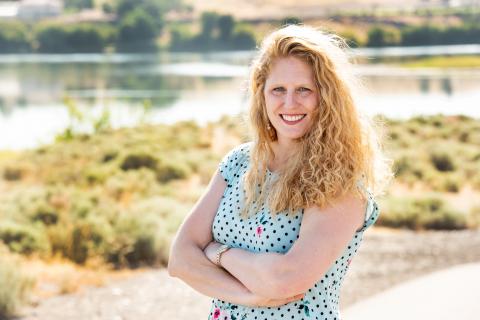 How I'm making an impact on offshore wind energy.
I'm helping offshore wind stakeholders better understand offshore environmental conditions, wind resources, and potential environmental impacts to assist with siting, permitting, designing, constructing, and operating offshore wind farms.
Tell us a fun fact about wind.
Did you know that wind turbine blades can be recycled and reused? Turbine blades have been reused as material in pedestrian bridges, housing materials, and playground equipment. Learn more here.
What advice do you have for students who want to work in the wind energy field?
Be like Nike. Just do it! Offshore wind is multidisciplinary and it has something to offer almost anyone: social science, law and policy, environmental and marine science, engineering, software and technology development, health and safety… you name it, offshore wind has it. It's never been a better time to be part of something that will transform our world for the better.
Travis Douville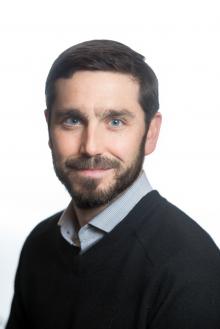 How I'm making an impact on offshore wind energy.
I seek to pair my knowledge of wind energy production from my time in the industry with an approach to value power contributions at transmission system scale. I am interested in identifying the enabling infrastructure and policy instruments that may guide optimal societal value of an offshore wind resource. More specifically, our work in offshore wind has focused on the Pacific coast context.
Our study one year ago considered capacity value attributes and presented initial production cost modelling of Oregon offshore wind. We found that up to three gigawatts could be transmitted on the system today. This finding was directly embedded in Oregon HB3375, which seeks to establish a 3GW by 2030 target. The work will be continued under National Offshore Wind Research and Development Consortium funding, which was announced along with the 30GW by 2030 national target.
Tell us a fun fact about wind.
If you have seen a wind turbine from the car window on a road trip recently, the size of the machines may be striking. However, offshore wind turbines are in a different class. Due to the economics associated with offshore wind turbine construction, manufacturers continue to grow the size of the machines as a way to increase turbine capacity factors and decrease the levelized cost of energy production. The latest offshore wind turbine generators are rated at 15 MWs and rotor diameters exceed 2.5 football fields in length. Perhaps more shocking, the maximum sizes have not yet been reached and the industry is still searching for the maximum size that yields the most competitive financial performance.
What advice do you have for students who want to work in the wind energy field?
The wind energy field is highly multi-disciplinary and maturing rapidly. Consider various entry points, even if they may stretch you beyond your comfort zone. Experience is extremely valuable and it is out there for those willing to extend themselves. Cultivate this experience, as its utility is not linearly correlated with "seat time" alone.
Learn more