The project started from 2012. So far, the research team has completed the following tasks.
developed fast state estimation code that runs at a unprecedented speed of 0.5 seconds, which captures grid changes quickly and offers an opportunity to minimize losses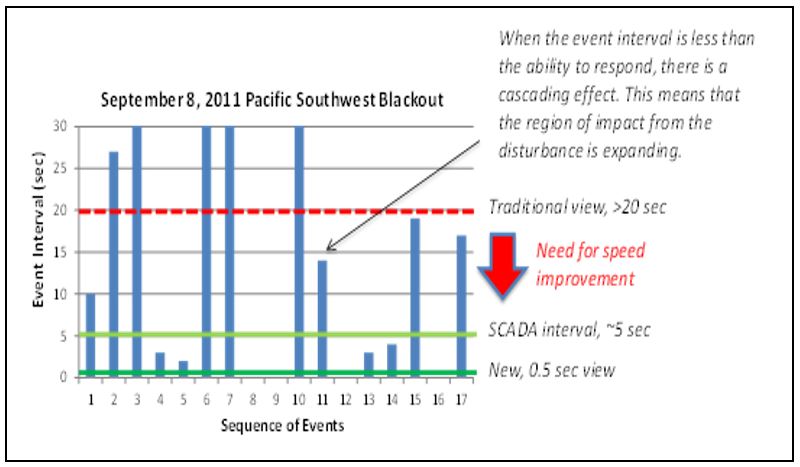 implemented massive contingency analysis (MCA) function with a dynamic load-balancing scheme to compute more contingencies in a shorter time frame to enable faster and better situational awareness. It can solve 1 million N-2 WECC contingencies within 0.5 minutes, with a speedup of 9871 using 10,240 cores. 
                                                                                     Table 1: The computational performance of MCA function 

developed smart sampling techniques to reduce the number of multiple contingencies to reasonable representative set and quantify the impact of forecast uncertainties in contingency analysis

developed

an advanced visualization tool

to present both state estimation and contingency analysis results to grid operators with better wide-area situational awareness. Please see the video below.
developed parallel post-processing techniques to enhance the efficiency for post-processing

developed a look-ahead contingency analysis function that incorporates smart sampling, HPC and advanced statistic techniques to improve grid reliability and efficiency by bringing more predictive capability to operations.

interfaced the look-ahead contingency analysis with GE Grid Solutions' tool smoothly to prove the advantages of the developed function and the feasibility of integration with commercial tools

developed a visual analytics platform to handle multi-dimension data from different sources with a set of advanced visualization tools for interpreting and analysing hydro/wind time-series data
The developed massive contingency analysis function generates a large number of contingency analysis data sets quickly and efficiently that can be used for big data analysis. Currently, the research team is working closely with the big data analysis team on developing big data analysis technique to help categorize and understand cascading events with preliminary remedial action suggestions.