Staff information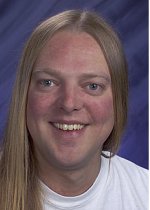 Brian Ermold
Comp & Data Eng. Team 3
Software Engineer
Send Email
Biography
Brian Ermold joined Pacific Northwest National Laboratory in 1996 as a student intern under Connor Flynn. He later hired on full time in the spring of 1998 as a software developer and data systems operator for the Atmospheric Radiation Measurement Program's (ARM) Sothern Great Plains (SGP) site in Oklahoma. Since 1998, Brian has become one of ARM's lead software developers and is currently working on the latest implementation of their Integrated Software Development Environment (ISDE). In 2011 Brian became the PI for BELLE II LDRD, "Data Management, Feature Extraction and Analysis at the Extreme Scale". One of the goals of this project is to design a metadata system that can be used to identify specific events of interest in the data created by the BELLE experiment at KEK.
Research Interests
Designing efficient, robust, and easily configurable data systems for collecting and processing scientific data.
Developing modular software that can be easily shared with the scientific community.
Database design and development.
Software framework design and development.
Data provenance and metadata systems.
Education and Credentials
Bachelor Degree in Physics/Astronomy at University of Montana, 1997.
Self taught in C/PERL programming languages with 14 years experience.
PNNL Publications
2016
Kassianov E.I., C.M. Flynn, J.C. Barnard, B.D. Ermold, and L.K. Berg. 2016. "New Shortwave Array Spectroradiometer-Hemispheric (SAS-He): Hyperspectral Design and Initial Applications." In Remote Sensing of Clouds and the Atmosphere XXI, September 26,2016, Edinburgh, United Kingdom, 1001, Article No. 100010D. Bellingham, Washington:SPIE. PNNL-SA-121737. doi:10.1117/12.2241203
2014
Gaustad K.L., T.R. Shippert, B.D. Ermold, S.J. Beus, J.A. Daily, A. Borsholm, and K.M. Fox. 2014. "A Scientific Data Processing Framework for Time Series NetCDF Data." Environmental Modelling & Software 60. PNNL-SA-97472. doi:10.1016/j.envsoft.2014.06.005
2010
Gaustad K.L., C.J. Flynn, S.J. Beus, and B.D. Ermold. 2010. "The Development of QC Standards for ARM Data Products." In Proceedings of the 19th ACM International Symposium on High Performance Distributed Computing, 548-553. New York, New York:ACM. PNNL-SA-71148. doi:10.1145/1851476.1851556
Stephan E.G., T.D. Halter, and B.D. Ermold. 2010. "Leveraging The Open Provenance Model as a Multi-Tier Model for Global Climate Research." In In Provenance and Annotation of Data and Processes - Third International Provenance and Annotation Workshop, IPAW 2010, June 15-16, 2010, Troy, New York. Lecture Notes in Computer Science, edited by DL McGuinness, et al, 6378, 34-41. Berlin:Springer. PNNL-SA-71579. doi:10.1007/978-3-642-17819-1