August 17, 2022
Spotlight
Secretary Granholm Visits Pacific Northwest National Laboratory
The Department of Energy (DOE) Secretary Jennifer Granholm made her first in-person visit to Pacific Northwest National Laboratory (PNNL) last week. As PNNL is a leading center for scientific discovery and technical innovation in sustainable energy, the visit focused on the distinctive work that is contributing to DOE's net-zero goals.
Secretary Granholm began her visit at PNNL-Sequim, which houses the only marine research facilities in the DOE complex. The secretary participated in a tour of Sequim Bay via a PNNL research vessel and was briefed on ways PNNL's marine and coastal research capabilities advance the DOE's goal of deploying 30 gigawatts of offshore wind by 2030.
"I was honored to be the first Secretary of Energy to visit PNNL's Sequim campus, where scientists are pioneering game-changing technologies to harness clean energy from the ocean," she noted. "The work I saw at Sequim—from algal jet fuel to wave energy—shows that a clean energy future is on its way."
She also met with PNNL-Sequim staff members who have leading expertise in biotechnology, biogeochemistry, ecosystems science, and Earth systems modeling. As part of her time in Sequim, the secretary spent time in the Saltwater Laboratories, which are part of nearly 15,000 square feet of research laboratories connected to the bay that allow researchers to evaluate new marine technologies in realistic seawater conditions.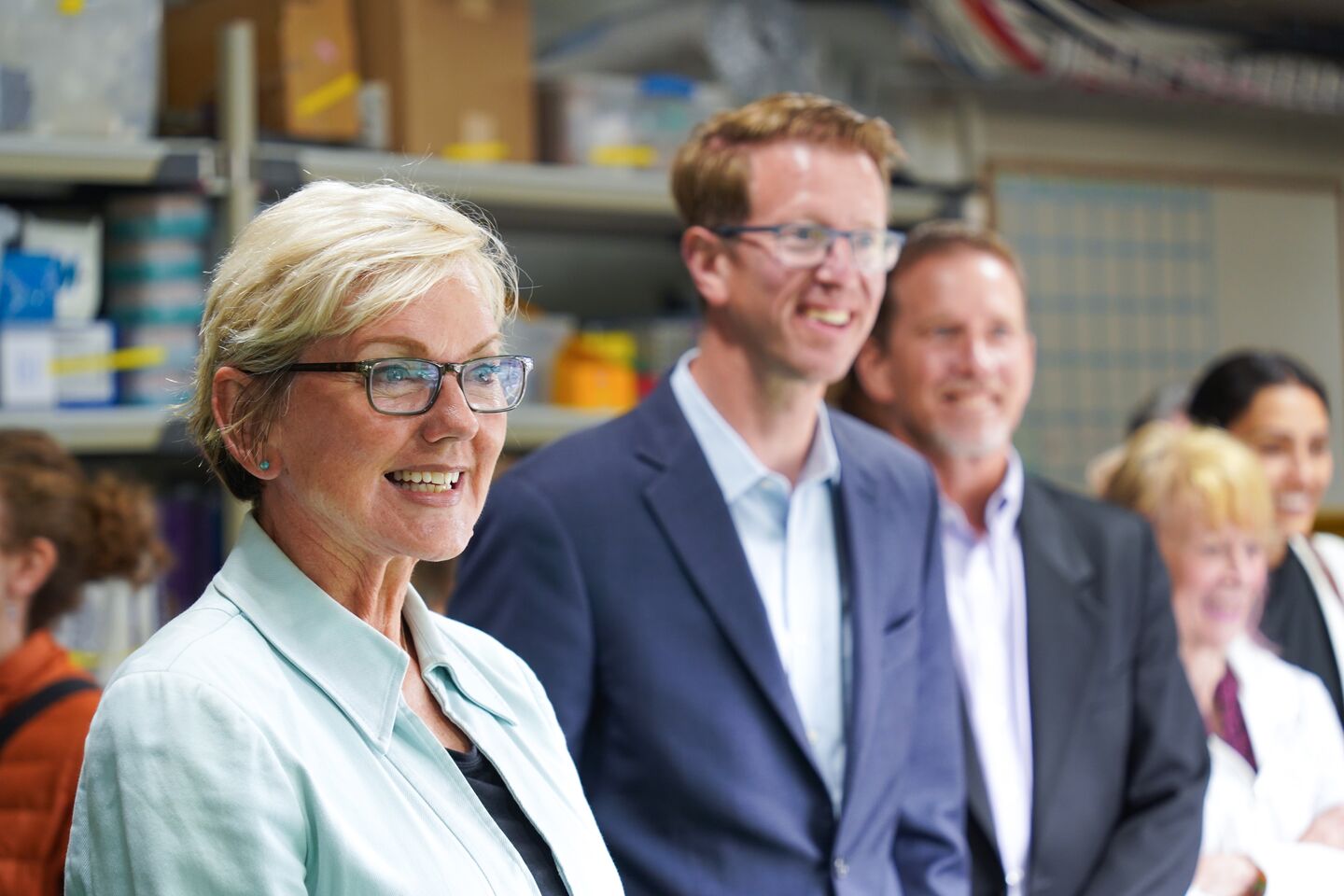 In addition to Secretary Granholm, Congressman Derek Kilmer and DOE Under Secretary for Science and Innovation Geri Richmond also joined the tours and briefings in Sequim.
"DOE is so proud to support PNNL-Sequim's groundbreaking marine science and energy work to build a healthier future for both the ocean and for humanity," Richmond said. "What we saw at Sequim demonstrates why our national labs are the world's innovation powerhouses, and why this administration will continue to invest in our scientific talent."
The following day, the secretary visited PNNL-Richland's campus and toured key research facilities such as the Environmental Molecular Sciences Laboratory (EMSL), a DOE Office of Science user facility. During her time on campus, she received multiple briefings focused on PNNL's work to achieve an equitable, resilient, and secure net-zero future. Senator Maria Cantwell joined the secretary for the tour and briefings in Richland.
In addition to seeing the Grid Storage Launchpad construction site, which will support the DOE's Energy Storage Grand Challenge, the secretary also visited the Energy Sciences Center, DOE's newest premier research facility, which provides unique experimental capabilities in catalysis, materials sciences, and computing unavailable anywhere else in the world.
As she toured, the secretary was briefed on PNNL's efforts to innovate, validate, accelerate, and collaborate to advance energy storage solutions. Staff also showcased PNNL's Shear Assisted Processing and Extrusion (ShAPE™) technology, which can convert scrap aluminum into high-performance metal tubing while requiring less time, energy, and expense than conventional metals manufacturing. These projects and others contribute to efforts that will reduce the carbon footprint and enable the next-generation of clean energy technologies.
The secretary and senator also visited the Electricity Infrastructure Operations Center (EIOC), where PNNL combines real-time data from the grid with advanced computation and analytics in a realistic control room environment with the goal to improve national resilience and decarbonize the energy system.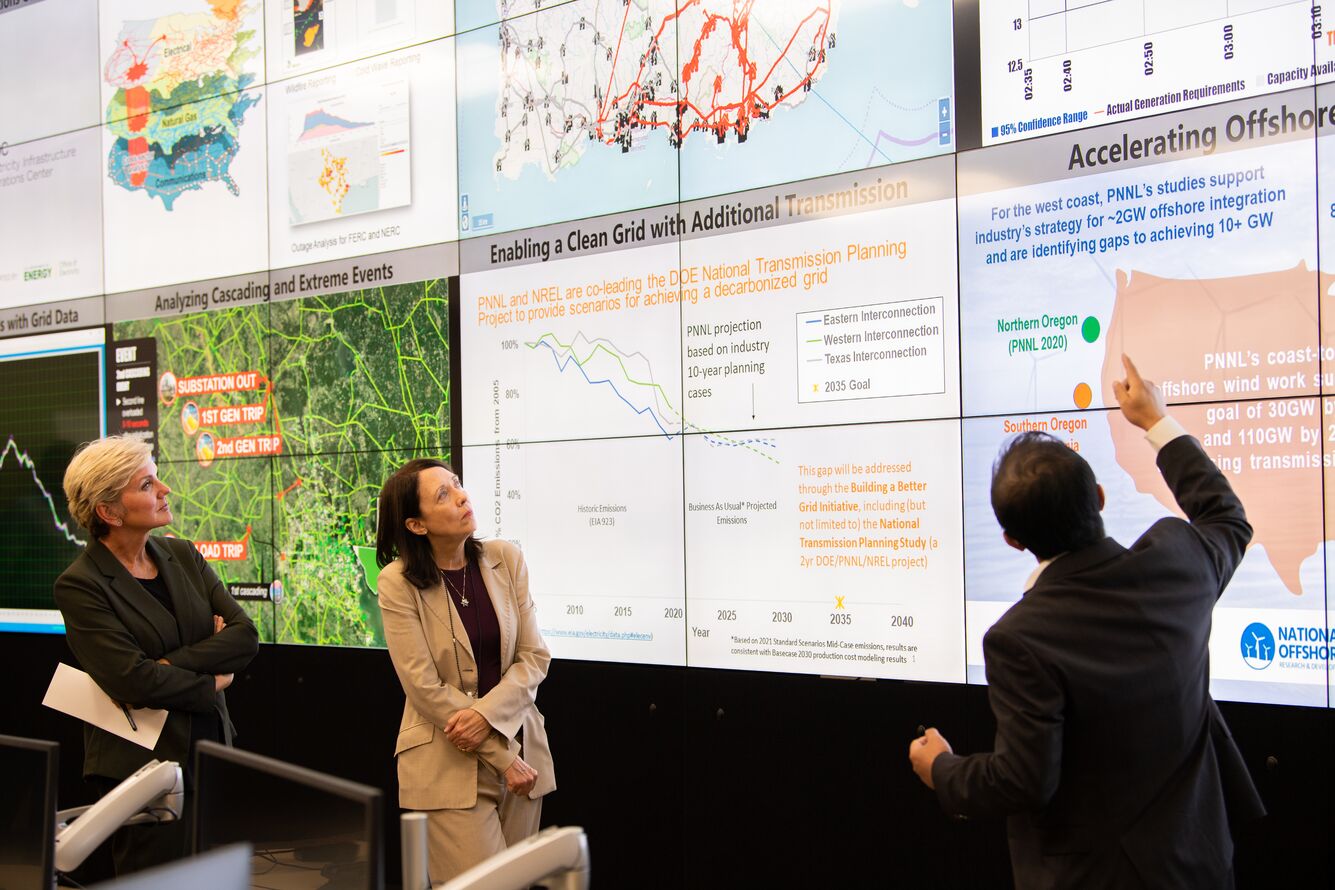 At the conclusion of the tour, they visited the Building Operations Control Center, which will be central to PNNL's NZero initiative and allow PNNL's campus to serve as a living laboratory for developing and deploying new technologies.   
"It was an honor to host Secretary Granholm and share the contributions that our outstanding staff at PNNL are making towards the Department's missions," PNNL Laboratory Director Steve Ashby said. "We are grateful for her time on our campuses and her leadership and engagement in the community roundtables."
Published: August 17, 2022
Research topics