February 15, 2023
Spotlight
PNNL Develops One-Stop Shop for Energy Storage Systems
Web application compares more than 60 energy storage tools developed at Department of Energy national laboratories
Energy storage systems (ESS) can be deployed at the utility level to enable greater integration of renewable energy and behind-the-meter to supply homes and businesses with backup power. Unlike other commercially available products, however, you can't find trusted online consumer reviews for ESS.
"In addition to the need for cost and performance improvements for storage technologies, there is a need for robust valuation methods to enable effective policy, investment, business models, and resource planning," said Vinod Siberry, Technology Manager at the Department of Energy (DOE) Office of Electricity.
The lack of ability to model, optimize, and value ESS for different grid and end-user services can hinder the widespread adoption of these technologies. In response, DOE has developed a comprehensive portfolio of decision-making tools to help industry, regulators, and other stakeholders understand the economic benefits of ESS technologies and identify the right technology for their particular use case and application.
"While the DOE has supported the development of a number of capabilities in energy storage, we have heard from stakeholders that often times they are either not aware that certain tools exist or have difficulty determining which one of them would best fit their needs," added Siberry.
These tools have been catalogued under the Model Selection Platform (MSP), a one-stop-shop for consumers navigating a rapidly evolving landscape of ESS technologies. Developed by energy storage experts at Pacific Northwest National Laboratory (PNNL), the MSP compares more than 60 energy storage modeling, valuation, and simulation tools developed by DOE's national laboratories.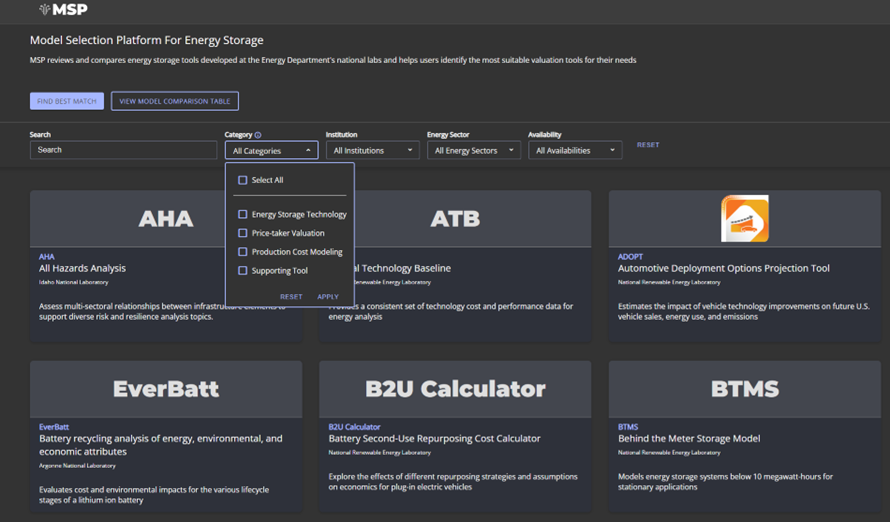 Key energy storage technologies that are modeled in DOE's storage valuation tools include batteries, hydrogen, pumped storage hydropower, compressed air, and flywheels. Detailed information on various energy storage technologies can be found in the Energy Storage Grand Challenge (ESGC) Roadmap report.
"We created an easy-to-use web application that helps various stakeholders readily categorize these tools, understand how similar tools are different in terms of functionality and capabilities, and select the most appropriate tools for their specific needs," said Di Wu, Chief Research Engineer at PNNL and one of the leads for the project.
Users can filter tools based on a few high-level attributes, view a side-by-side comparison of all tools, or take a quiz to find the best match based on their desired specifications.
"A cool feature of MSP is its innovative specification discovery procedure and a two-stage scoring engine," said Dexin Wang, a PNNL senior electrical engineer who led the design and implementation of MSP. The recommendation engine dynamically scores and ranks different tools as users are guided through the selection process.
Each path branches until the next step is reached, where the user is asked subsequent questions to eventually lead them toward conclusions. Once users complete all steps and questions, the MSP provides final scores and recommendations together with key factors that affect the score.
Take, for example, an operator at a local electric cooperative considering battery storage for a microgrid project with the goal of improving community resilience. They'll be performing price-taker modeling and optimal system sizing and need to find the right web-based tool for the job. Based on these and other specifications, the MSP might recommend the Energy Storage Evaluation Tool (ESETTM) or the Distributed Energy Resources Customer Adoption Model (DER-CAM).
In addition to Wu and Wang, primary developers of MSP include PNNL researchers Kaitlyn He, Tycko Franklin, Paul Tran, Joshua Wassing, Xu Ma, Avinash Joshi, Konstantinos Oikonomou, Zimo Wang, Bowen Huang, Bethel Tarekegne, Nhuy Van, and Jimmy Lin. Wu and his team hope the MSP helps accelerate the adoption of ESS technologies by making it easy to choose the right tools for the job. New tools will be added as they become available.
Published: February 15, 2023
Research topics