September 18, 2023
Spotlight
In Appreciation of Postdocs
PNNL recognizes the vital contributions of our postdoctoral researchers
Postdoctoral researchers, or postdocs, bring the knowledge and passion from their graduate work to nearly every field of study at Pacific Northwest National Laboratory (PNNL). After completing a PhD, postdocs are welcomed at PNNL to engage in mentored training where they perform innovative, early-stage research and in turn mentor graduate students and undergraduates.
Postdocs devote long hours towards understanding the world's most urgent and complicated questions. And their contributions play an integral role in developing and refining society's scientific body of knowledge.
This week, PNNL is honoring its postdoctoral researchers as part of the 14th annual National Postdoc Appreciation Week. Here we profile seven postdocs from around the Laboratory. 
Huilin Huang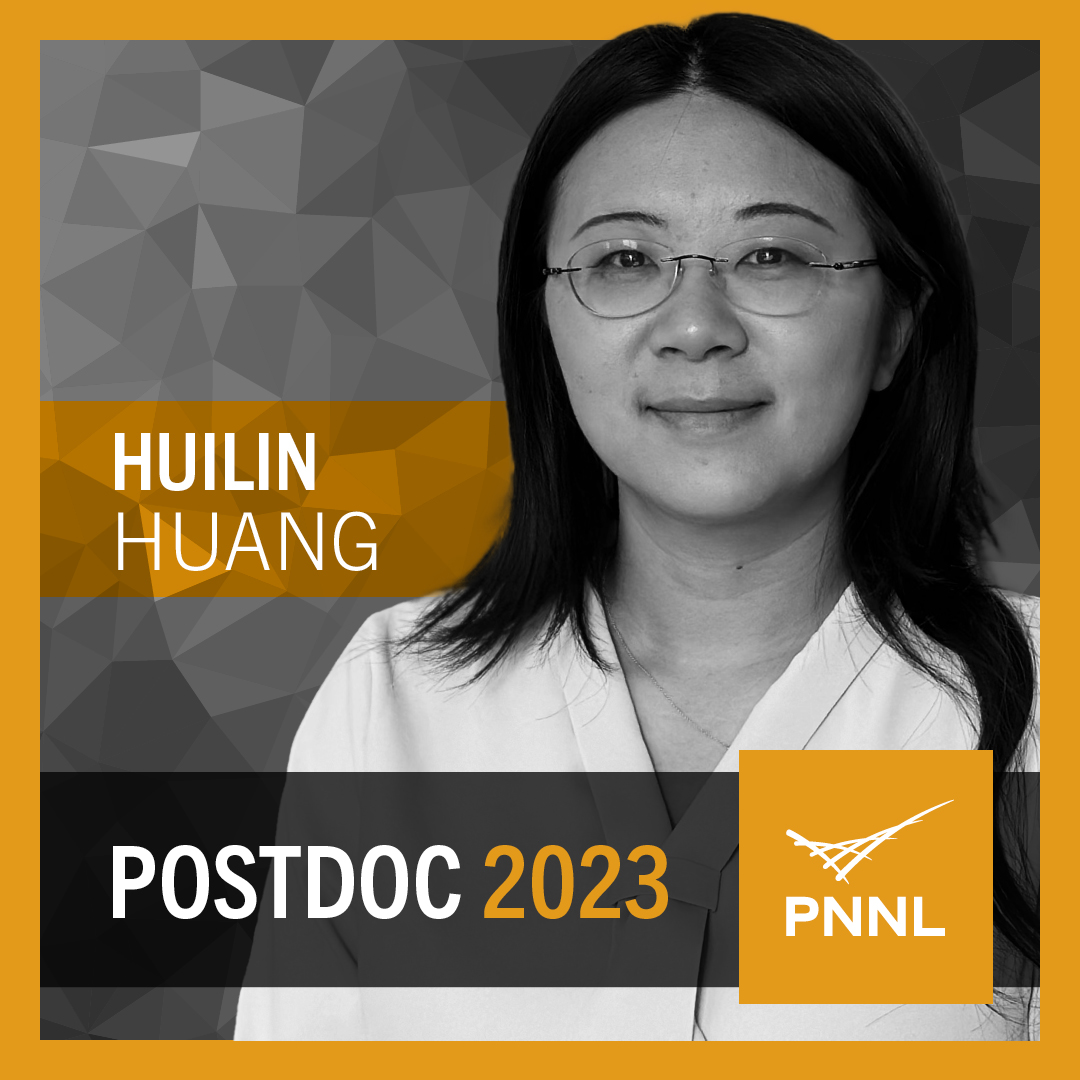 In collaboration with ecologists at Utah State University and the California Department of Fish and Wildlife, Huilin Huang and other PNNL researchers are working on a NASA project to predict the future snow life cycle in the Sierra Nevada mountain range and understand its influence on endangered species. Huang is specifically working to attribute the change of snow due to impacts of light-absorbing aerosols in air pollution and global warming.
"I enjoy being a part of a team doing collaborative work in Earth system model development," said Huang of the interdisciplinary project aiming to develop more effective strategies for mitigating the impacts of global warming, addressing air pollution, and preserving ecosystem biodiversity. "It's truly inspiring to witness how climate science can enhance our quality of life so am deeply passionate about this project."
Huang met her mentor, Yun Qian who is the PNNL Earth Systems Modeling Group leader, during her PhD and accepted a postdoc position at PNNL after graduation. She appreciates the chances to collaborate with talented junior scientists and learn from the experienced senior scientists while working together on significant projects. 
Luca Pagani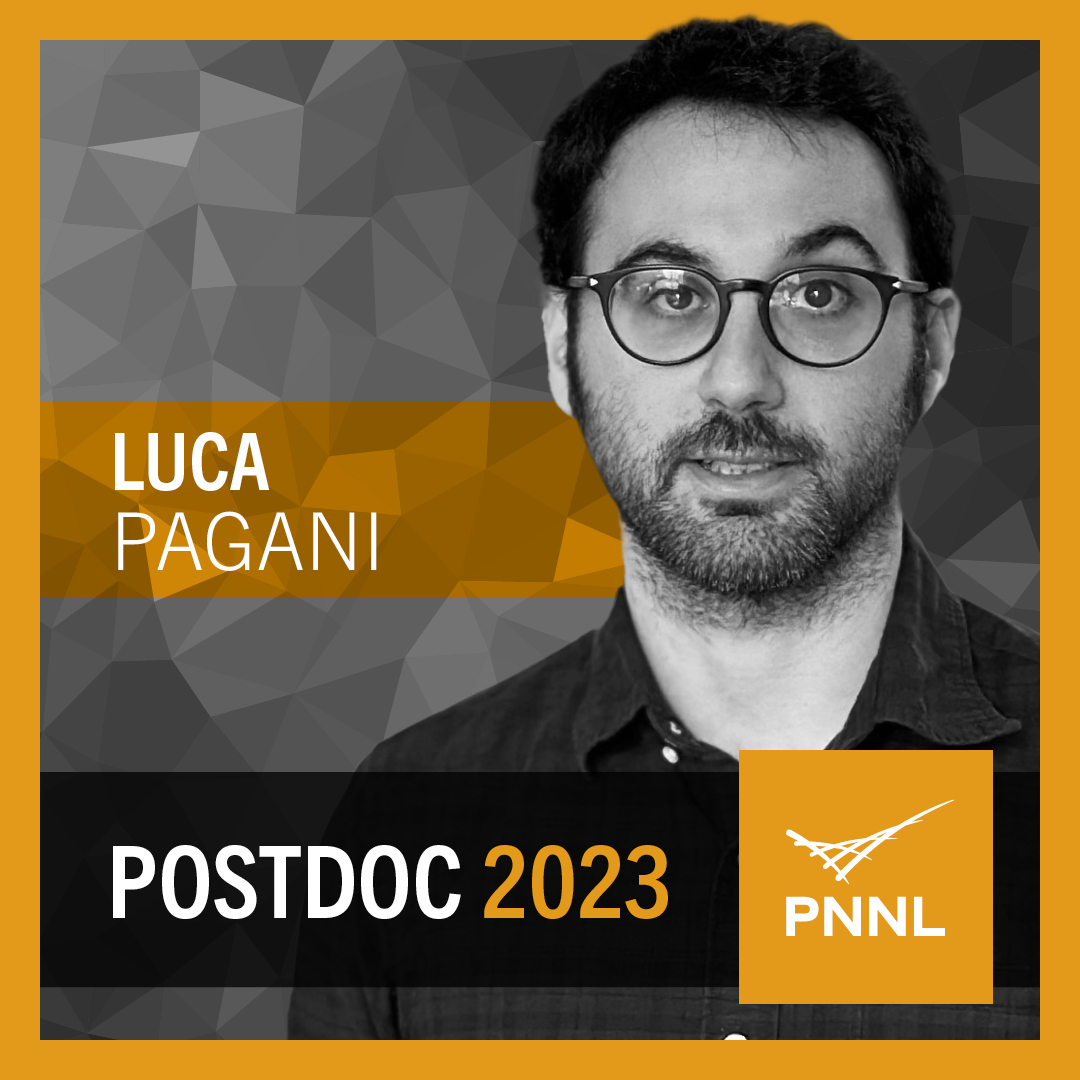 Physicist Luca Pagani is part of an effort to understand neutrinos, which are subatomic particles whose properties are crucial for understanding the history of the universe. In particular, Pagani develops experiments and instruments that can better detect the rare events that reveal these elusive particles and their properties.
He and his PNNL colleagues are working with an international team to create the next Enriched Xenon Observatory, a sensitive detector that could determine the neutrino's particle nature. Pagani is working on a subsystem of the full detector that will deliver high voltages into the cryogenic environment where neutrinos might be observed.
"Safely delivering high voltage in a cryogenic environment already has a lot of challenges, but it becomes more complex when you need to do it with the small amount of radio-pure material these detectors use," said Pagani. "I like the challenges, even more if this will help understand the physics beyond the standard model." 
Michael Kindle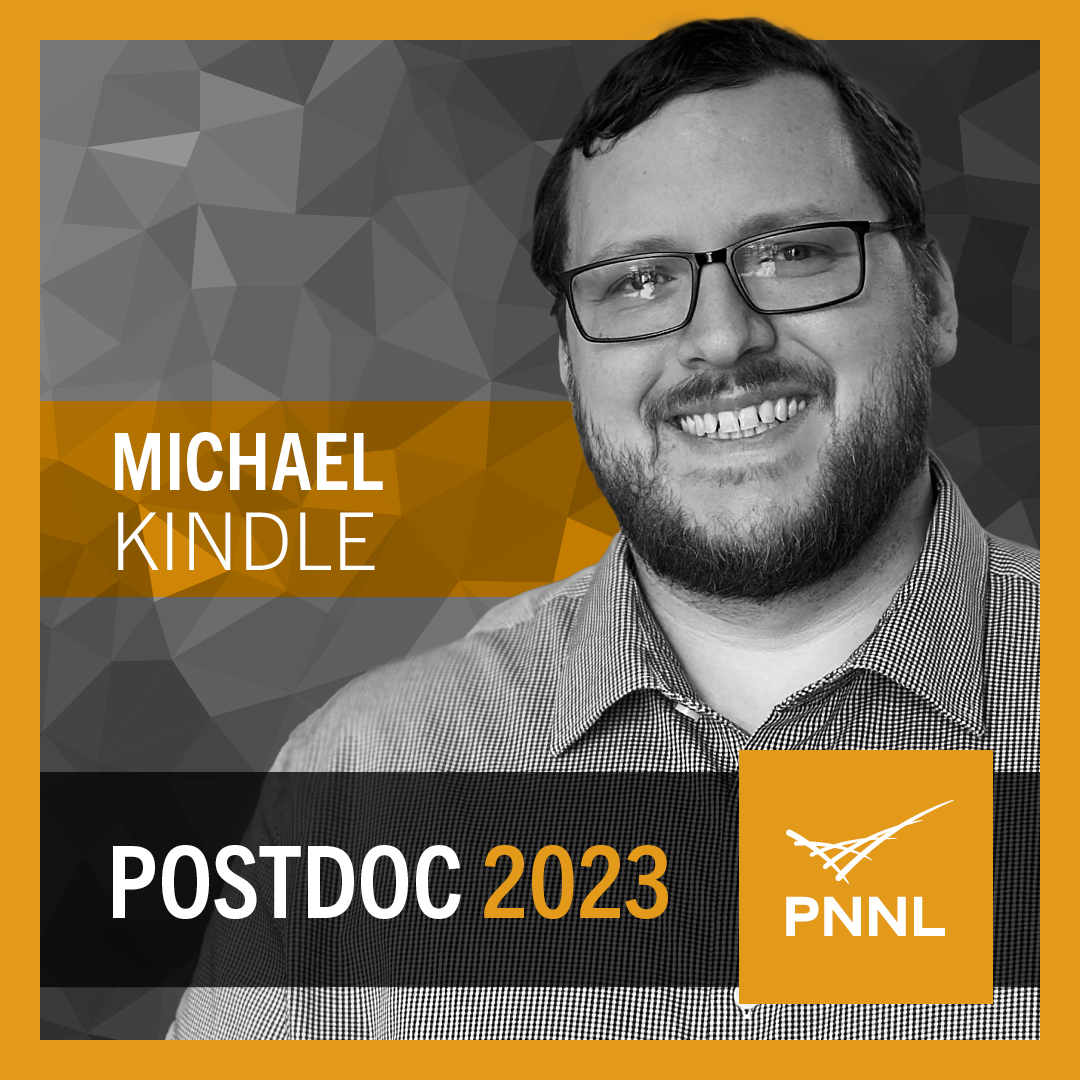 A Washington State native, Michael Kindle's interest in energy storage sparked as an undergraduate. After completing a PhD in materials science and engineering at Washington State University, he joined PNNL to continue his research in battery materials, characterization, and synthesis.
"Almost everything we do in modern society revolves around our energy needs, so the ability to more effectively generate, store, and utilize energy can help create a better world," Kindle said. He researches ways to increase the performance, reliability, and safety of battery materials, with a current focus on next-generation materials, like lithium-sulfur batteries in an all-solid-state configuration.
Kindle calls research "the ultimate problem-solving exercise," and finds it rewarding to find collaborate with experts within PNNL and across academia and industry to find logical, creative, and viable energy storage solutions. His work towards combining all-solid-state batteries with high-energy density materials, like lithium and sulfur, could allow for safer, more sustainable, and longer lasting batteries for applications like electric vehicles. 
Nicholas Reichart
"PNNL appealed to me because of the cutting-edge research with activity-based probes and the omic capabilities," said biochemist Nicholas Reichart. Networking on campus expanded his knowledge of just how much PNNL has to offer. "There are more scientific capabilities at PNNL than I knew about when I first arrived and getting the chance to better discover the research here benefitted how I fit in the Lab scheme."
A former Office of Science Graduate Student Research Program (SCGSR) fellow, Reichart uses molecular tools to describe the activity of microbial communities. Through a combination of activity-based approaches and fluorescence-activated cell sorting, he functionally enriches populations of microbes from environmental and health associated samples to generate more concentrated multi-omic measurements.
"Every sample is different and requires unique processing," said Reichart. "The attributes of troubleshooting and developing new workflows and how I can apply it to various topics is my main interest."
Sagar Sharma Poudel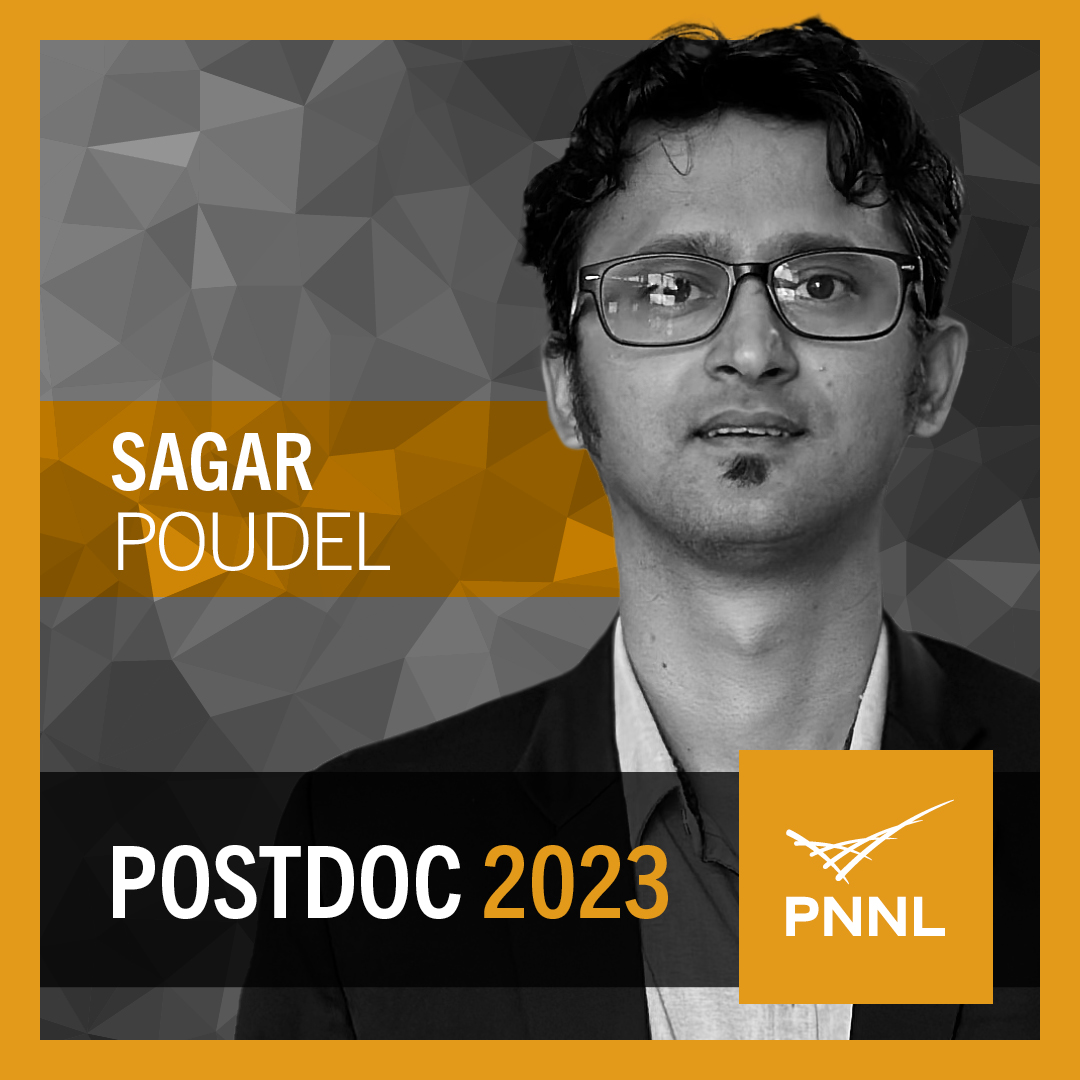 "If you want to tackle challenging scientific problems, gain varied expertise, and serve the science mission of the US, PNNL could be the best place for you to look for a postdoc position," said Physicist Sagar Sharma Poudel of the Detection Physics team.
Poudel uses his primary area of expertise in particle physics to create rare-event search experiments for dark matter and neutrinos and develop low-radioactivity techniques to measure the most sensitive interactions.
Working to make these challenging measurements not only contributes to the search for dark matter, but also developing radiation measurement techniques and background modeling for the experiments for nuclear security and radiation detection applications.
"I love the work I do because it encompasses a lot of fundamental physics of particles," said Poudel. "I love challenging problems, and by working on developing methodology and techniques to tackle those problems we are always on the edge of developing cutting-edge science." 
Shuai Tan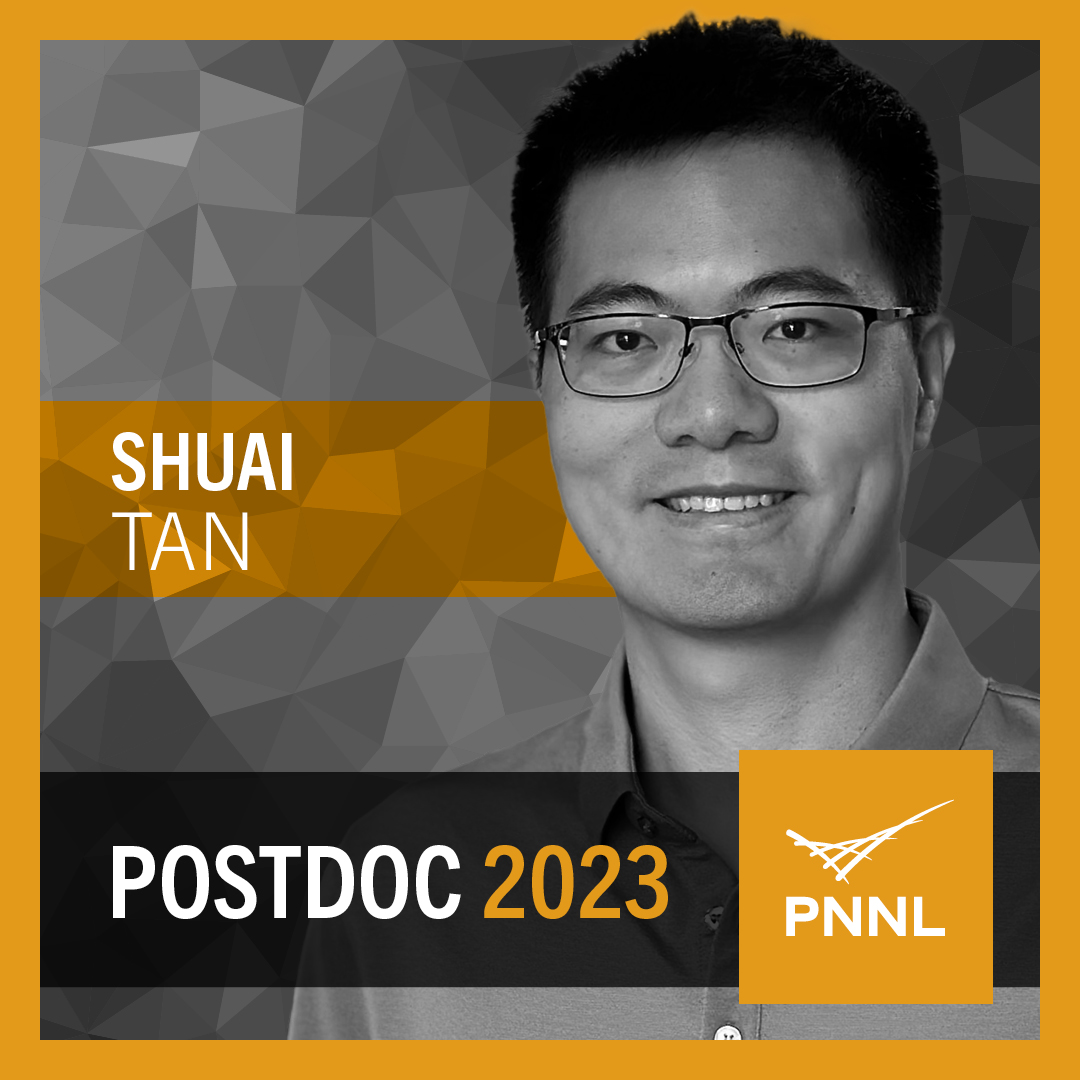 Shuai Tan is part of a team of researchers developing cutting-edge separation methods to isolate metals and other elements from chemical mixtures. Separations are important for decarbonization as well as obtaining rare minerals for next generation batteries, microelectronics, quantum computing, and other emerging technology.
Tan uses multiple microscopy and spectroscopy technologies, as well as electrochemical tools to deeply understand how those membranes and electrodes facilitate molecular processes, like ion diffusion, adsorption, and interaction during aqueous separation.  
"By fundamentally understanding some of the separation phenomenon in molecule-level, we will be able to precisely tune the physical or chemical properties of the membranes or electrodes to selectively separate the targeted ions from the mixtures," said Tan.
Wenqian Chen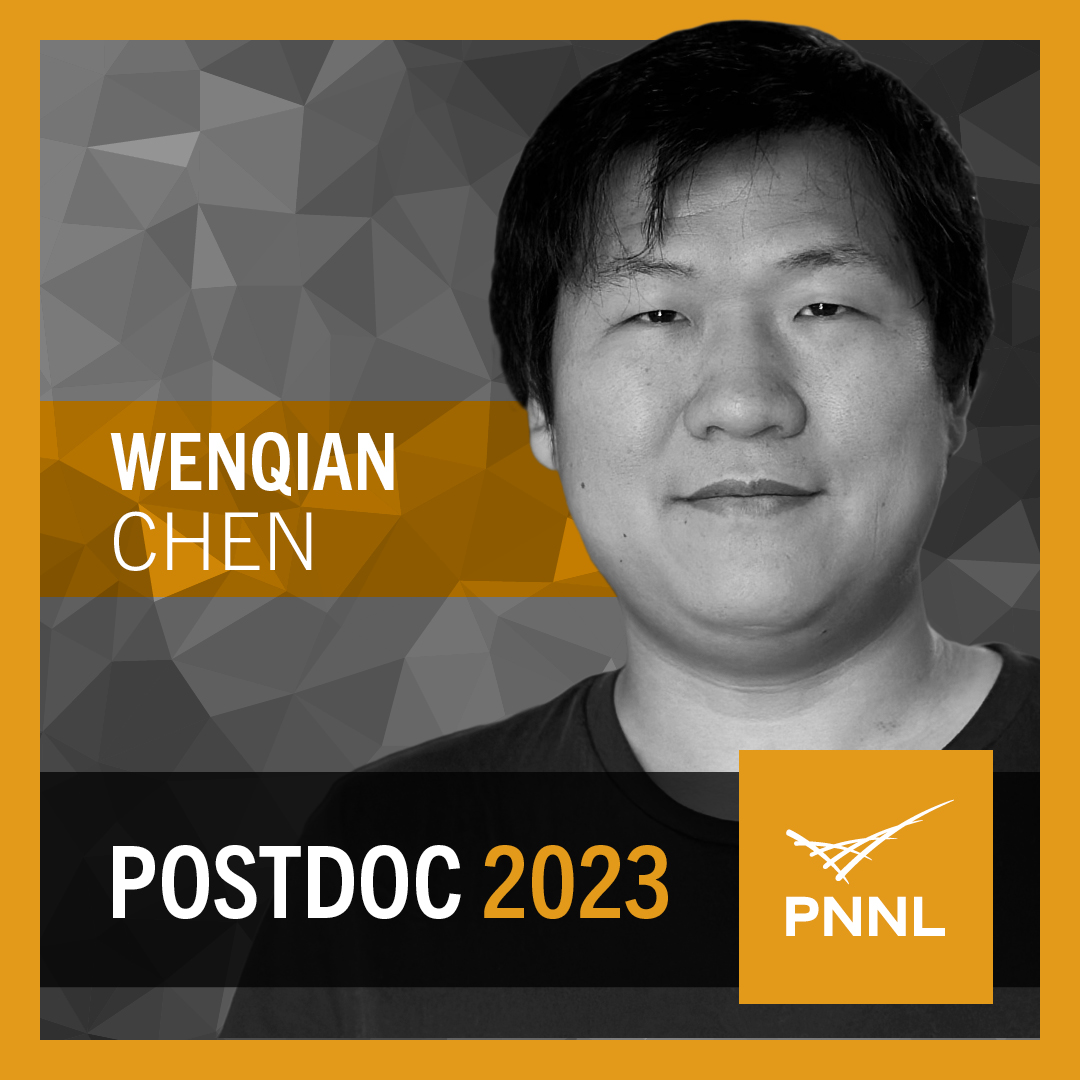 Although scientific machine learning is in its early stages, it offers immense potential for scientific research and engineering. Postdoc Wenqian Chen is up for the challenge.
"Working at the Lab has given me the opportunity to delve into uncharted areas, leveraging all the knowledge I've acquired over the years," said Chen, who came to PNNL after completing a PhD in power engineering and engineering thermophysics from Xi'an Jiaotong University in 2021. During this time he established a strong foundation in computational fluid dynamics, reduced-order modeling, and machine learning.
Chen's primary research interest at PNNL lies in scientific machine learning, with a specific emphasis on physics-informed machine learning. In employing scientific machine learning, our objective is to infer the behaviors or attributes of a system based on prior knowledge. This knowledge might encompass solely data, exclusively physical laws, or a combination of both.
Published: September 18, 2023