May 17, 2021
Staff Accomplishment
Thinking Outside of the Box
PNNL team creates portable inventory and assessment kit
When the COVID-19 pandemic halted all travel for in-person inspections, a team at Pacific Northwest National Laboratory (PNNL) knew they needed to find a way to perform assessments virtually. Their solution—a portable kit that could be shipped to locations—was featured in a recent edition of Army Engineer Magazine.
"The U.S. Army has a requirement to do an inventory of all building automation systems," said Jey Castleberry, senior cybersecurity analyst at PNNL. "That is more than 150,000 buildings. We would have normally performed a traditional in-person assessment, but without being able to travel we suddenly needed to develop a new solution as nothing currently existed to perform these tasks."
Instead of sending a technician to the site, the team created a travel kit including a custom-made sensor and an augmented reality headset that could easily be shipped to a facility. Facility managers can wear the headsets and, through the imaging, PNNL personnel can view what the manager is seeing. This allows the PNNL researcher to provide real-time support through a first-person view and direct facility managers on how to attach and operate the sensor. After the sensors have collected the data, they are shipped back PNNL to be sanitized and made ready for the next facility.
"Sometimes the best solution is thinking simple and then building up from there," said Lori Ross O'Neil, a senior cybersecurity engineer at PNNL. "We love to build exotic things here, but for these kits we started with some off-the-shelf devices; however, the way we used them was novel. No one that we knew of was doing this," said Ross O'Neil.
The newly created solution has opened the door for even more virtual assessments to be completed by PNNL.
"PNNL does a lot of facility assessments, and these could easily be transferred to other uses," said Ross O'Neil. "It let us see things that we had no way to see before without being on-site at a facility. This took us to a level that we never would have gotten to during a no travel time."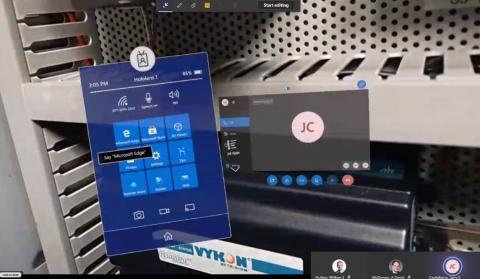 Published: May 17, 2021
Research topics