May 15, 2018
Staff Accomplishment
Smart Grid Thought Leadership
Robert Pratt named PNNL Inventor of the Year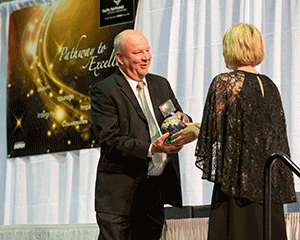 PNNL's Distribution and Demand Response Sub-Sector Manager Robert G. Pratt was recently named the Lab's 2017 Inventor of the Year. Over the past two years, his work has garnered eight U.S. patents in the areas of smart grid, power grid, and transactive controls.
"I am deeply honored, surprised, and very grateful to the team of people who are my co-inventors," Pratt said. "I didn't do any of this in a vacuum. It absolutely took a village."
The PNNL Inventor of the Year honor is awarded annually to a Laboratory staff member who—over the previous two years—has created intellectual property, or whose innovations have the potential to create intellectual property.
At PNNL, Pratt's work focuses on smart grid technology and business cases, demand response, dynamic pricing, transactive controls, home energy management, smart appliances, and renewables integration. In 2000, he led a PNNL initiative that led to the U.S. Department of Energy's GridWise™ Program, the GridWise™ Industry Alliance, and GridWise™ Architecture Council. Today, he leads a PNNL team that studies communications architecture, advanced control technology, and simulation of the combined engineering and economic aspects of the future grid.
Over a 32-year career at PNNL, Pratt has earned 15 U.S. patents and has published more than 30 peer-reviewed journal papers.
The achievements of Pratt, along with 163 other scientists and engineers, were acknowledged at a May 11, 2018, PNNL staff recognition event. Pratt was also honored in April at a Battelle recognition event in Columbus, Ohio.
Published: May 15, 2018
Research topics