April 19, 2018
Web Feature
Color Research Illuminates Lighting Preferences
Lighting quality affects how the colors of objects appear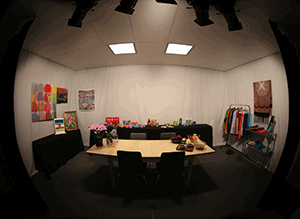 PNNL scientists now know a lot more about the types of indoor lighting that make the colors of objects look most pleasing to the eye. Lighting manufacturers are taking notice, translating these findings into new products.
Lighting quality makes a big difference in how comfortable people feel in indoor environments. Much of that perception comes from color rendering, meaning how lighting makes the colors of objects in the room appear—like the vivid red of a soda can label, or an apple.
LED lights are much more energy efficient than previous types of lighting, and the technology is more flexible, providing manufacturers more ways to entice buyers to switch over to energy-saving LEDs. Manufacturers are focused on making lighting as pleasing to building occupants as possible. But it's not as simple as making the light output look like natural sunlight, as this may result in higher energy and product costs. Today's tunable LED lights give manufacturers a wide range of options to tweak, including adjusting color rendering for vividness, naturalness, and other qualities.
As Vibrant as Daylight
To provide industry with information about lighting and color preferences, PNNL researcher Michael Royer led an experiment where 34 participants each evaluated 50 different lighting scenes in a room filled with objects, such as fruit, flowers, clothing, packaged candy, and paintings. White LED lights were tuned to a variety of settings that altered the appearance of the objects. Participants were asked to rank their preferences for each scene, based on how the lighting made the objects look.
After crunching hundreds of participant responses, the results pointed to the most preferred characteristics. People typically wanted lighting that makes the colors of objects look more vibrant/saturated, like they do in bright daylight, compared with what is typically available today. People zeroed in on how the color red looked, especially in foods and consumer products.
Lighting Manufacturers Taking Note
This research breaks new ground in the 2015 Illumination Engineering Society's standard for evaluating the color rendition of light sources. Previously, that standard described what certain kinds of lighting did, not what people liked or didn't like about it. This new research, however, matches numerical ranges of tuning with human visual preferences. The bottom line, according to Royer: "This new system lets us create a spectrum that is energy efficient AND what people like."
Lighting manufacturers are starting to design and carry new products based on these visual preferences. For example, Samsung says its D-series Special Color packages are tuned to deliver exceptionally high color vividness. Focal Point Preferred Light, another manufacturer, says its lighting renders color for human preference, creating more comfortable and visually appealing environments for building occupants.
This is the second in a series of PNNL experiments on the color rendering of LED lighting, with another under way in 2018. See the 2016

 and 2017

 publications for more details. The research was funded by the U.S. Department of Energy's Office of Energy Efficiency and Renewable Energy

 under the Solid-State Lighting Program

.
Published: April 19, 2018
PNNL Research Team
Michael Royer, Andrea Wilkerson, and Robert Davis
Research topics