STEM Equity and Inclusion 
Diversity in STEM leaders starts with inspiring
innovation and creativity in students —all students— today.
To solve tomorrow's challenges, the world needs a lot of people from different backgrounds, especially in STEM fields. To get there, we need diversity in our STEM leaders, and that starts with inspiring innovation and creativity in students today— all students. In all of PNNL's Office of STEM Education programs, we seek to inspire and support students who are historically underrepresented in STEM fields, including females and students from rural communities. We create educational resources, offer professional development for educators, and develop programs for students who may not have access or exposure to exciting STEM learning. As a result, we have students who tell us how impactful these experiences are.
Staff at PNNL know that engaging and equitable STEM experiences are vital to generating diversity and motivating students from all backgrounds to pursue a STEM career. One of our flagship programs that creates those experiences is called MESA, which stands for Mathematics Engineering Science Achievement.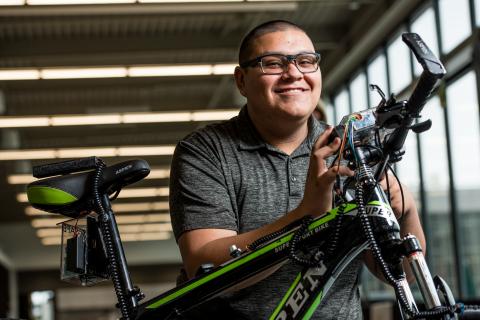 Yakima Valley/Tri-Cities (YVTC) MESA Center @ PNNL
The Washington State MESA program was developed in 1982 with a mission to increase the diversity and retention of students pursuing STEM courses and career pathways. In 2018, PNNL took a leadership role in the YVTC MESA program to increase the number of underrepresented and underserved students of color, females, and students from rural communities who pursue STEM degrees. PNNL leads one of six Washington MESA centers in the Yakima Valley and Mid-Columbia region, serving school districts from College Place to Granger. Over 400 students are served annually as YVTC MESA students participate in hands-on engineering design challenges, STEM activities in their classrooms, and regional and statewide competitions. For the first time in 2018 and again in 2019, a YVTC MESA team won the statewide competition and advanced to the national competition!
YVTC MESA students also receive resources and guidance to successfully pursue a college degree and career in a STEM field. Many YVTC MESA students are prospective first-generation college students, and the program encourages their dreams to attend college.
"I never considered STEM until participating in the YVTC MESA program. I was inspired to become an engineer and I hope to mix the beauty of art with the elements of engineering in the future." — Kimberly, Chiawana High School MESA Student