High-Throughput Experimentation Accelerates Energy Storage Materials Discovery
Combining robotics, automation, and data-informed experimental design delivers better scientific outcomes faster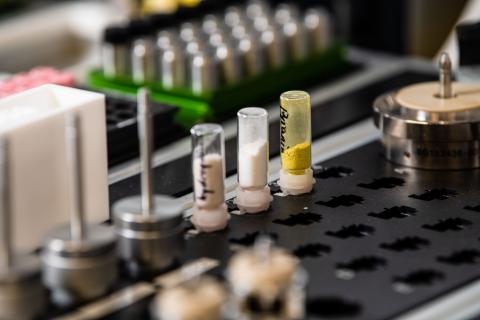 Developing new and better batteries for energy storage applications often starts off with a search for the proverbial needle in a haystack. Researchers must analyze millions of potential chemistry combinations to identify promising candidates for testing and further development.
Energy storage researchers at PNNL have turbocharged their materials discovery research with the addition of high-throughput experimentation (HTE) equipment that enables them to accomplish in a day what used to take weeks or months. The equipment is being used to support PNNL's Energy Storage Materials Initiative (ESMI), which is focused on transforming and accelerating the materials development processes for next-generation energy storage technologies.
Part robot, part workstation, part intelligent database, PNNL's HTE equipment enables automated combinatorial materials synthesis, high-throughput screening, and optimizations for large-scale data generation that significantly accelerate the material discovery and predictive material design through advanced data analytics.
PNNL's newest HTE equipment includes two modular robotic platforms, with one operated in a nitrogen purge box for general experiments and the other in an argon glove box for highly sensitive experiments. Both systems are completely configurable and can accommodate multi-well microarray substrates.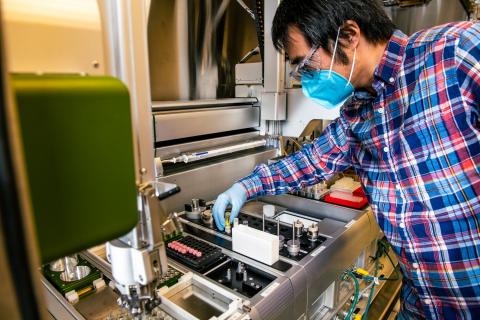 The automated systems are equipped with analytical balance; solid dispensers; liquid handlers, including the positive displacement pipetting for viscous liquids/slurries; capping/uncapping station; on-deck magnetic stirrer with heating/cooling; vortex mixer; centrifuge; and eight individual optimization sampling reactors. The HTE systems are also equipped with compatible high-throughput property characterizations, including basic physical property measurements such as solubility, conductivity, viscosity, etc., and electrochemical measurements.
These HTE capabilities enable the ESMI team to perform more than 200 experiments per day (compared to only a handful before) with less labor, all while maintaining a bird's eye view of results by using physics-informed datasets to improve experimental design and eliminate errors.