Highlights
Latest Highlights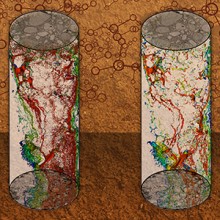 Simulating Subsurface Flow and Transport at Multiple Scales
New method shows events occurring in a large sample at the resolution of soil grains
April 2015

Scientists at PNNL introduced a method that overcomes the computational challenge of simulating subsurface phenomena that occur at both the scale of tens to hundreds of microns-the size of solid soil grains and pore spaces-and at much larger scales. The researchers presented the first simulations of pore-scale flow and transport over a large, decimeter-scale volume.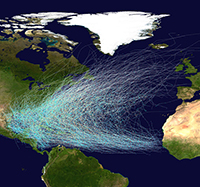 Beyond Boundaries: Remote Heat Rouses Hurricanes
Sea surface temperature in North Atlantic and Mediterranean waters triggers tropical cyclones afar
April 2015
Scientists at PNNL identified a connection between the variations in temperature of the sea surface in the North Atlantic Ocean and the Mediterranean Sea and variations in Atlantic tropical cyclones from year to year. Their research is the first to use 30 years of observations to systematically identify the physical and statistical linkages between the two.