Page 11 of 1002
Physcial Sciences Division
Research Highlights
December 2019
Radiation Triggers Complex Chemical Transformations at Alumina/Water Interface
Researchers explore radiation effects at interfaces and learn fundamentals of hydrogen formation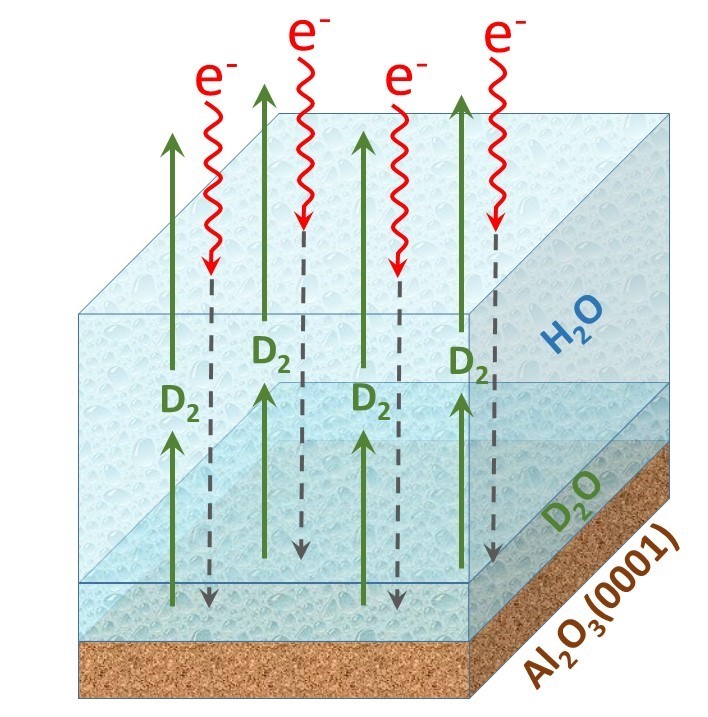 Researchers found that electrons are stopped in the water portion of an isotopically-layered nanoscale film but the hydrogen isotope deuterium (D2) is produced at the heavy water (D2O)/alumina interface by radiation-induced mobile electronic excitations and/or hydronium ions.
Enlarge Image
.
There is much to learn about radiation-induced processes in aqueous slurries of aluminum oxide (alumina) and oxyhydroxides, which are major components of highly radioactive waste. In long-term storage situations, radiation affects all parts of nuclear waste: liquid, solid, and interfaces. Radiation at oxide-water interfaces, in particular, can produce new, potentially dangerous molecular species in liquid and transform the oxide surface, affecting the macroscopic physical properties of the waste slurries. Research conducted by scientists in the Interfacial Dynamics in Radioactive Environments and Materials (IDREAM) Energy Frontier Research Center has revealed insights about reactions at the alumina/water interface, including spatial distribution of radiation-induced processes, deposition of hydrogen atoms on the alumina surface, and formation of molecular hydrogen.
The experimental outcomes are captured in the researchers' paper, "Electron-stimulated reactions in nanoscale water films adsorbed on a-Al2O3(0001)." The paper was published in the Physical Chemistry Chemical Physics journal and was named a HOT article, a designation made by the journal's handling editor or referees based on interest in the publication by the technical community.
Why it Matters: Safe retrieval and processing of nuclear waste potentially could benefit from improved understanding of radiation-induced processes in aqueous slurries of aluminum oxides and oxyhydroxides. New knowledge in this domain also could be important for astrochemistry and planetary sciences, radiation- and photo-catalysis, and radiation biology.
Summary: Researchers investigated reactions in water films deposited on aluminum oxide-α-Al2O3(0001)-induced by 100 eV electrons using temperature programmed desorption and electron-stimulated desorption techniques under well-controlled experimental conditions. They found that radiolytic hydrogen production is enhanced at the water/alumina interface. Radiation produces low-energy electronic excitations and hydronium ions diffusing through the water film and reacting with alumina. Hydrogen atoms deposited on alumina surfaces are possible precursors for molecular hydrogen.
What's Next: Detailed knowledge on radiation-induced reactions in nanoscale water films adsorbed on alpha-alumina helps provide a fundamental base for advanced strategies and methods to safely retrieve and process nuclear waste.
Acknowledgements
Sponsors: This work was supported by IDREAM, an Energy Frontier Research Center managed for the U.S. Department of Energy (DOE), Office of Science, Basic Energy Sciences (BES).
User Facilities: The research was performed using the Environmental Molecular Sciences Laboratory, a national scientific user facility sponsored by DOE's Office of Biological and Environmental Research.
Research Team: Nikolay Petrik and Greg Kimmel (Pacific Northwest National Laboratory)
Reference: Petrik, N.G., and Kimmel, G.A. " Electron-stimulated reactions in nanoscale water films adsorbed on a-Al2O3(0001)" PCCP 2018, 20, 11634 – 11642. DOI: 10.1039/c8cp01284a.
---
Page 11 of 1002