Page 425 of 740
Atmospheric Sciences & Global Change
Research Highlights
October 2013
Forest's Past Indicates Future Ability to Withstand Climate Change
Study reveals how well spruce forests survive environmental stresses, store carbon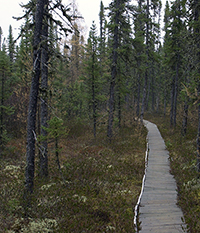 Scientists at Pacific Northwest National Laboratory found that old northern spruce forests are living with a legacy of past climate and environmental stresses. These past events shape their ability to sustain growth, survive temperature extremes, and store carbon dioxide. Their results will improve climate models with long-term data on forest health.
Enlarge Image
.
Results: The Northern Old Black Spruce forest holds secrets about centuries of climate change. Exploring the relationship between climate and forests, a new study led by scientists at Pacific Northwest National Laboratory shows that the forest's past climate and disturbance events, such as fire or drought, are part of a legacy that affects its ability to adapt to future climate change. The study, published in the journal Global Change Biology, showed that tree growth slows down as the forest ages, which the researchers linked to tree mortality to improve climate models. This information is needed to figure out how much carbon dioxide trees can store for better predictions of future climate change.
"Most climate models that incorporate vegetation are built on short-term observations, for example of photosynthesis, but they are used to predict long-term events," said Dr. Ben Bond-Lamberty, terrestrial scientist working at the Joint Global Change Research Institute, a partnership between PNNL and the University of Maryland. "We need to understand forests in the long term, but forests change slowly and researchers don't live that long."
Why It Matters: This research could help climate change modelers understand how well forests adapt to climate and environmental stresses to predict their ability to store carbon in the future. Vegetation like forests stores a lot of atmospheric carbon in the form of carbon dioxide. Future climate change assessments rely not only on information about how much greenhouse gases are emitted into the atmosphere, but also how well our ecosystem can adapt to and mitigate those changes. Forests are an important part of that equation.
Methods: Bond-Lamberty and his international group of colleagues combined tree ring data and data gathered by watching how many trees died over 13 years in a northern Canadian boreal forest. Boreal forests have long cold winters and are full of evergreen trees. The team found that the oldest trees started growing in the early 1800s. Since then, the stand of trees has gone through at least three dry periods, evident from very thin rings during those periods. The team collected inventory data by walking the forest, counting trees and measuring their diameter. They found that only three new trees of chest height entered the inventory during the 13 years between 1999 and 2012 while leaf cover stayed the same. Putting the data together with climate data, they found a link between slow growth periods and tree mortality in later years. They also found that the 1900s were especially bad years for forest growth.
See PNNL news release "Death of a spruce tree" to learn more.
Acknowledgments
Sponsors: The research was funded by the U.S. Department of Energy Office of Science Terrestrial Ecosystem Science program. Data collection from 1999-2004 was supported by the National Science Foundation.
Research Team: Ben Bond-Lamberty and Katherine Calvin, PNNL; Adrian V. Rocha, University of Notre Dame; Bruce Holmes, Manitoba Conservation, Canada; Chuankuan Wang, Northeast Forestry University, China; and Michael L. Goulden, University of California, Irvine.
Research Area: Climate & Earth Systems Science, Subsurface Science
Reference: Bond-Lamberty B, AV Rocha, KV Calvin, B Holmes, C Wang, and ML Goulden. 2013. "Disturbance Legacies and Climate Jointly Drive Tree Growth and Mortality in an Intensively Studied Boreal Forest." Global Change Biology, early view, in press. DOI:10.1111/gcb.12404.
---
Page 425 of 740