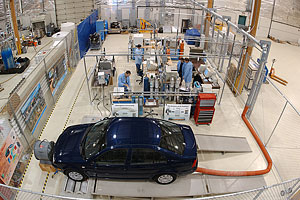 As global economies and populations grow, so does the need for additional energy. Currently, 85% of the global and domestic demand for energy is fulfilled with carbon-based energy sources, and forecasts show that this will increase over the next 25 years. Alternative sources of energy from renewables, nuclear or hydrogen, while promising, will not be available for 25-50 years. The nation and the world needs a secure "energy bridge" that will help transition the global economy to a renewable, nuclear and hydrogen energy base while reducing our dependence on imported oil.
To help build this bridge, PNNL is providing science, technology and leadership to:
enable economically and environmentally sustainable conversion of domestic hydrocarbons to gases, liquid fuels, electricity and chemicals
improve grid reliability and productivity
accelerate safe and economic expansion of nuclear power
increase the efficiency of powering vehicles and buildings.
Hydrocarbon Conversion
PNNL is enabling economically and environmentally sustainable conversion of domestic hydrocarbons to gases, liquid fuels, electricity and chemicals through contributions that focus on the following areas:
Coal to electricity. The Department of Energy is collaborating with an industry consortium to build FutureGen, the world's first "zero emissions" coal-fueled plant. Battelle, which manages the Pacific Northwest National Laboratory, is providing technical and administrative support to the FutureGen Alliance, which includes some of the nation's largest coal-producers and utilities. The 275-megawatt coal-fueled plant will gasify coal to produce electricity and hydrogen. In that gasification process, carbon dioxide would be captured and sequestered.
In the area of carbon management, PNNL is researching methods to deal with greenhouse gases produced by power generation plants. For example researchers are determining the technical feasibility and cost of capturing and sequestering emissions in deep geologic formations, agricultural lands, forests, and degraded lands.
Coal to liquids. Hydrocarbons such as coal and biomass can be converted to hydrogen, synthetic natural gas, and diesel using advanced gasification technologies. In addition, the remaining pollutants (primarily sulfur, CO2, NOx, and mercury) can be separated and either sold as useful chemicals or safely and permanently stored, making the combined systems both efficient and environmentally clean. PNNL is applying its unique resources for chemical catalysis and its historical expertise in separations science to develop and model "air and water neutral" conversion processes that are both efficient and economical.
Biomass to fuels, feedstocks and products. A true biorefinery that produces high-value chemicals and fuels from biomass would provide opportunities for added economic return, lowering the cost of these products to encourage and hasten economic competitiveness. PNNL and Washington State University have collaborated to build the Bioproducts, Sciences, and Engineering Laboratory (BSEL) on the WSU campus in Richland, Washington. The new facility will be used to develop technology for converting low-value agricultural byproducts and residues into value-added chemicals for products like plastics, solvents, fibers, pharmaceuticals, and fuel additives.
Grid Reliability
PNNL is improving grid reliability and productivity through the development of interconnection-scale tools for wide area monitoring and real-time analysis of grid operations, moving control and operation timescales from minutes to seconds.
Real-time, interconnection-scale grid reliability and productivity tools.
PNNL is exploring how changes in the way the nation's electrical grid is operated can improve reliability and improve the effectiveness of the grid—lowering costs and lessening environmental impacts. Researchers are focused on developing real-time tools and supporting their integration into operating systems. For example, some projects seek to allow grid operators to see beyond the individual control areas within their purview. This "situational awareness" would give operators a glimpse into what's happening on neighboring systems so they can more quickly recognize and address the potential impacts those events could have on the system they operate.
In addition, with the help of data-intensive computing, researchers are developing grid management capabilities that move control and operation timeframes from minutes to seconds. Speeding modeling analysis would allow operators to better predict what is happening on the grid and take preventative measures.
Besides meeting growing demand for electricity, the nation's transmission grid may soon be facing new challenges. For example adding wind power in areas not located near large populations where the electricity will be used and the potential for plug-in hybrids to use electricity to replace liquid transportation needs will affect the way the grid is managed and operated. PNNL will develop technologies to understand the amount of electricity available and how to reliably get it where it needs to go.
Lastly, PNNL develops grid operation tools that enable innovative approaches to demand-side management, including through the creation of demand management markets. The 2006-2007 Pacific Northwest GridWise™ Demonstration Project is testing whether real home owners will adjust their energy use based on price signals with the help of automated technology. PNNL also has developed a playing-card-sized integrated circuit called a GridFriendly™ controller, that can turn normal household appliances into ones that would sense a crisis on the grid and momentarily turn off to allow the grid to stabilize.
Pacific Northwest National Laboratory's Electricity Infrastructure Operations Center (EIOC),completed in 2006, is a fully capable control center with access to real data from North America's eastern and western power grids. Complete with access to high-performance computer resources, secure network connections and energy management software donated by Areva T&D, the EIOC serves as a platform for grid research and development. The EIOC provides a real operations environment for researchers to develop, assess and test tools for managing the electric power grid with increased reliability, security and effectiveness.
Nuclear Power
Experts say the nation will have to call upon all of its power resources—including nuclear—to meet energy demands of the future. PNNL is responding to the challenges of bringing nuclear science into the 21st century by accelerating safe and economic expansion of nuclear power by supporting new nuclear facility siting, operation, waste management and regulatory analysis and advancing structural materials and chemical processes for actinide-bearing waste forms.
PNNL researchers have been leading efforts to maximize current plant operations, develop advanced nuclear power generation options, safely dispose of nuclear waste and educate the next-generation nuclear workforce.
PNNL provides nuclear process engineering support for nuclear power by developing structural materials and advances in chemical processing for actinide-bearing waste forms, research in proliferation-resistant fuel, reactor design and technology development. The Laboratory has historical nuclear materials expertise related to radioactive environments as well as access to shielded facilities at the Radiochemical Process Laboratory (RPL), a user facility funded by DOE.
In the area of regulatory analysis, PNNL supports the National Regulatory Commission by providing the research and analysis needed for the NRC's combined construction and operating licenses for potential new nuclear power plants and for the renewal of operating licenses for the nation's 104 existing nuclear plants.
Energy Efficiency
PNNL is increasing the efficiency of powering vehicles and buildings by developing low-cost solid oxide fuel cells, advanced combustion technologies and materials, advanced chemical hydrogen storage systems, and technologies and innovative approaches to increase building energy efficiencies.
Vehicle and Transportation Technologies
PNNL works with industry to develop and deploy advanced transportation technologies that reduce the nation's use of imported oil and improve air quality. PNNL's projects cover a wide range of transportation issues, including developing technologies to reduce emissions, exploring lightweight materials and advanced manufacturing processes for cars and trucks, hydrogen storage materials and optimizing fuel cell performance and reliability.
Building Systems and Energy Technology Analysis
Building technology research and development at PNNL focuses on multi-disciplinary solutions that enhance the energy efficiency of the nation's buildings and improve the security, comfort, and health of building occupants. PNNL buildings' R&D is concentrated in the areas of automated buildings diagnostics and control, energy codes and standards, market transformation, and energy program design and implementation. In addition, PNNL studies how energy systems operate in simple residential units, commercial buildings, large complex multi-building facilities, and industrial settings is accomplished through the integration of state-of-the-art metering and data acquisition technologies, building simulation tools, energy investment optimization tools, and other basic and advanced statistical and analytic tools.
Solid-State Lighting
PNNL has the capabilities and laboratory facilities necessary to develop organic light emitting diode (OLED) technology as part of the Solid State Lighting Program. PNNL's research in this area includes materials design and synthesis, thin film deposition and modeling, and molecular structure testing. OLED technology has the potential to transform lighting practices in homes and buildings, and because of its distributed nature, could lead to a 50 percent reduction in energy used for lighting.
Fuel Cells
Fuel cells are able to efficiently convert chemical energy directly into electrical energy without combustion—eliminating the formation of pollutants. PNNL's solid oxide fuel cell research includes high-temperature material development and testing, fuel cell process simulation, and performance testing of prototype fuel cell designs. PNNL scientists are developing enhanced electrochemistry models; applying knowledge to next-generation fuel cell designs; and developing predictive models to assess fuel cell strength and life.