Research, Development, and Deployment Collaborations
See what we offer universities, other research institutions, and private industry. We look forward to working with you!
For Universities
Here's what we offer our university partners: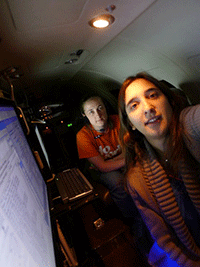 Paloma Borque of McGill University and Andrea Neumann of the University of North Dakota monitor sophisticated instruments onboard an atmospheric research aircraft as part of a climate field study. It's part of a national, multi-institution climate science user facility sponsored by the U.S. Department of Energy. PNNL helps coordinate more than 70 of these field campaigns annually. Photo courtesy of Paloma Borque
Teams of investigators from multiple disciplines. Many of our university interactions are initiated by the principal investigators who reach out to colleagues around the globe to collaborate on specific projects.
Postdoc opportunities through the Institutional Postdoc Program, the Linus Pauling Distinguished Postdoctoral Fellowship Program, the William Wiley Distinguished Postdoctoral Fellowship, and the Terrestrial and Subsurface Ecosystems Postdoctoral Appointment.
Student opportunities for undergraduate, graduates, post-graduates—including internships and fellowships—to engage in research in the newest innovations and scientific developments in their disciplines. University student opportunities.
Opportunities to contribute to topic-specific research institutes — virtual or physical.
Joint appointments for long-term strategic collaborations with universities that have significant complementary research strengths. More than two dozen PNNL scientists and university professors hold appointments with universities across the United States.
Facility access for faculty and visiting scientists who are receiving their salary, stipend, scholarship, or other payment from outside PNNL. This is called the Alternate Sponsored Fellow (ASF) Program; these arrangements are on a one-to-one basis between a PNNL mentor and the ASF Fellow. EMSL provides a similar opportunity—Wiley Visiting Scientist.
Strategic collaborations between you and PNNL that utilize our individual research strengths to solve big scientific problems.
Access to the Environmental Molecular Sciences Laboratory, a DOE scientific user facility, through a competitive proposal process - EMSL Proposal Opportunities.
Advisor status for those interested in opportunities to provide input into our research and development strategies.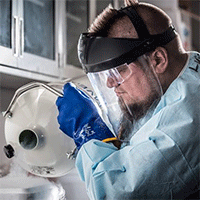 Luis Estevez pours liquid nitrogen to make advanced materials for energy storage, especially for electric vehicles. He joined PNNL as a Pauling Fellow in 2014 with a PhD in materials science and engineering from Cornell University and a BS in mechanical engineering from the University of Maine.
For Other Research Institutions
Many of the opportunities described under "For Universities" also apply to other research institutions, including other national laboratories.
Depending on the expertise needed, research institutions may partner with PNNL on proposals, cross-cutting science and technology projects, and high-impact national programs. For example:
For Private Sector R&D
Tackling national scientific and technical challenges often requires commercial partners who can translate innovations into marketplace products. From startups to Fortune 100 companies, we've partnered with hundreds of businesses from Alcoa Inc. to Xerox®. Let us help you succeed while supporting U.S. economic competitiveness. Here's what we offer businesses:
Contact
Suresh Baskaran
Director, Research Partnerships