Highlights
Latest Highlights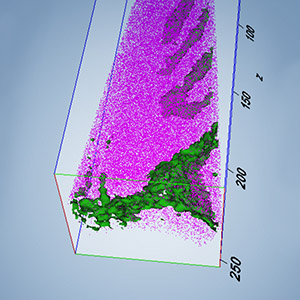 Imaging the nanoscale world inside a battery
August 2015
Rechargeable Li-ion batteries are common in portable electronics and in today's plug-in hybrid electric vehicles. Current generation cathode materials lose their structural integrity after repeated charge-discharge cycling, resulting in voltage fading and capacity loss. Understanding the actual mechanisms of degradation is needed to design longer lasting and higher performance batteries, but degradation has been extremely difficult to study in detail due to the challenge of imaging and quantifying the distribution of light elements in Li-ion battery electrodes. To examine this degradation process in unprecedented detail, researchers are using a variety of advanced methods to monitor changes in the distribution of elements in fresh cathodes and cathodes at different stages of cycling. The new measurements have revealed an obscure and unexpected capacity-loss mechanism that occurs in some formulations of a new electrode being designed to enhance performance of advanced Li-ion batteries.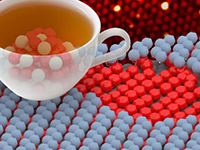 Scientists show how clusters funnel atoms to create oxygen pools that benefit biofuels, fuel cells, and sensors
September 2015
Much like how tea flows through a leaky mug to pool under a table cloth, so oxygen atoms spill out of a tiny cluster to pool under a graphene surface. For the first time, scientists at Pacific Northwest National Laboratory and Karl-Franzens University showed how the oxygen spills from the clusters to pool under a sheet of graphene, a designer material that could change the next generation of catalysts, fuel cells, and sensors.