Highlights
Latest Highlights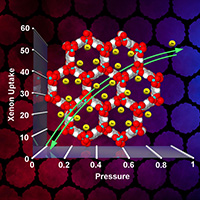 Scientists offer metal-organic frameworks to solve energy problem
March 2015
Metal-organic frameworks (MOFs) of metal ions and organic molecules have the potential to grant batteries a longer life and bring sustainable energy technologies to the developing world. Now in the highly regarded journal Accounts of Chemical Research, an international team led by scientists at Pacific Northwest National Laboratory proposes applying these MOFs to make nuclear power more feasible. The MOFs they identified can capture dangerous radionuclides released during the reprocessing of used nuclear fuel.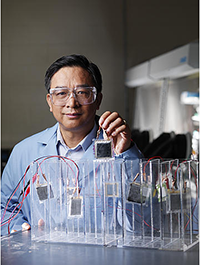 Dendrite Eraser: New Electrolyte Rids Batteries of Short-Circuiting Fibers
Solution enables a battery with both high efficiency and current density
March 2015
Dendrites -- the microscopic, pin-like fibers that cause rechargeable batteries to short circuit -- create fire hazards and can limit the ability of batteries to power our smart phones and store renewable energy for a rainy day. At Pacific Northwest National Laboratory, researchers have developed a new electrolyte that allows lithium-sulfur, lithium-metal, and lithium-air batteries to operate at 99 percent efficiency, while having a high current density and without growing dendrites that short-circuit rechargeable batteries.