Highlights
Latest Highlights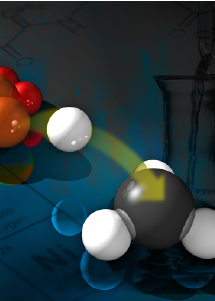 Chemists Settle Longstanding Debate on How Methane Is Made Biologically
In surprise twist, story of how microbes produce methane ends with uncommon "radical"
May 2016

Scientists at Pacific Northwest National Laboratory and University of Michigan, Ann Arbor confirmed that a key bacterial enzyme uses a methyl radical to produce methane, a chemical feedstock and fuel. This study settles a debate as to the mechanism certain bacteria use to produce 500 to 600 million metric tons of methane each year and potentially offers insights into improving routes to methane for use as a chemical feedstock or fuel.

Members of PNNL's Computational Engineering group share 2015 USCAR Team Award
May 2016
Members of ACMD Division's Computational Engineering group were honored with a 2015 U.S. Council for Automotive Research, or USCAR, Team Award for their work providing predictive modeling tools to improve the cost and performance of new automotive materials. Kyoo Sil Choi, Xiaohua Hu, Guang Cheng, and Xin Sun received the award for their contributions to the United States Automotive Materials Partnership Integrated Computational Materials Engineering 3GAHSS team. The team was presented their award during the USCAR Recognition Luncheon held in Detroit.