Staff information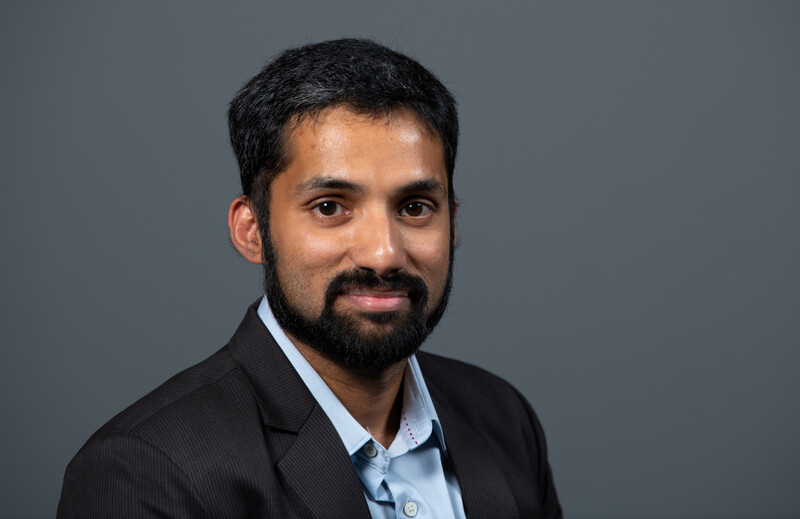 Arun Devaraj
Materials Scientist
Pacific Northwest National Laboratory
PO Box 999
MSIN: K8-93
Richland, WA 99352
Send Email
Biography
Dr. Arun Devaraj is a Material scientist in the Physical and Computational Sciences Directorate. His research focus is in microstructure-property relationship of metallic alloys, oxides and composite materials. Dr. Devaraj has extensive experience specifically in applying atom probe tomography (APT) for material characterization, in addition to scanning electron microscopy (SEM), energy dispersive x-ray spectroscopy (EDS), focused ion beam (FIB), transmission electron microscopy (TEM), x-ray absorption near edge spectroscopy (XANES), scanning transmission x-ray microscopy (STXM) and in-situ high energy x-ray diffraction (HEXRD) at beamlines of various DOE synchrotron facilities.
Specifically Dr. Devaraj is interested in microstructure evolution in metallic alloys used in various structural applications ranging from automotive applications, nuclear materials and other energy related applications. He is also additionally focused on nanoscale characterization of Li/Na ion battery materials, catalysts, high strength natural biomaterials.
Research Interests
Structure-property relationship of metallic alloys: Microstructural evolution, Thermodynamics and kinetics of Phase transformation, grain boundary segregation, precipitation, room temperature and elevated temperature mechanical property-microstructure correlation in bulk, surface and joints of materials, Influence of processing by thermo-mechanical treatments on microstructure, understanding effect of ion and neutron irradiation on material microstructure, correlating experimental results with atomic scale computational results from VASP DFT, or MD, montecarlo methods or FEM based theoretical calculations.
Atom Probe Tomography: Application of APT for metallic alloys systems, pushing boundaries of application of APT especially for analyzing nanoscale composition of complex oxides, nanoparticles and porous materials used for variety of energy and environmental applications, APT-TEM- level set or FEM APT simulation correlation for understanding and correcting for aberrations in atom probe tomography reconstructions for complex materials. Development of APT for analysis of hard biological materials like teeth of different animals.
Multimodal chemical imaging of energy materials by correlating APT analysis with variety of other characterization techniques including TEM, XAS, XRD, NMR and XPS.
Education and Credentials
Ph.D. Material science and engineering, University of North Texas, 2011
B. Tech, Metallurgical engineering and Material Science, Malaviya National Institute of Technology, 2005
Affiliations and Professional Service
Awards and Recognitions
2016: Featured in PNNL director Steve Ashby's Column in Tri-City Herald titled "Making better 'stuff' at PNNL."
2016, 2015: Elected as leader for the Microscopy Society of America Atom Probe Tomography Focused Interest Group (MSA APT FIG).
2015: Featured in a news article titled "People behind science" in the local newspaper, Tri-City Herald, as an upcoming young researcher in PNNL.
2016, 2015, 2014: Lead organizer of Atom Probe Tomography focus topic symposium at 61st American Vacuum Society National Meeting.
2015, 2014: People's choice winner of Science as Art 2014 and 2015 contest, Pacific Northwest National Laboratory.
2014: Selected to represent lightweight vehicles materials research from EMSL at National User Facility Organization (NUFO) congressional science expo, June 10, Rayburn Building, Washington DC.
2013: EMSL Director's award for creativity in research.
2013: Scientist and Engineer Development Program, PNNL (2013-2015)
2013: Elected as leader-elect officer for the Microscopy Society of America Atom Probe Tomography Focused Interest Group (MSA APT FIG).
2011: Outstanding Leadership and Service Award by Department of Material Science and Engineering, University of North Texas
2010: Outstanding International Graduate student award by Robert Toulouse Graduate School, University of North Texas.
2008-2011: Elected Graduate Student Representativefor the Department of material Science and Engineering, University of North Texas.
2008-2011: Elected President of Materials Advantage Chapter of University of North Texas
2006: Highest performance rating of "Benchmark to Employee performance" in the annual employee performance review in Essar Steel Ltd
PNNL Publications
2019
Devaraj A., W. Wang, V.R. Vemuri, L. Kovarik, X. Jiang, M.E. Bowden, and J.R. Trelewicz, et al. 2019. "Grain Boundary Segregation and Intermetallic Precipitation in Coarsening Resistant Nanocrystalline Aluminum Alloys." Acta Materialia 165. PNNL-SA-135423. doi:10.1016/j.actamat.2018.09.038
2018
2017
Elsaidi S.K., M.A. Sinnwell, D. Banerjee, A. Devaraj, R.K. Kukkadapu, T.C. Droubay, and Z. Nie, et al. 2017. "Reduced Magnetism in Core-Shell Magnetite@MOF Composites." Nano Letters 17, no. 11:6968-6973. PNNL-SA-122221. doi:10.1021/acs.nanolett.7b03451
Jana S., A. Devaraj, L. Kovarik, B.W. Arey, L.E. Sweet, T. Varga, and C.A. Lavender, et al. 2017. "Kinetics of cellular transformation and competing precipitation mechanisms during sub-eutectoid annealing of U10Mo alloys." Journal of Alloys and Compounds 723. PNNL-SA-124502. doi:10.1016/j.jallcom.2017.06.292
Kautz E.J., A. Devaraj, L. Kovarik, C.A. Lavender, and V.V. Joshi. 2017. Effect of Silicon in U-10Mo Alloy. PNNL-26790. Richland, WA: Pacific Northwest National Laboratory.
Kautz E.J., S. Jana, A. Devaraj, C.A. Lavender, L.E. Sweet, and V.V. Joshi. 2017. Detecting the Extent of Cellular Decomposition after Sub-Eutectoid Annealing in Rolled UMo Foils. PNNL-26862. Richland, WA: Pacific Northwest National Laboratory.
Kovarik L., N.M. Washton, R.K. Kukkadapu, A. Devaraj, A. Wang, Y. Wang, and J. Szanyi, et al. 2017. "Transformation of active sites in Fe/SSZ-13 SCR catalysts during hydrothermal aging: a spectroscopic, microscopic and kinetics study." ACS Catalysis 7, no. 4:2458-2470. PNNL-SA-123026. doi:10.1021/acscatal.6b03679
Mohanty D., B. Mazumder, A. Devaraj, A.S. Sefat, A. Huq, L.A. David, and E. Payzant, et al. 2017. "Resolving the degradation pathways in high-voltage oxides for high-energy-density lithium-ion batteries; Alternation in chemistry, composition and crystal structures." Nano Energy 36. PNNL-SA-117930. doi:10.1016/j.nanoen.2017.04.008
Murcia Sanchez S.C., E. Lavoie, T.J. Linley, A. Devaraj, E.A. Ossa, and D.D. Arola. 2017. "The natural armors of fish: A comparison of the lamination pattern and structure of scales." JOURNAL OF THE MECHANICAL BEHAVIOR OF BIOMEDICAL MATERIALS, 73. PNNL-SA-129872. doi:10.1016/j.jmbbm.2016.09.025
Shutthanandan V., S. Choudhury, S. Manandhar, T.C. Kaspar, C.M. Wang, A. Devaraj, and B.D. Wirth, et al. 2017. "Radiation Tolerant Interfaces: Influence of Local Stoichiometry at the Misfit Dislocation on Radiation Damage Resistance of Metal/Oxide Interfaces." Advanced Materials Interfaces 4, no. 14:Article No. 1700037. PNNL-SA-107725. doi:10.1002/admi.201700037
Zang H., W. Liu, T. Li, C. He, D. Yun, W. Jiang, and A. Devaraj, et al. 2017. "VACANCY EFFECTS ON THE FORMATION OF HELIUM AND KRYPTON CAVITIES IN 3C-SiC IRRADIATED AND ANNEALED AT ELEVATED TEMPERATURES." In Fusion Materials Semiannual Progress Report For Period Ending December 31, 2016, edited by Dl Clark. 67-68. Oak Ridge, Tennessee:Oak Ridge National Laboratory. PNNL-SA-124009.
2016
Devaraj A., L. Kovarik, V.V. Joshi, S. Jana, S. Manandhar, B.W. Arey, and C.A. Lavender. 2016. High-Resolution Characterization of UMo Alloy Microstructure. PNNL-26020. Richland, WA: Pacific Northwest National Laboratory.
Devaraj A., R. Prabhakaran, V.V. Joshi, S.Y. Hu, E.J. McGarrah, and C.A. Lavender. 2016. Theoretical Model for Volume Fraction of UC, 235U Enrichment, and Effective Density of Final U 10Mo Alloy. PNNL-SA-117284. Richland, WA: Pacific Northwest National Laboratory.
Devaraj A., S. Jana, C.A. McInnis, N.J. Lombardo, V.V. Joshi, L.E. Sweet, and S. Manandhar, et al. 2016. Detecting the Extent of Eutectoid Transformation in U-10Mo. PNNL-SA-120714. Richland, WA: Pacific Northwest National Laboratory.
Devaraj A., V. Murugesan, J. Bao, M.F. Guo, M.A. Derewinski, Z. Xu, and M.J. Gray, et al. 2016. "Discerning the Location and Nature of Coke Deposition from Surface to Bulk of Spent Zeolite Catalysts." Scientific Reports 6. PNNL-SA-113562. doi:10.1038/srep37586
Devaraj A., V.V. Joshi, A. Srivastava, S. Manandhar, V.S. Moxson, V. Duz, and C.A. Lavender. 2016. "A Low-Cost Hierarchical Nanostructured Beta-Titanium Alloy with High Strength." Nature Communications 7. PNNL-SA-116064. doi:10.1038/ncomms11176
Leary A., V. Keylin, A. Devaraj, V. Degeorge, P. Ohodnicki, and M. McHenry. 2016. "Stress induced anisotropy in Co-rich magnetic nanocomposites for inductive applications." Journal of Materials Research 31, no. 20:3089-3107. PNNL-SA-122796. doi:10.1557/jmr.2016.324
Li X., C.T. Ma, J. Lu, A. Devaraj, S.R. Spurgeon, R.B. Comes, and J.S. Poon. 2016. "Exchange bias and bistable magneto-resistance states in amorphous TbFeCo thin films." Applied Physics Letters 108. PNNL-SA-113796. doi:10.1063/1.4939240
Poling W.A., V. Savic, L.G. Hector, A.K. Sachdev, X. Hu, A. Devaraj, and F. Abu-Farha. 2016. "Combined Synchrotron X-ray Diffraction and Digital Image Correlation Technique for Measurement of Austenite Transformation with Strain in TRIP-assisted Steels." In SAE World Congress & Exhibition, April 12-14, 2016, Detroit, Michigan, SAE Technical Paper 2016-01-0419. Warrendale, Pennsylvania:SAE International. PNNL-SA-113465. doi:10.4271/2016-01-0419
Prabhakaran R., A. Devaraj, V.V. Joshi, and C.A. Lavender. 2016. PProcedure for Uranium-Molybdenum Density Measurements and Porosity Determination. PNNL-25793. Richland, WA: Pacific Northwest National Laboratory.
Ramasamy K.K., M.J. Gray, H.M. Job, D.M. Santosa, X.S. Li, A. Devaraj, and A.J. Karkamkar, et al. 2016. "Role of Calcination Temperature on the Hydrotalcite Derived MgO-Al2O3 in Converting Ethanol to Butanol." Topics in Catalysis 59, no. 1:46-54. PNNL-SA-110874. doi:10.1007/s11244-015-0504-8
Roder P.B., S. Manandhar, A. Devaraj, D.E. Perea, E.J. Davis, and P.J. Pauzauskie. 2016. "Pulsed Photothermal Heating of One-Dimensional Nanostructures." Journal of Physical Chemistry C 120, no. 38:21730-21739. PNNL-SA-120701. doi:10.1021/acs.jpcc.6b04592
Shinde D., L. Arnoldi, A. Devaraj, and A. Vella. 2016. "Laser-material interaction during atom probe tomography of oxides with embedded metal nanoparticles." Journal of Applied Physics 120, no. 16:Article No. 164308. PNNL-SA-122789. doi:10.1063/1.4966122
Spurgeon S.R., Y. Du, T.C. Droubay, A. Devaraj, X. Sang, P. Longo, and P. Yan, et al. 2016. "Competing Pathways for Nucleation of the Double Perovskite Structure in the Epitaxial Synthesis of La2MnNiO6." Chemistry of Materials 28, no. 11:3814-3822. PNNL-SA-115671. doi:10.1021/acs.chemmater.6b00829
Trease N., I.D. Seymour, M. Radin, H. Liu, H. Liu, S. Hy, and N. Chernova, et al. 2016. "Identifying the distribution of Al3+ in LiNi0.8Co0.15Al0.05O2." Chemistry of Materials 28, no. 22:8170-8180. PNNL-SA-121466. doi:10.1021/acs.chemmater.6b02797
Wang C.M., Z. Zhu, M.H. Engelhard, A. Devaraj, and D.R. Baer. 2016. "Multimodal and in-situ chemical imaging of critical surfaces and interfaces in Li batteries." Microscopy Today 24, no. 2:32-39. PNNL-SA-115445.
Wang S., M. Sina, P.A. Parikh, T. Uekert, B. Shahbazian, A. Devaraj, and Y.S. Meng. 2016. "Role of 4-tert-Butylpyridine as a Hole Transport Layer Morphological Controller in Perovskite Solar Cells." Nano Letters 16, no. 9:5594-5600. PNNL-SA-121464. doi:10.1021/acs.nanolett.6b02158
Zang H., W. Jiang, W. Liu, A. Devaraj, D.J. Edwards, C.H. Henager, and R.J. Kurtz, et al. 2016. "Vacancy effects on the formation of He and Kr cavities in 3C-SiC irradiated and annealed at elevated temperatures." Nuclear Instruments and Methods in Physics Research. Section B, Beam Interactions with Materials and Atoms 389-390. PNNL-SA-119364. doi:10.1016/j.nimb.2016.11.017
2015
2014
2013
2012
Perea D.E., D.K. Schreiber, A. Devaraj, S. Thevuthasan, J. Yoo, S.A. Dayeh, and S.T. Picraux. 2012. "Controlling Axial p-n Heterojunction Abruptness Through Catalyst Alloying in Vapor-Liquid-Solid Grown Semiconductor Nanowires." Microscopy and Microanalysis 18, no. Suppl. 2:1860-1861. PNNL-SA-91518. doi:10.1017/S1431927612011154