Staff information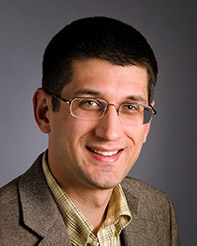 Eric Wiedner
Molecular Catalysis Team
Chemist
Pacific Northwest National Laboratory
PO Box 999
MSIN: J7-10
Richland, WA 99352
Send Email
Biography
Eric Wiedner is an organometallic chemist focusing on the design of molecular catalysts for the interconversion of electrical energy and chemical fuels. He is currently a co-PI in a molecular catalysis program on carbon dioxide reduction, and in the Center for Molecular Electrocatalysis, an Energy Frontier Research Center. Dr. Wiedner's primary areas of expertise are catalyst design and synthesis, electrochemical methods for kinetic and mechanistic analysis, and thermochemical measurements of bond strengths.
Research Interests
Molecular electrocatalysis for renewable energy conversions
Mechanisms of catalytic transformations
Thermochemical studies of bond strengths related to catalysis
Education and Credentials
Postdoctoral Research, PNNL (with Daniel L. DuBois), 2009-2012
Ph.D., Inorganic Chemistry, University of Michigan (with Marc J. A. Johnson), 2009
M.S., Chemistry, University of Michigan, 2006
B.S., Chemistry, Missouri University of Science and Technology, 2004
Affiliations and Professional Service
American Chemical Society
Awards and Recognitions
Co-recipient of the 2015 ACS Catalysis Lectureship for the Advancement of Catalytic Science, awarded to the PNNL hydrogen catalysis team.
PNNL Publications
2022
Gunasekara B., Y. Tong, A.L. Speelman, J.D. Erickson, A.M. Appel, M.B. Hall, and E.S. Wiedner. 2022. "Role of High-Spin Species and Pendant Amines in Electrocatalytic Alcohol Oxidation by a Nickel Phosphine Complex." ACS Catalysis 12, no. 5:2729-2740. PNNL-SA-168765. doi:10.1021/acscatal.1c05509
Speelman A.L., J.B. Gerken, S.P. Heins, E.S. Wiedner, S.S. Stahl, and A.M. Appel. 2022. "Determining Overpotentials for the Oxidation of Alcohols by Molecular Electrocatalysts in Non-aqueous Solvents." Energy & Environmental Science 15, no. 10:4015-4024. PNNL-SA-170546. doi:10.1039/d2ee01458k
Wiedner E.S., A.M. Appel, S. Raugei, W.J. Shaw, and R.M. Bullock. 2022. "Molecular Catalysts with Diphosphine Ligands Containing Pendant Amines." Chemical Reviews 122, no. 14:12427-12474. PNNL-SA-168825. doi:10.1021/acs.chemrev.1c01001
2021
DuBois D.L., E.S. Wiedner, and R.M. Bullock. 2021. "Coordination Chemistry of Phosphine Ligands with Pendant Amines." In Comprehensive Coordination Chemistry III, edited by E. Constable, G. Parkin, and L. Que. 90-130. 3rd ed. Amsterdam:Elsevier. PNNL-SA-148047. doi:10.1016/B978-0-08-102688-5.00079-9
Wiedner E.S., A.Z. Preston, M.L. Helm, and A.M. Appel. 2021. "Thermodynamic Trends for Reduction of CO by Molecular Complexes." Organometallics 40, no. 13:2039-2050. PNNL-SA-160715. doi:10.1021/acs.organomet.1c00178
2020
2019
2018
Chambers G.M., E.S. Wiedner, and R.M. Bullock. 2018. "H2 Oxidation Electrocatalysis Enabled by Metal-to-Metal Hydrogen Atom Transfer: A Homolytic Approach to a Heterolytic Reaction." Angewandte Chemie International Edition 57, no. 41:13523-13527. PNNL-SA-131196. doi:10.1002/anie.201807510
Klug C., A.P. Cardenas, R.M. Bullock, M.J. O'Hagan, and E.S. Wiedner. 2018. "Reversing the Tradeoff between Rate and Overpotential in Molecular Electrocatalysts for H2 Production." ACS Catalysis 8, no. 4:3286-3296. PNNL-SA-130125. doi:10.1021/acscatal.7b04379
Wiedner E.S., and J.C. Linehan. 2018. "Making a Splash in Homogeneous CO2 Hydrogenation: Elucidating the Impact of Solvent on Catalytic Mechanisms." Chemistry - A European Journal 24, no. 64:16964-16971. PNNL-SA-133770. doi:10.1002/chem.201801759
Wiedner E.S., and K.L. Manke. 2018. "A Science Shortr: When a Catalyst Takes the Plunge." Transformations January 2018, no. 15. PNNL-SA-131839.
2017
2016
2015
2014
2013
Wiedner E.S., A.M. Appel, D.L. DuBois, and R.M. Bullock. 2013. "Thermochemical and Mechanistic Studies of Electrocatalytic Hydrogen Production by Cobalt Complexes Containing Pendant Amines." Inorganic Chemistry 52, no. 24:14391-14403. PNNL-SA-98467. doi:10.1021/ic4025475
Wiedner E.S., J.A. Roberts, W.G. Dougherty, W.S. Kassel, D.L. DuBois, and R.M. Bullock. 2013. "Synthesis and Electrochemical Studies of Cobalt(III) Monohydride Complexes Containing Pendant Amines." Inorganic Chemistry 52, no. 17:9975-9988. PNNL-SA-95739. doi:10.1021/ic401232g
2012
Wiedner E.S., J.Y. Yang, S. Chen, S. Raugei, W.G. Dougherty, W.S. Kassel, and M.L. Helm, et al. 2012. "Stabilization of Nickel Complexes with Ni0···H-N Bonding Interactions Using Sterically Demanding Cyclic Diphosphine Ligands." Organometallics 31, no. 1:144-156. PNNL-SA-81603. doi:10.1021/om200709z
2010
Wiedner E.S., J.Y. Yang, W.G. Dougherty, W.S. Kassel, R.M. Bullock, M. Rakowski DuBois, and D.L. DuBois. 2010. "Comparison of Cobalt and Nickel Complexes with Sterically Demanding Cyclic Diphosphine Ligands: Electrocatalytic H2 Production by [Co(PtBu2NPh2)(CH3CN)3](BF4)2." Organometallics 29, no. 21:5390-5401. PNNL-SA-72956. doi:10.1021/om100395r