Staff information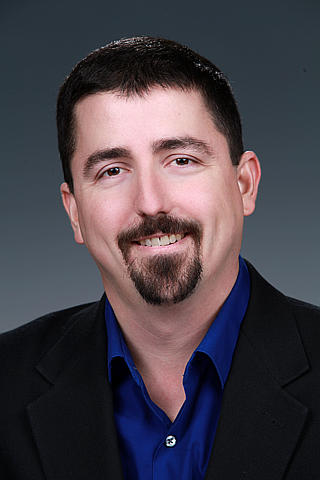 Aaron Appel
Physical Sciences
Chemist, Team Lead
Pacific Northwest National Laboratory
PO Box 999
MSIN: K2-57
Richland, WA 99352
Send Email
Biography
Aaron Appel is an organometallic chemist with a focus on basic energy research related to the production and use of fuels through catalysis and electrocatalysis. He is currently leading the molecular catalysis effort on CO2 reduction and fuel utilization, and is also working as part of the Center for Molecular Electrocatalysis, an Energy Frontier Research Center. For the reduction of CO2 and subsequent fuel utilization, the goal of the work is the design of new catalysts with specific emphasis on the use of bifunctional interactions and thermochemical considerations. Dr. Appel's role in the Center for Molecular Electrocatalysis is in thermochemical measurements, especially as they pertain to the production and utilization of H2.
Dr. Appel's primary areas of expertise are thermochemical measurements, electrochemistry, catalyst design and synthetic chemistry, small molecule spectroscopy, and mass spectrometry. Dr. Appel also has a background in CO2 capture research, particularly in developing new methods with higher energy efficiency, such as electrochemically switchable CO2 capture.
Research Interests
Electrochemistry: Utilization of electrochemistry for the conversion of electrical energy to chemical energy through electrocatalysis. Controlled substrate binding using electrochemical switching, including CO2 capture and concentration. Hydrogen production and utilization and CO2 capture, concentration, and conversion are all of primary interest.
Fundamental thermodynamic studies of bond strengths: Determination of bond strengths using thermodynamic cycles through the study of equilibria and electrochemical processes, particularly as related to catalysis.
Synthetic inorganic and organometallic chemistry: Synthesis of relevant species to catalysis and electrocatalysis, particularly for fuel production and utilization. Characterization of synthetic species by electrochemistry, mass spectrometry, NMR, EPR, and other applicable techniques.
Education and Credentials
B.S. in Chemistry from Washington State University, Pullman
Ph.D. in Inorganic Chemistry from University of Colorado, Boulder
Affiliations and Professional Service
American Chemical Society
PNNL Publications
2017
2016
Lindley B.M., A.M. Appel, K. Krogh-Jespersen, J.M. Mayer, and A.J. Miller. 2016. "Evaluating the Thermodynamics of Electrocatalytic N2 Reduction in Acetonitrile." ACS Energy Letters 1, no. 4:698-704. PNNL-SA-119958. doi:10.1021/acsenergylett.6b00319
2015
2014
Appel A.M. 2014. "Carbon-Fuelled Future." Chemistry and Industry 78, no. 4:36-39. PNNL-SA-100705. doi:10.1002/cind.784_11.x
Appel A.M. 2014. "Electrochemistry: Catalysis at the boundaries." Nature 508, no. 7497:460-461. PNNL-SA-101718. doi:10.1038/nature13226
Appel A.M., and M.L. Helm. 2014. "Determining the Overpotential for a Molecular Electrocatalyst." ACS Catalysis 4, no. 2:630-633. PNNL-SA-99198. doi:10.1021/cs401013v
Bullock R.M., A.M. Appel, and M.L. Helm. 2014. "Production of Hydrogen by Electrocatalysis: Making the H-H Bond by Combining Protons and Hydrides." Chemical Communications 50, no. 24:3125-3143. PNNL-SA-97704. doi:10.1039/c3cc46135a
Galan B.R., E.S. Wiedner, M.L. Helm, J.C. Linehan, and A.M. Appel. 2014. "Effects of Phosphine-Carbene Substitutions on the Electrochemical and Thermodynamic Properties of Nickel Complexes." Organometallics 33, no. 9:2287-2294. PNNL-SA-97196. doi:10.1021/om500206e
Jeletic M.S., M.L. Helm, E.B. Hulley, M.T. Mock, A.M. Appel, and J.C. Linehan. 2014. "A Cobalt Hydride Catalyst for the Hydrogenation of CO2: Pathways for Catalysis and Deactivation." ACS Catalysis 4, no. 10:3755-3762. PNNL-SA-103938. doi:10.1021/cs5009927
Kumar N., D.M. Camaioni, M. Dupuis, S. Raugei, and A.M. Appel. 2014. "Mechanistic Insights into Hydride Transfer for Catalytic Hydrogenation of CO2 with Cobalt Complexes." Dalton Transactions 43, no. 31:11803-11806. PNNL-SA-101141. doi:10.1039/c4dt01551g
Lercher J.A., A.M. Appel, T. Autrey, R.M. Bullock, D.M. Camaioni, H.M. Cho, and D.A. Dixon, et al. 2014. "Multifunctional Catalysts to Synthesize and Utilize Energy Carriers." In Frontiers at the Interface between Homogeneous and Heterogeneous Catalysis, II, 207-219. Washington, District Of Columbia:U.S. Department of Energy, Office of Science. PNNL-SA-103068.
Weiss C.J., P. Das, D. Higgins, M.L. Helm, and A.M. Appel. 2014. "Catalytic Oxidation of Alcohol via Nickel Phosphine Complexes with Pendant Amines." ACS Catalysis 4, no. 9:2951-2958. PNNL-SA-101717. doi:10.1021/cs500853f
Wiedner E.S., and A.M. Appel. 2014. "Thermochemical Insight into the Reduction of CO to CH3OH with [Re(CO)]+ and [Mn(CO)]+ Complexes." Journal of the American Chemical Society 136, no. 24:8661-8668. PNNL-SA-101312. doi:10.1021/ja502316e
2013
2012
2011
2009
Appel A.M., S. Lee, J.A. Franz, D.L. DuBois, and M. Rakowski DuBois. 2009. "Free Energy Landscapes for S-H Bonds in (Cp2Mo2S4)-Mo-star Complexes." Journal of the American Chemical Society 131, no. 14:5224-5232. PNNL-SA-63520. doi:10.1021/ja8093179
Appel A.M., S. Lee, J.A. Franz, D.L. DuBois, M. Rakowski DuBois, and B. Twamley. 2009. "Determination of S-H Bond Strengths in Dimolybdenum Tetrasulfide Complexes." Organometallics 28, no. 3:749-754. PNNL-SA-61722.
Franz J.A., S. Lee, T.A. Bowden, M.S. Alnajjar, A.M. Appel, J.C. Birnbaum, and T.E. Bitterwolf, et al. 2009. "Activation of the S-H Group in Fe(µ2-SH)Fe Clusters: S-H Bond Strengths and Free Radical Reactivity of the Fe(µ2-SH)Fe Cluster." Journal of the American Chemical Society 131, no. 42:15212-15224. PNNL-SA-66979.
2008
Appel A.M., S. Lee, J.A. Franz, D.L. DuBois, M. Rakowski DuBois, J.C. Birnbaum, and B. Twamley. 2008. "Formation and Reactivity of a Persistent Radical in a Dinuclear Molybdenum Complex." Journal of the American Chemical Society 130, no. 28:8940-8951. PNNL-SA-57391. doi:10.1021/ja078115r
Holladay J.E., H.M. Brown, A.M. Appel, and Z.C. Zhang. 2008. "Novel Hydride Transfer Catalysis for Carbohydrate Conversions." In Proceedings of the 22nd Conference on Catalysis of Organic Reactions, edited by ML Prunier, 123, 411-418. Boca Raton, Florida:CRC Press. PNNL-SA-58413.
2007
Fraze K., K. Fraze, A. Wilson, A. Wilson, A.M. Appel, M. Rakowski DuBois, and D.L. DuBois. 2007. "Thermodynamic Properties of the Ni-H Bond in Complexes of the Type [HNi(P2RN2R')2](BF4) and Evaluation of Factors that Control Catalytic Activity for Hydrogen Oxidation/Production." Organometallics 26, no. 16:3918-3924. PNNL-SA-53931. doi:10.1021/om070143v