Page 242 of 278
Advanced Computing, Mathematics and Data
Staff Awards & Honors
February 2009
Todd Halter Appointed to SciDB Advisory Board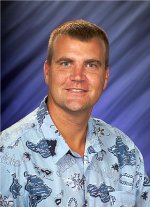 Todd Halter
Todd Halter, Pacific Northwest National Laboratory (PNNL), has been appointed to the SciDB advisory board. SciDB is an open source data management system designed to support the needs of scientists across a variety of disciplines. As a member of the advisory board, Halter will be helping to establish the requirements for a new database technology specifically targeting scientific applications.
SciDB grew out of the 1st Extremely Large Databases (XLDB) Workshop and the subsequent Science-Database Workshop. SciDB is designed to meet the growing demands of data-intensive scientific analytics in the public and private sectors. User communities expected to benefit include sciences such as astronomy, biology, geoscience (geology, oceanography, atmospheric science, environmental science), medicine, and physics; science-based industries such as remote sensing, resource extraction (oil, gas, minerals), medical imaging, and pharmaceuticals; and other organizations with vast amounts of data and complex analytical needs such as Internet, telecommunications, and financial services.
Halter, whose appointment began in November 2008, joins Gordon Anderson (PNNL); Tim Axelrod, LSST Corporation; Dirk Duellmann, (CERN); Tim Frazier, Los Alamos National Laboratory; James Frew, University of California, Santa Barbara; Michael Godin, Monterey Bay Aquarium Research Institute; and Bill Howe, Oregon Health & Science University, on the SciDB advisory board.
---
Page 242 of 278